Petru Fourie (navorsingskoördineerder en produksiekoste-analis, Graan SA) het by die Landbouskrywers SA-toekenningsgeleentheid in die kategorie, Bayer beste tegniese artikel, met die louere weggestap. Die artikel, "Nuwe Seisoen: Opsies vir winsgewende graanproduksie raak min", het in die September 2018-uitgawe van SA Graan/Grain verskyn.
By dié jaarlikse toekenningsgeleentheid wat op 15 November in Pretoria plaasgevind het, het Liza Bohlmann, die voorsitter van Landbouskrywers SA, die wenners in elke kategorie geloof vir hulle bydrae tot landbou.
Petru sê dit was 'n groot voorreg om in die kategorie genomineer te word. "Tegniese artikels bied landboukundiges die geleentheid om soms noodsaaklike inligting aan produsente oor te dra. Daar gaan baie navorsing, tyd en werk in so 'n artikel in en dit is tog lekker om erkenning daarvoor te ontvang."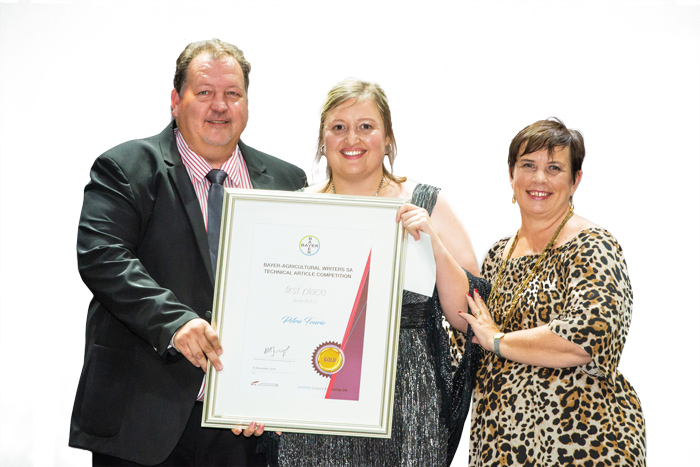 Die wenartikel is 'n blik op die winsgewendheid van graanproduksie. "Die realiteit van die saak is dat daar groot kommer oor graanprodusente se finansiële welstand heers. Opbrengste is onder geweldige druk en dit is onontbeerlik dat die mielieprodusent vernuwend sal moet dink om sy eie finansiële oorlewing te verseker," vertel Petru.
'n Verskeidenheid kriteria word gebruik om die tegniese artikels te beoordeel. Dit sluit in relevansie, logiese verduideliking, vloei van inligting, die integrasie en gebruik van hulpbronne en die gemak waarmee tegniese inligting aan die leser oorgedra word.
As wenner in die kategorie is Petru deur Bayer uitgenooi om die kongres van die International Federation of Agricultural Journalists (IFAJ) wat van 24 tot 28 Junie 2020 in Denemarke plaasvind, by te woon. Die tema vir die kongres is "Farming today for the society of tomorrow" – vir seker iets waarna Petru baie uitsien.