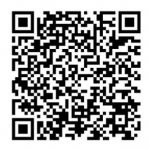 Andries Theron, voorsitter van Graan SA se Wintergraanwerkgroep, het tydens 'n onderhoud in die Landbouweekliks-ateljee met Gerrit Bezuidenhout, joernalis van Landbouweekblad, gesels oor die rol wat kanola speel in produsente se vermoë om 'n volgende seisoen weer te kan plant. Luister deur op die QR-kode te klik.
On 26 March Grain SA members received communication on Covid-19 permits and updates. This included the Confirmation of Employment in the Agricultural Sector-permit issued to producers and farm workers required to travel to and from work and to transport agricultural supplies and produce.
Members could generate a permit to download or print from the Grain SA website and can still receive Covid-19 updates, documents, regulations and relevant articles pertaining to the Covid-19 pandemic's impact on grain production via the site (https://www.grainsa.co.za).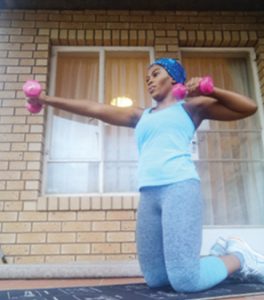 Gedurende die grendelstaat moes Graan SA-personeel kantoorruimtes by hul huise inrig. Wanneer die woonstel vir die ekonoom, Ikageng Maluleke, te klein geraak het, het sy op die balkon aan haar fiksheid gewerk.
Nog slegte nuus vir SA
Aan die einde van Maart het die kredietgraderingsagentskap, Moody's, in die spore van die ander twee groot agentskappe, Standard & Poor's en Fitch, gevolg en Suid-Afrika se beleggingstatus tot volle rommelstatus afgegradeer. Die belangrikste dryfvere vir hierdie afgradering is onder meer swak ekonomiese groei, voortdurende agteruitgang in fiskale sterkte asook die stadige vordering met strukturele ekonomiese hervormings.
Appèlhof bevind teen LNR in sagtewaresaga
Die uitgerekte saga rondom die eiendom en kopiereg van die destydse BeefPRO-sagteware wat later na BenguFarm verander is, is op 1 April bygelê met die uitspraak van die Appèlhof ten gunste van die appellante, Leslie Bergh, Bull's Eye Consulting, BenguelaSoft, Tim Pauw en Naomi Havenga. Hoewel SA Stamboek aanvanklik deel van die saak was, het die Landbounavorsingsraad (LNR) sy betrekking van SA Stamboek by hierdie saak teruggetrek, nadat 'n skikking tussen die twee partye in hul aanvanklike regsgeding bereik is.
Bron: Plaas Media, 3 April
Agricultural sector to receive assistance
The Minister of Agriculture, Land Reform and Rural Development, Thoko Didiza, announced the department's interventions to mitigate the impact of Covid-19. The department has ring-fenced R1,2 billion for assistance to mainly target financially-distressed small-scale farmers. R400 million of the R1,2 billion has been allocated to farmers within the Proactive Land Acquisition Strategy (PLAS) programme. The remainder will be channelled towards all other farmers that are mainly within the following commodity sectors: poultry, other livestock and vegetables. Other commodity sectors will be evaluated on a case-by-case basis.
Source: DALRRD (press release, 6 April 2020)
Agbiz has been involved in establishing Business for SA. Business for SA brings together Business Unity South Africa (BUSA), the Black Business Council (BBC), the Public-Private Growth Initiative (PPGI) and others in a concerted effort by the private sector to address the health threat of Covid-19 specifically, and also the economic depression and labour (unemployment) fallout that will result. Visit www.businessforsa.org to access daily reports on the progress being made to fight Covid-19, but also to learn of economic relief measures being negotiated and implemented.
A selection of key articles from the Business Day column by Wandile Sihlobo, chief economist at Agbiz, has been published. The book, Finding Common Ground, covers the broad themes that have marked current discussions and outlines the challenges and opportunities faced by South Africa's agricultural sector.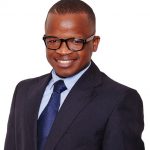 NWK in Lichtenburg het sy driedimensionele (3D-)drukker ingespan om stewige, beskermende plastiekmaskers vir sy personeel te maak wat tydens die inperkingstyd moet werk om byvoorbeeld die kasregisters in hul Retail-winkels te beman. Johnathan Smit, bestuurder van Tegnologie by NWK, sê in 'n mediaverklaring dat die masker die draer se mond, oë en neus teen moontlike blootstelling aan die koronavirus beskerm. Dit neem omtrent drie uur om een masker teen 'n koste van R3,80 te druk.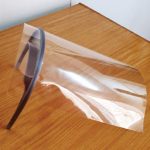 Graan SA is een van die hoofborge wat die nuwe landbou-akademie in Reitz ondersteun. Dié akademie bied aan hoërskoolleerders 'n unieke geleentheid. Al het Hoërskool Reitz vyf jaar gelede begin om drie landbouvakke aan te bied, is dit vanjaar die eerste keer dat die Reitz-landbou-akademie aan leerders en enige belangstellendes die geleentheid bied om meer te leer en waardevolle praktiese ondervinding op te doen oor herlewingslandbou en presisieboerdery. Tans is 24 leerders hierby betrokke.
Georganiseerde landbou staan sterk in krisistyd
Gewoonlik sou ek hierdie tyd van die jaar iets oor NAMPO geskryf het. Vandag (begin April) sit ek in my huiskantoor en probeer my bes om steeds 'n verskil te maak in die Covid-19-omgewing met al sy inperkinge. Ek lees wat die manne met die dik brille skryf oor hoe die wêreld na Covid-19 gaan […]
Organised agriculture holds its own in time of crisis
Usually I would be writing something about NAMPO at this time of year. Today (beginning of April) I am sitting in my home office, trying my best to still make a difference in the Covid-19 environment with all its restrictions. I read what the gentlemen with the thick glasses are writing on what the world […]
Die jaar toe dit skielik winter geword het
Beste Grootneef President Ramaphosa se somber stem het op 'n Sondagaand die radioprogram Sterre en Planete onderbreek. Hennie Maas se stem is gedoof, waarna die president die land meegedeel het van iets groots, nie net in die Suidland nie, maar ook oor die hele planeet. COVID-19, familie van Korona, het hom oral kom tuismaak. Die […]