Multimedia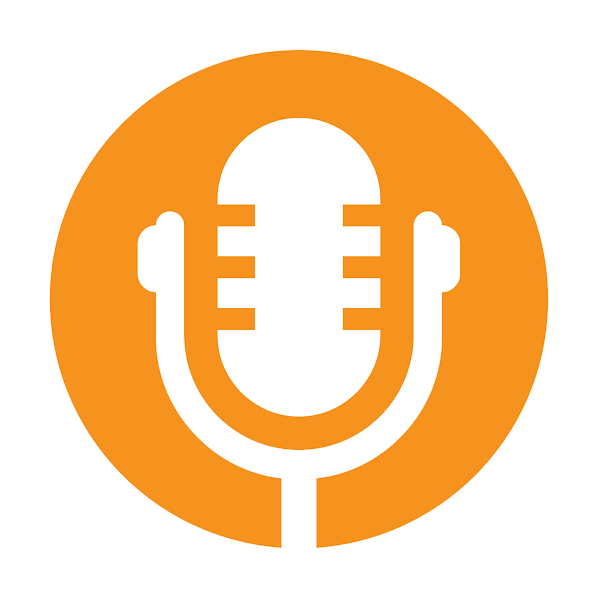 Luister: Volgens Luan van der Walt, ekonoom by Graan SA, kan die moontlikheid van 'n goeie reënvaljaar lei tot 'n goeie 2020/2021-produksieseisoen. Hy het in 'n onderhoud op OFM genoem dat die 2019/2020 vooruitsigte vir 'n rekord mielie- en sonneblomoes steeds goed lyk. Klik op die ikoon om na die insetsel te luister.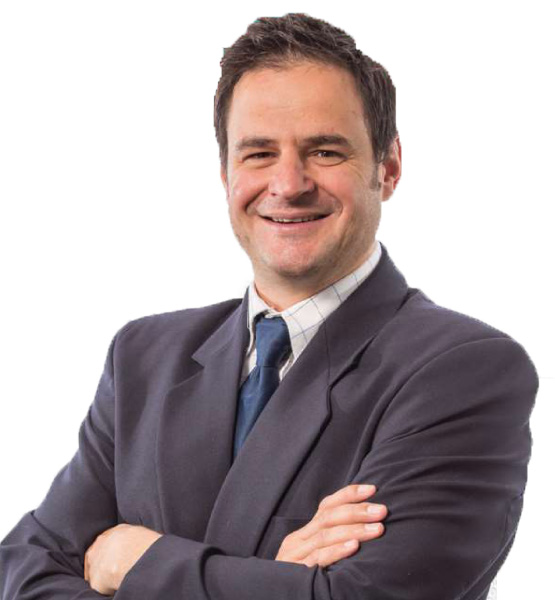 LUISTER: Vir die grootste gedeelte van 2020 het internasionale kunsmispryse gedaal – van die grondstowwe redelik skerp.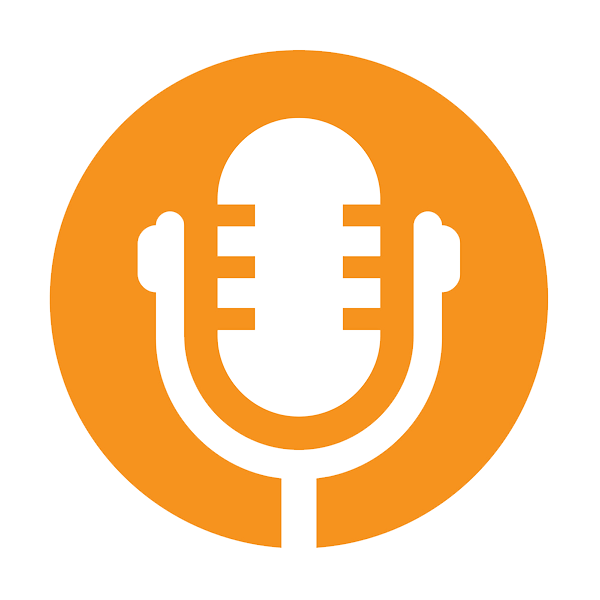 Klik op die ikoon om na 'n potgooi te luister waarin Corné 'n kort opsomming van hierdie artikel gee.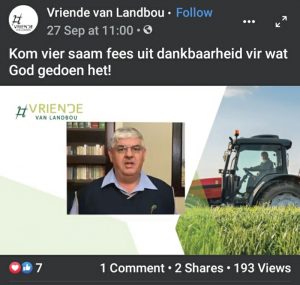 Jannie de Villiers, uitvoerende hoofbestuurder van Graan SA, was op Sondag 27 September een van die sprekers tydens 'n aanlyn nagmaaldiens met dankbaarheid as tema. Dié inisiatief is die geesteskind van Gerhard Kriel, uitvoerende hoof van Vriende van Landbou, en Albert Loubser van Alfa Ekspo, wat albei langer as 30 jaar in die bedryf is. Die diens is op Vriende van Landbou se Facebook-blad, DigiTV en YouTube uitgesaai en is steeds daar te sien.
Die eerste hoofbestuursvergadering van Graan SA wat weer na die COVID-19-inperkings fisies kon plaasvind, is op 1 Oktober vanjaar op NAMPO Park gehou. Dit was 'n blye weersiens vir die hoofbestuurslede, wat mekaar ten minste in die oë kon kyk – te midde van sosiale afstande en COVID-19-protokol wat gehandhaaf is.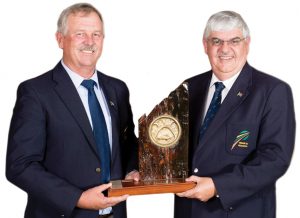 Tydens die hoofbestuursvergadering het Willem Groothof, hoofbestuurslid vir Streek 13 en ook lid van die Graan SA-dagbestuur, 'n spesiale toekenning vir uitnemendheid as hoofbestuurslid van Jannie de Villiers ontvang.
Team effort to ensure rural safety
General Khehla Sitole, the National Commissioner of Police, together with other senior officers, engaged in a meeting with Agri SA, TLU SA and AfriForum in Pretoria on 5 October in an effort to address matters of criminality affecting the rural communities. The meeting agreed to formalise the establishment of national and local joint rural safety command centres and in doing so will realise an integration of both personnel and resources, among others, the use of helicopters and drones. Cross-border crime affecting the farming community was also discussed and emphasis was placed on resourcing police stations at the borders, improving intelligence and the establishment of cross-border liaison committees. This high-level committee will convene on a quarterly basis to monitor progress of the implementation of the Rural Safety Strategy and decisions taken at previous meetings.
Source: Joint media statement issued by the office of the National Commissioner of Police, Agri SA, TLU SA and AfriForum, 5 October 2020
SA-graanbedryf vat hande vir voedselsekerheid
Op 1 Oktober het die nuwe bemarkingsjaar afgeskop met die lewering van die eerste koring, gars en hawer. Omdat wintergraanheffings in hierdie bemarkings­jaar vrywillig gaan wees, moes georganiseerde landbou ingryp en 'n al­ter­natiewe trust stig nadat die Nasionale Landboubemarkings­raad nie die bedryf se aansoek om die voortsetting van die statutêre heffing betyds wou aanbeveel nie. Dié trust sal as die Suid-Afrikaanse Wintergraanbedryfstrust (SAWCIT) bekend staan. Die werksaamhede van die nuwe wintergraantrust, waaruit noodsaaklike dienste en aksies gefinansier gaan word, is byna dieselfde as dié van die vorige een, maar die bedryfs­koste kan egter minder wees. Die belangrikste instellings en dienste wat met die heffings gefinansier word, is die Suider-Afrikaanse Graanlaboratorium (SAGL), die Suid-Afrikaanse Graaninligtingsdiens (SAGIS) en verskillende navorsingsprojekte.
Bron: Landbou.com, 18 September 2020
Hennie Goosen van die Noord-streek is aangewys as die 2020-wenner van Toyota SA se Nasionale Jongafslaer-kompetisie. Hierdie vlagskipprojek van Plaas Media moes weens die COVID-19-­regulasies van­jaar in 'n aanlyn formaat plaasvind. Deelnemers moes 'n twee minuut lange video, gegrond op bepaalde vereistes, via WhatsApp indien. Die vier streekswenners het elk 'n Toyota SA-geskenkpak ter waarde van R2 000 ontvang, terwyl Hennie onder meer 'n oorsese reis ter waarde van byna R60 000 na die Calgary Stampede losgeslaan het.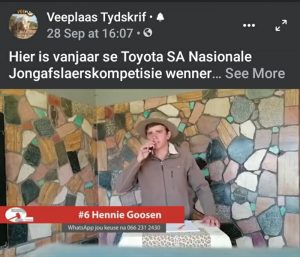 The Agri-Expo information days presented annually during Agri-Expo Livestock outside Stellenbosch are now known as Siyabonga days. These information days have been presented in collaboration with the Western Cape Department of Agriculture since 2014. 'Siyabonga' means thank you and this is a way to say thank you to South African producers. It is also an acronym for Sharing Information to improve Yields in Agriculture for a Better-Off Next Generation of Agriculturalists. In October several events in various areas were held to accommodate more producers, while other interested parties joined online where they could also participate in discussions.
This is who we are!
Who do you think you are?' were the words our Minister of Police, General Bheki Cele, used to starkly address a farmer recently. I do not know the farmer and I am not aware of the precise circumstances of the situation, but through my job I represent farmers and therefore I took the scornful remark […]
Dis wie ons is!
Wie dink jy is jy?" was die woorde wat ons Minister van Polisie, Generaal Bheki Cele, 'n boer die ander dag toegesnou het. Ek ken nie die boer nie en weet nie presies wat al die omstandighede was waarin die situasie afgespeel het nie, maar uit die aard van my werk verteenwoordig ek boere en […]
Mohammed
Beste Grootneef Mohammed het perfekte BE gepraat. Dit is op stuk van sake die nuwe lingua franca van die wêreld, maak nie saak of jy op die vlaktes anderkant Kuruman, Maselspoort of Ras al Khaimah is nie. Mense van oraloor vind 'n gemenebes in BE met die uitruil van sleutelwoorde om mekaar te vind. Mohammed […]