The Grain SA Inspiration Award is presented annually to individuals or organisations in appreciation of their excellent contributions to the grain industry. This award acknowledges someone who excelled to achieve extraordinary results in their respective fields and who inspired the industry to be more competitive in their commitment to excellence.
This year's recipients, René Uys and Harry van der Merwe, directors of Thinking Fusion AFRICA and the facilitators of the very successful Grain Academy, were honoured for their leadership in establishing a platform giving many remarkable South Africans the opportunity to tell their stories of empowerment and land reform successes.
The Grain Academy programme, with an exclusive focus on leadership, equips young leaders in agriculture to lead, think and behave differently in order to make a profound difference in their enterprises and communities as well as in organised agriculture.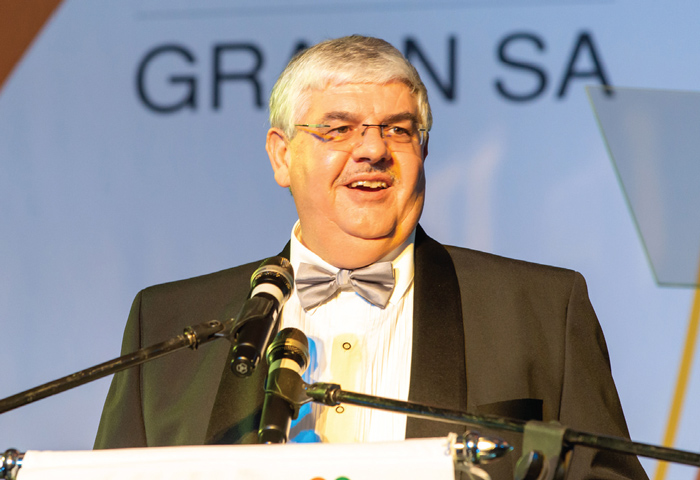 In accepting the award, René said, 'Our country is in a leadership crisis, but agriculture is not. The leadership potential in agriculture is exceptional.' She thanked Jannie and Grain SA for their vision in establishing the academy as well as Antonie Delport and Syngenta for their strategic direction and funding. 'These leaders are deeply committed to the soil of this land and family values.' Having dedicated their careers to agriculture since the inception of the academy in 2013, René and Harry say they will continue mentoring leaders in agriculture. 'We have seen the development of remarkable business minds and young talent that will undoubtedly take this country forward.'
Previous winners of the Inspiration Award include the Bureau for Food and Agricultural Policy (BFAP), Dr Julian Jaftha, Prof Zakkie Pretorius, Janes Barnard and last year's recipient, Chris Burgess.