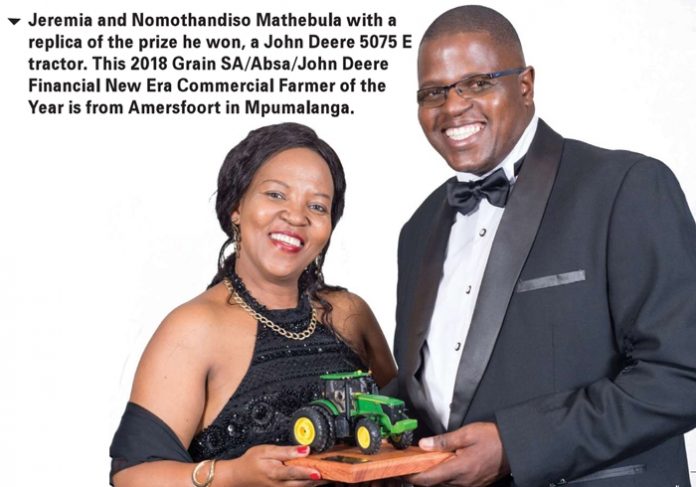 November 2018
LOUISE KUNZ, SA Graan/Grain editorial team and HELENUS KRUGER (photo)
Mr Jeremia Makhosini Mathebula grew up in the Iswepe area near Piet Retief. As a child he helped his father plant maize on 1 ha of communal land. After school he completed a degree in Industrial Psychology and had a lustrous career ahead of him. But he made the decision to give it up to fulfil a lifelong dream.
The partnership between him and his father had a big impact on his decision to exchange the corporate world for life on the farm. His own farming career began in 2009, when he planted maize on only 40 ha of arable land on which he achieved about 4 t/ha yield. Over the past four years he has shown a 75% increase in maize yield per hectare and has also become a proud member of the 1 500 Ton Club.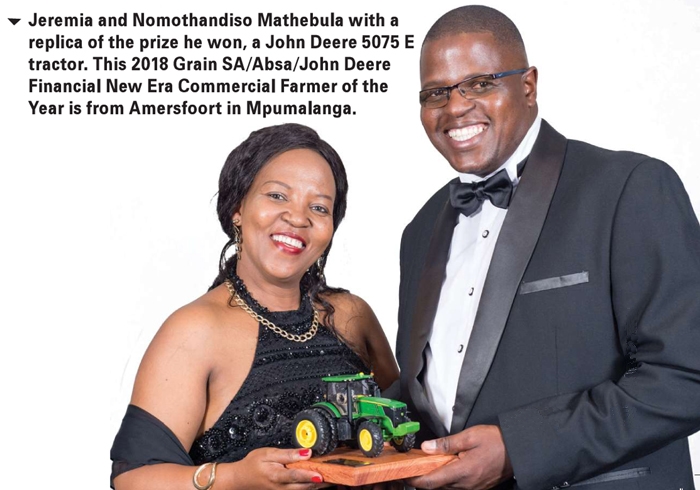 This humble family man knows that none of this would have been possible without a team who showed him the ropes and supported him. Mathebula joined Grain SA in 2014 and says that this is where he learned how important it is to have the correct information to take informed decisions. He is also part of an association of farmers in the Amersfoort area who get together on a regular basis to discuss agricultural issues. Wife Nomothandiso ensures that the administrative side of their farming enterprise stays up to date and the children make sure their father keeps smiling.
After receiving his award, he thanked Grain SA and TWK: 'You have fulfilled your vision through me'. He also mentioned Mr Jurie Mentz, Grain SA development co-ordinator, who has played a major role in his growth as a farmer. 'I am a father of three, a husband to Thandi and a farmer. Thank you to those who contributed to my success. Together we can make it work.'
Publication: November 2018
Section: Grain SA