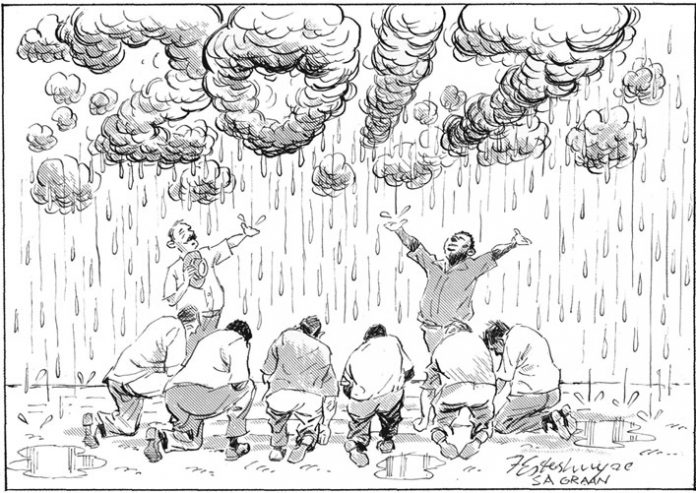 February 2017

JANNIE DE VILLIERS, uitvoerende hoofbestuurder/CEO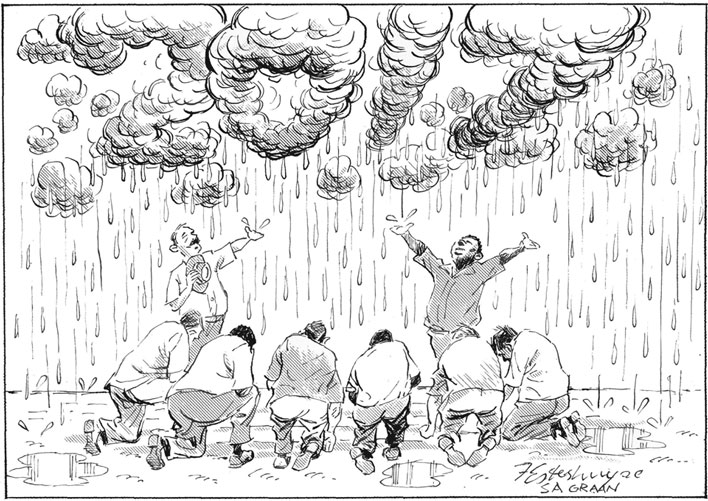 Die afgelope feestyd het vir somergewasproduksie gepaard gegaan met uiterstes in wind en weer: Eers sulke droë dae waar die wind alles doodwaai en daarna oorvloed reën. Die weste is regtig besig om die felheid van klimaatsverandering te beleef.
Die weer het die graanprodusente se emosies soos 'n klimtol van ouds laat op en af gaan. Party se emosies het soms net onder gebly totdat die sluise aan die einde van die eerste week van Januarie vanjaar behoorlik geopen het.
Ek het gedurende die vakansietyd 'n uitstekende aanhaling gelees wat my só aan die graanprodusente van Suid-Afrika laat dink het: "Are you potted or planted?" het die skrywer gevra.
As jy 'n potplant is en die wind waai wes en uitdagings kom soos stofstorms aangewaai, skuif jy gou of jou gedagtes dwaal na Australië of Argentinië. Maar as jy soos 'n peperboom daar by die agterdeur geplant is, dan staan jy waar jy staan en hanteer die storms.
Ek het in die feestyd 18 nuwe bome geplant as simbool daarvan dat ek 'n langtermynvisie vir ons land en sy mense het. Bome is die nalatenskap vir 'n volgende geslag: Nie net dat hulle ons sal onthou en waardeer nie, maar ook dat daar skaduwees sal wees om in te rus as die son genadeloos brand en die wind wes waai. Potplante het selde een of ander nalatenskap.
Ek en jy leef in 'n tydvak waar slegs 'n klein minderheid van individue daarna streef om hulle lewens op te offer vir doelwitte wat groter as hulself is. Graan SA het egter juis ten doel om 'n nalatenskap vir die land agter te laat. Ons lewe nie net vir die oomblik van hier en nou nie, maar dink ook aan volhoubaarheid as 'n reis en nie 'n bestemming nie.
Tydens die Kongres in Maart vanjaar wil ons graag saam na die pad soek wat daarheen loop. Ek lees hoe die wêreld bekommerd raak oor soveel sake waaroor ons geen beheer het anders as om te glo in die Een wat alles onder Sy beheer het nie.
Toe Kersfees verby is en die stofwolke steeds ons WhatsAppgroepe se foto's gevul het, het ons geloof klein geraak. Tog is daar wonderbaarlik weer vir ons gesorg! Dit was vir my nogal interessant dat Oom Lang Hans in 'n ou SA Graan/Graan-tydskrif berig het dat die reën na 1985 se droogte ook op 7 Januarie begin val het.
Kom ons leef en beplan die toekoms soos 'n boom wat stewig geplant is in Suid-Afrika. Laat ons nie beplan asof ons potplante is wat heen en weer geskuif word na gelang van die uitdagings van ons dag nie. Uitdagings sal daar altyd wees: As dit nie die natuur is nie, sal die politici daarvoor sorg.
Dit is hóé ons daarop reageer wat belangrik is. Uitdagings sal daar in 2017 wees; kom ons pak dit saam aan en wys vir die wêreld waarom daar gereeld na die Suid-Afrikaanse produsente as die beste in die wêreld verwys word.
Publication: February 2017
Section: Features