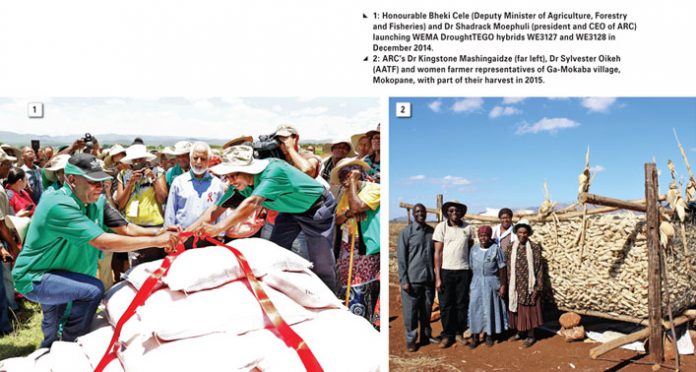 July 2016
KINGSTONE MASHINGAIDZE, ARC-Grain Crops Institute, Potchefstroom
In South Africa 70% of the population consume maize as their staple food. Therefore research into improving this food crop is vital for food security and sustainability. With only 13% of South Africa being arable due to low rainfall and poor soils, the challenge facing producers to produce for a growing population is enormous.
Climate change is predicted to worsen the situation with more variable rainfall and above average temperatures. Identifying ways to mitigate and adapt to climate change is fundamental to realising food security and improved livelihoods in South Africa and the rest of the continent.
Since 2008, the ARC has been participating in a public-private partnership called the Water Efficient Maize for Africa (WEMA). WEMA products are low-cost drought tolerant conventional and transgenic (GM) hybrids that provide at least 25% yield advantage under moderate drought conditions.
The first WEMA DroughtTEGOTM hybrids WE3127 and WE3128, released and registered by the ARC, were launched in December 2014. The variety WE3127 received positive feedback from the various representatives of farmers and extension officers that received 10 000 promotional seed packs during the launch.
For example, Mr Prince Molema, a smallholder farmer who planted the drought tolerant hybrid at Mooifontein, near Lichtenburg, North West Province, reported that his average yield was 2 t/ha compared to 1,5 t/ha for other commercial hybrids. He received only about 250 mm rainfall during the 2014/2015 summer season compared to an average 500 mm in a normal year.
In Limpopo, nine smallholder farmers from the Ga-Mokaba village in the district of Mokopane, planted 7 ha in 2014/2015. According to Mr Isaiah Setseta, chairman of the Mokaba Farmers' Association, their yield was 1,14 t/ha compared to 0,6 t/ha the previous season – a 100% increase in a season that had been termed the worst in two decades. They only had rain immediately after planting and again during flowering.
There were similar success stories in the Free State, KwaZulu-Natal and Mpumalanga provinces.
To date, the ARC has released and registered ten DroughtTEGO hybrids with predominant characteristics of drought tolerance and high yield potential under optimal moisture. Certified seed of these hybrids will be available from Jermart Seeds, Capstone Seeds and SeedCo from August 2016.
The ARC is constantly looking at bringing affordable technologies to the smallholder farmers and is happy to announce that the WEMA drought tolerance transgene MON87460 was approved for commercial release in May 2015. Regulated trials of the stacked drought (DT) and insect protection (Bt) genes are currently under way. Varieties with the Bt gene (MON89034) will be launched in July/August 2016 for smallholder farmers.
For further information, contact Dr Kingstone Mashingaidze at 018 299 6356/6100, 072 705 7093 or MashingaidzeK@arc.agric.za.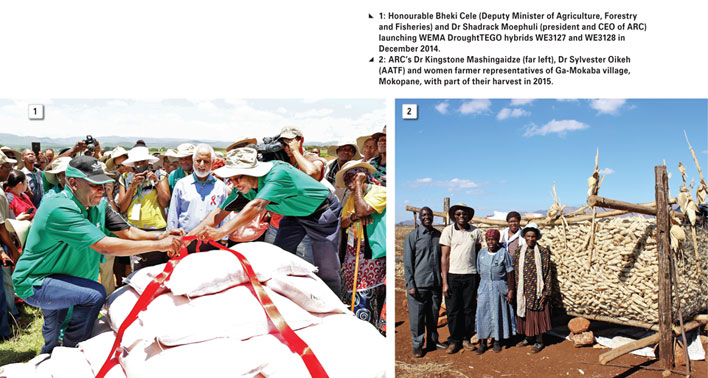 Publication: July 2016
Section: On farm level