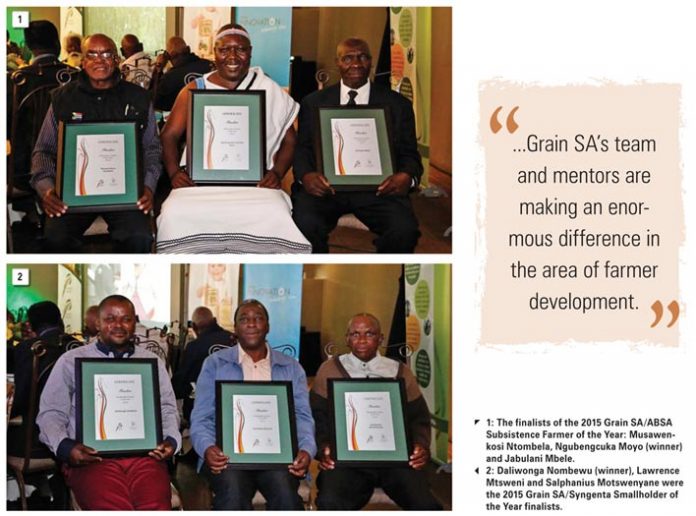 November 2015
LOUISE KUNZ, SA Graan/Grain contributor and photos: JOANIE SCHEEPERS
"He helps others most, who shows them how to help themselves," is a quote by the often cited American evangelist, AP Gouthey. At this year's Day of Celebration it was clear that the valued advice shared with new era farmers by Grain SA's team and mentors are making an enormous difference in the area of farmer development.
More than 200 guests, including government representatives, agricultural stakeholders and approximately 140 new era farmers (many sporting colourful traditional outfits) attended the Day of Celebration on 1 October in Bloemfontein, where their progress and hard work were acknowledged.
All nominees had shown some growth in their farming operations through input from Grain SA's Farmer Development Programme, which provides information on the importance of how increased knowledge on weed control, soil health and seed selection can have a profound effect on farming operations. The finalists shared how important the input from their Grain SA mentors was. Building good relationships with commercial farmers and agribusinesses and attending Grain SA's courses were also part of their recipe for success.
The 2015 winners
The 2015 Grain SA/ABSA Subsistence Farmer of the Year is Mr Ngubengcuka Moyo from Maclear, who is mentored by Mr Vusi Ngesi (Maclear). Moyo does all his farming manually and although he uses a hand planter and knapsack sprayer, he has improved his yields by using GM seeds, the correct fertiliser and chemical weed control. Moyo chooses to farm using no-till methods to help conserve the land for future generations.
Mr Daliwonga Nombewu from Mthatha in the Eastern Cape is the 2015 Grain SA/Syngenta Smallholder Farmer of the Year.
Mr Lawrence Luthango (Mthatha) is the Grain SA regional manager who oversees this winner's farming operations. This young farmer believes it is important to spread one's risks; Nombewu therefore also grows dry beans, potatoes and spinach for the local market to boost his cash flow.
The 2015 Grain SA/ABSA/John Deere Financial New Era Commercial Farmer of the Year is Mr Solomon Masango from Carolina in Mpumalanga. As the new mentor to this humble farmer, Mr Jurie Mentz took over the mentor reigns from the recently retired Mr Naas Gouws. Masango practices no-till farming and plants maize, soybeans and sugar beans. He emphasises the importance of good relationships with other farmers and advisors who help him with his planning and believes planning is an important contributor to his success.
This worthy winner has seen amazing progress, with his yields increasing from 3,5 t/ha to 6 t/ha – one of the attributing reasons for him receiving the grand prize, a John Deere 5403 MFWD 48 kW tractor sponsored by John Deere Financial in partnership with ABSA.
Ms Jane McPherson (programme manager: Grain SA Farmer Development) handed over certificates of appreciation to the friends of the programme – individuals who support the programme to ensure its continued existence.
Special mention was made of Ms Jenny Mathews (producer from Sannieshof and previous chairman of the board of the Grain Farmer Development Association) who has been involved in this programme for more than ten years.
"These farmers have opened my heart and made me realise that I want to be part of making a difference in this country," Mathews said and urged Grain SA to continue with this life changing programme.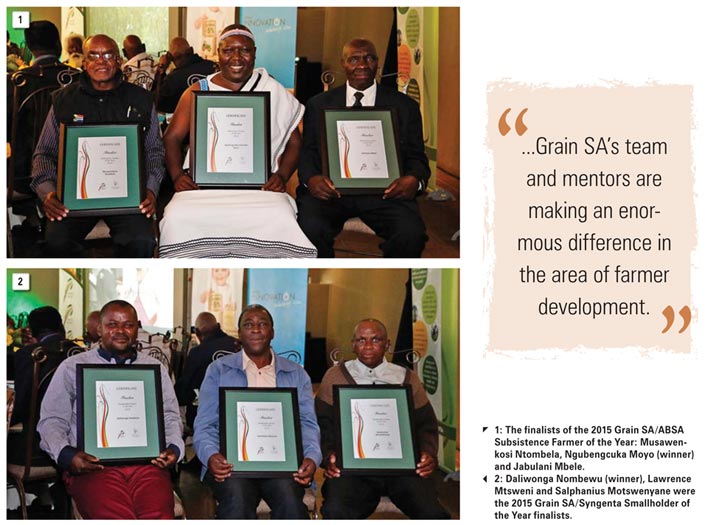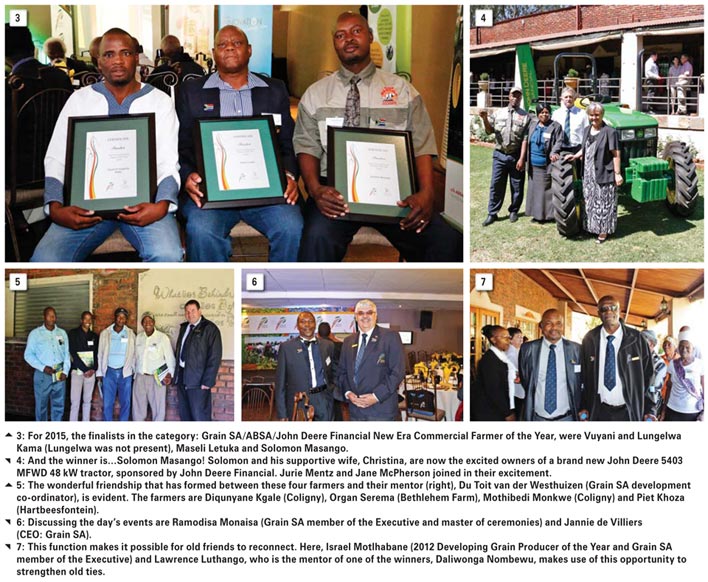 Publication: November 2015
Section: Grain SA