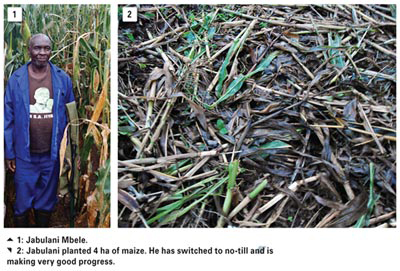 September 2015
KOM KUIER SAAM BY DIE 2015 Graan SA/Syngenta Graanprodusent van die Jaar-finaliste
LANDI KRUGER, Grain Farmer Development Programme, Grain SA
Grain SA recently hosted its annual "Farmer of the Year" competition to acknowledge the successes of good developing farmers.
The competition consists of three categories to create a platform for all types of farmers to compete fairly. The three categories are the Subsistence Farmer of the Year (farming on 0 – 10 hectares), the Smallholder Farmer of the Year (farming on anything from 10 hectares, but producing less than 250 tons of grain) and the New Era Commercial Farmer of the Year (producing more than 250 tons of grain).
The winners of all three categories will be announced on the Day of Celebration function in Bloemfontein on 1 October 2015.
Grain SA/ABSA Subsistence
Farmer of the Year finalists
Jabulani Abednigo Mbele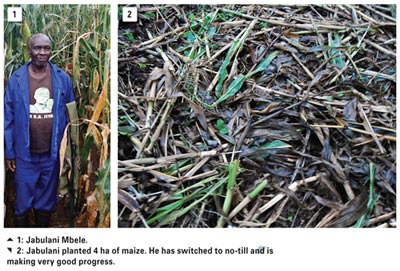 Jabulani Abednigo Mbele was born in Bergville, in the Silimangamehlo area in 1950. He grew up there and married Victoria in 1975; they were blessed with five children, of which two have sadly passed away.
Their remaining children are their son, Thamsanqa Mbele (34), who left school in grade 9 and is now working for one of the construction companies in Bergville. Their daughter, Thulisile Mbele (31), left school in grade 11 and she currently stays with her parents. Their youngest son, Dumezweni Mbele (28), works for Mondi as a Bell loader operator.
Jabulani started school at Emadolobheni Primary School where he completed grade 4. In 1965 he went to Mooi River where he started working for Textiles as a machine operator until 1970. In 1971 he moved to Johannesburg where he started working for African Altex from 1972 until 1990. During the latter part of 1990 he was transferred to Romdex Carpets in Durban where he specialised in making motor vehicle carpets until 1999.
His interest in farming started in 2000 when Romdex Carpets closed down and he went back home where he started to see farming as a way of life accentuated by his upbringing in rural areas.
Mbele's involvement with Grain SA started three years ago when he joined a study group and attended training courses to equip him with the necessary knowledge and skills.
Mbele planted 4 ha of maize and 3 ha of dry beans. He has switched to no-till and is making very good progress. He plants all 7 ha by hand, while his three tractors are only used to transport water and inputs as he believes the fuel cost is too high.
He is willing to learn and apply newly attained knowledge. During the past year he influenced the farmers in his community to start applying the correct production practices and make use of hand planters according to no-till methods.
He is an example to the rest of his community and is seen by many as a role-model.
Ngubengcuka Christian Moyo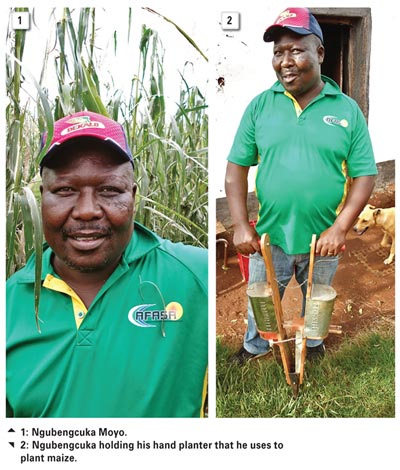 In 1967, Ngubengcuka Christian Moyo was born and he grew up in the Maclear Ngqayi administrative area. He married his wife, Moria, in 1991 and they were blessed with four children – a girl and three boys.
He started his schooling career at Ngqayi Junior Secondary School and completed grade 9 after which he went to Gcisa High School in Tsolo where he completed grade 12 in 1989. He started working for the Department of Agriculture, Forestry and Fisheries in Mthatha from 1990 up to 2001 as a general worker, planting trees. From 2002 to 2008 he worked for Hans Marensky as a supervisor for log markers. He left his job when he felt that he can make a living through farming.
He grew up in a family who has always farmed on communal land and working for the Department of Agriculture also triggered an interest in farming for him. He furthermore had Agricultural Science at school as a subject. He started his farming career in 2008 on communal land.
Ngubengcuka planted 2,5 ha of maize on dryland. From the 2013/ 2014 planting season he started planting without ploughing (no-till) and he is doing very well with this method. He believes that tractor implements destroy his lands for future generations. He plants by hand.
Musawenkosi David Ntombela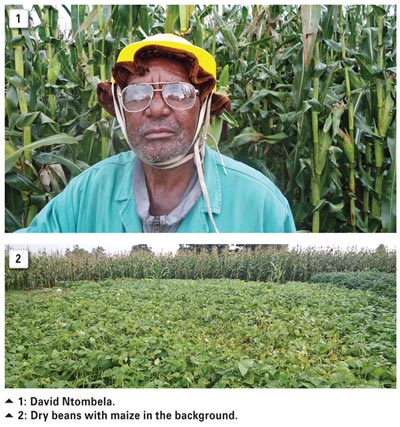 Musawenkosi David Ntombela was born in Bergville, in the Woodford area. He grew up in Bergville, got married in 1983 to Nomhtandazo and they are blessed with seven children; three sons and four daughters.
Nokulunga (35) is married and works as a teacher at a one of the schools in Bergville; Mthokozisi (33) works for the Department of Social Development in Newcastle; Bright-girl (30) works for Couch manufacturers in Ladysmith; Thobile (27) completed her grade 12 at Ekwaluseni High School and currently stays with her parents; Nontuthuko (23) completed grade 10; Nhlanhla (20) is currently studying Business Studies at Estcourt College; and Sandile (17) is currently in grade 11 at Ekwaluseni High School.
Ntombela started his primary education level at Bethany Primary School and went to Okhahlamba High School where he completed grade 10 in 1974. He worked for Iscor in Newcastle from 1976 until 1998.
After he was retrenched in 1998 he decided to start farming on 1 ha communal land with vegetables that he sold to the local community. He grew up in a farming environment and sees farming as the only way to feed his family as he is no longer employed.
He became involved with Grain SA when he joined a study group in 2013. Ntombela planted 6 ha of maize and 1 ha dry beans.
---
Grain SA/Syngenta Smallholder
Farmer of the Year finalists
Salphanius Motswenyane
Salphanius Motswenyane was born in a village called Brooksby near Mooifontein in the North West Province. He is the first born of Simon and Ivodia Motswenyane and grew up in a farming environment where his father taught him about agriculture. He married Maria Mmamane Mokwatse in 1974 and they have two children, Steven and Martha.
He attended school at the Gelukspan Motswenyane Bantu School where he finished grade 8 after which he had to start working to earn a living.
His first job was with Mr Moses Motswenyane at Kaalpan and from there he worked for Mr Fielies van Rensburg near Taaiboschspruit in the Sannieshof district. After seven years he got a job at the Mooifontein agricultural co-operative.
This humble man decided at a very young age that one of his dreams is to become a commercial producer, but he also realised that he will have to work very hard to get there. His role-models and inspiration are his father and uncles.
He became involved with Grain SA many years ago as a study group member attending study groups and training courses and he became an advanced farmer in 2013.
Motswenyane planted 140 ha of maize and 50 ha sunflowers. He is a hardworking farmer who tries to do everything on his farm at the correct time; he also tries his best to control weeds and to fertilise. He is currently farming on Tweebuffelsgeschiet near Lichtenburg in the Grootpan area – a farm he received from the Department of Rural Development.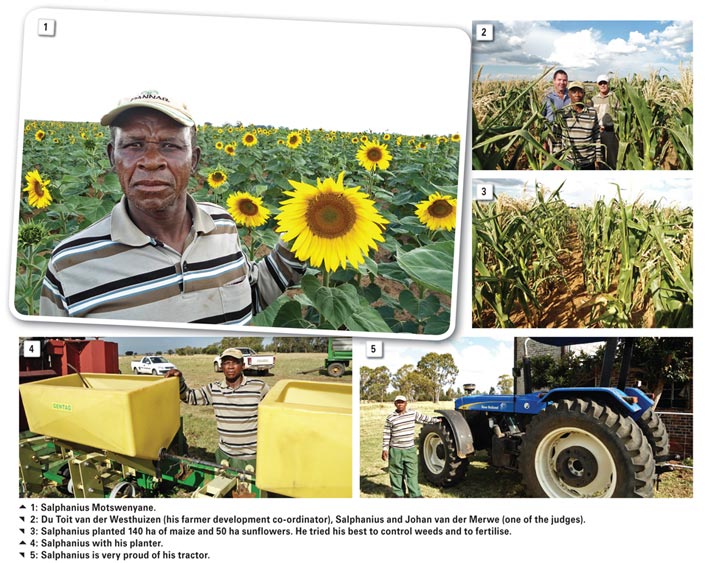 Lawrence Mtsweni
Lawrence Mtsweni grew up in Springs where his father worked as a driver. He completed grade 12 (Technical Matric) in Kwa-Zulu-Natal in 1974.
He became involved in the building industry after doing a trade test in 1977 as a brick layer, which kept him occupied up until 1995. He then started his own construction company in 1996 until 2005, after which he acquired a farm through Land Reform. He now lives on the farm Uitkyk in the Nigel district.
Lawrence became interested in farming when his father bought a 2 ha plot outside Springs in 1989.
He joined a Grain SA study group in 2008 where he now acts as the chairperson of the Masethuthukenii Study Group. He attended various training courses and is currently studying through the University of Pretoria – a three year course in Agricultural Enterprise Management.
Mtsweni wants to become a commercial producer and get involved in agro-processing, producing animal feeds and creating a market for his own produce. He also wants to package meat products and dry beans.
His commitment to farming and his excited approach is contagious for other farmers in the area. His family members are just as excited about agriculture, with his two daughters now on the farm initiating the packaging enterprise and attending to the animal enterprise of the farm.
He planted 35 ha of maize and expects an average yield of 6 tons/ha.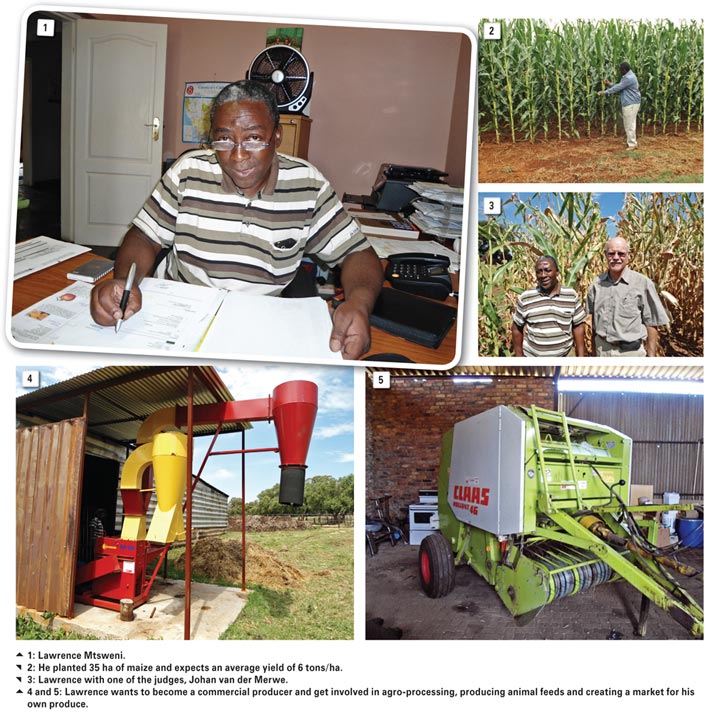 Daliwonga Nombewu
Daliwonga Nombewu was born in 1975 in the Gungululu administrative area in Tsolo. He grew up with his mother and his siblings. His father passed away when he was seven years old.
Nombewu attended primary and secondary school at Gungululu where he passed grade 12.
After school he worked with his brother as a panel beater. He also worked as a taxi driver and later bought his own taxi. While driving the taxi, he became interested in farming, saved money and bought his first tractor in 2002. He then became involved with a programme called Massive Food Production where he developed a greater interest in farming activities after which he sold his taxi and bought a second tractor.
He joined a Grain SA study group called Siyakhula Gxididi Maize Project and attended various training courses.
He planted 13 ha of maize and is expecting an average of 4,5 tons/ha.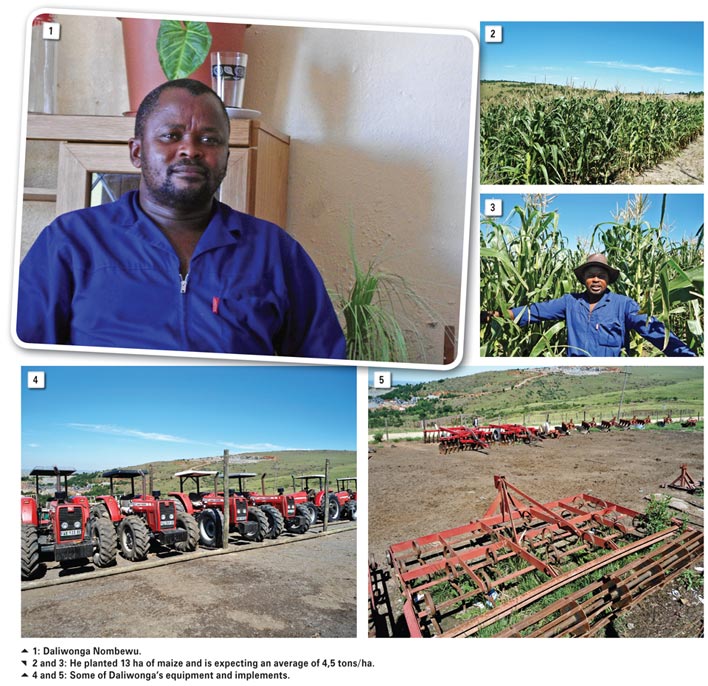 ---
Grain SA/ABSA New Era Commercial
Farmer of the Year finalists
Vuyani and Lungelwa Kama
Vuyani Kama was born in Ugie in 1970 and Lungelwa was born in Elliot in 1978. The couple has been married since 2004. They reside on a farm called Mt Elton, near Ugie and are blessed with three children – two boys and one girl. Their first born, Mzomhle, is 16 years old, their daughter, Khazimla, is ten years old and their youngest, Iminathi, is seven years old.
Vuyani started his schooling at Sbabale Senior Secondary School in Ugie where he completed grade 11. In 1995 he worked for PG Bison as a supervisor for the planting and spraying team. In 2002 he became a contractor servicing PG Bison with planting, spraying and making fire belts.
Lungelwa started her schooling at Longhorn Farm School in Ugie from 1986 to 1993, then left to join Sbabale Senior Secondary School in Ugie and matriculated in 1998. In 2003 she went to Boston College to study for a diploma in Tourism and graduated in 2006. They started farming in 2006 with only 17 cows and 70 ha of arable land. They didn't plant or grow anything on their farm in 2006. They started producing maize in 2007 on 30 ha, and they grew from that.
Currently they farm with 160 ha of maize, 9 ha potatoes and 2 ha of vegetables. Their cattle grew from 17 in 2006 to 208 in 2014/2015 and 704 sheep. On their maize they are expecting 8 tons and more per hectare.
Vuyani is still working as a contractor and a part-time farmer whilst Lungelwa is a full-time farmer.
They are a team that is willing to learn and try conservation agriculture moving forward to reduce cost and maximise the potential of their soils.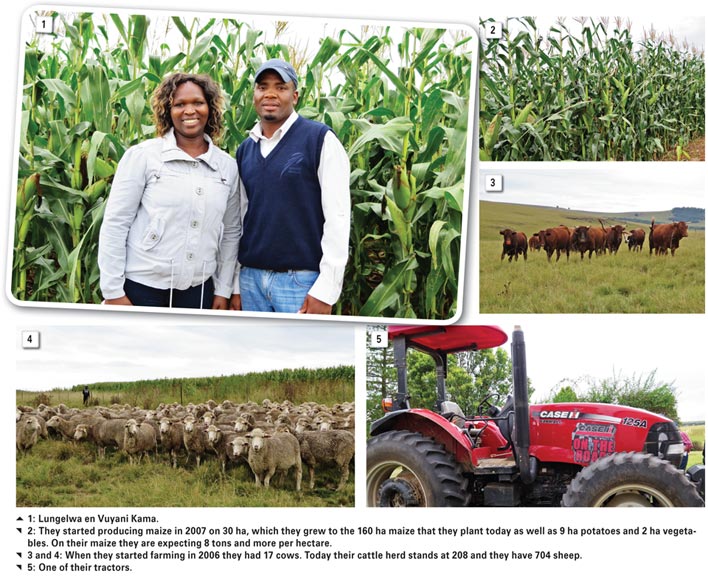 Maseli Augustinus Letuka
Maseli Augustinus Letuka, the oldest of six boys and four girls, grew up in Bethlehem. He married Maletea in 1997. Unfortunately his wife sadly passed away in 2010.
They have four children: Two sons and two daughters. The two sons, Guno and Motloejoa, both work at Sasol in Secunda as an operator and electrical engineer respectively. Maki works as a cook at Golden Gate and Lomile is married and lives in Bothaville.
Letuka attended school in Bethlehem in the Free State and then studied teaching at the then Tshiya Teachers Training College. He furthered his education until he finished his senior degree in education specialising in "leadership and management" at the University of the Free State.
He worked for the Department of Education for 23 years in different roles starting as a post level one teacher, became a senior teacher, head of department, deputy headmaster and finished his schooling career as a headmaster until he resigned in 1998. He had never worked on any farm before then; it is only passion that sparked his interest in agriculture. He started with a few cattle that he kept grazing in the then Qwaqwa homeland. After his resignation he bought himself a piece of land (209 ha) from Land Bank. Unfortunately because of a partnership, he had to sell this land in 2008. From then on he started leasing land from one area to another on a contractual basis.
His involvement with Grain SA started as a study group member. After a while he became the chairperson of the Qwaqwa study group and currently serves on Grain SA's Executive. Apart from his involvement with Grain SA, he was also the president of NAFU Free State and secretary general national, founder member of NERPO and is still the co-ordinator in the Free State province. He was a director of NERPO and the national chairperson until the end of his
term in 2013.
Letuka was a founder member of the present AFASA, served as a trustee of the Winter Cereals Trust and vice-chairperson of the newly established Grain Farmer Development Association (GFADA). He planted 86 ha of maize and expects an average yield of 5 tons/ha. He also planted 30 ha of soybeans with an average of 1,5 tons/ha. He is an example of a passionate and driven farmer be a successful in his village yard, later he became a member of the communal who has what it takes to commercial producer.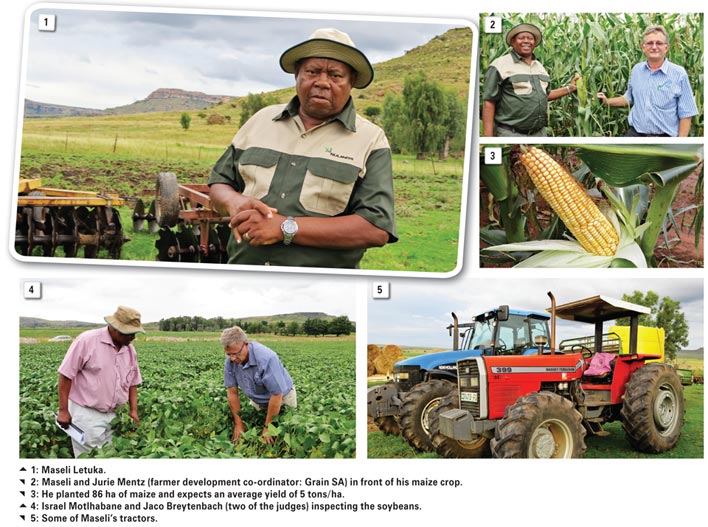 Solomon Masango
Solomon Masango grew up on the farm Knersvlei in Carolina. His father died when he was very young and he was brought up by his mother, who was a domestic worker on the farm. He attended Thokoza Combine School where he completed grade 7, then KwaMhlang where he completed grade 12 in 1992.
He started working at Bennicon Mine in Witbank, completed his studies as a mine worker (open cast). He worked there from 1994 to 1997, after which he was employed at African Explosive Ltd, where he worked as a surface blaster until 2000.
When he completed his studies as a blasting engineer, he was promoted to field service superintendent. In 2004 he resigned with the aim to be self-employed. He then started a transport business.
In 2008 he decided to become a farmer. His interest in farming started at a very young age on the farm that he grew up on. He became an advanced farmer with Mr Naas Gouws in 2012 where his involvement with Grain SA started. He joined the newly formed Carolina study group in 2014.
Masango lives on the farm, Brakspruit, belonging to Ubuhle Uyazenzela CPA. With the help of the government, the community received 274 cattle. Solomon looks after the herd on behalf of the community, making hay and supplying crop residue in winter. His farm workers have between 4 ha and 7 ha of arable land, which are planted on their behalf, free of charge.
This farmer is always trying to grow bigger, always looking for more land to rent and growing his personal cattle herd. He planted 150 ha of maize with an average of 6 tons/ha and 200 ha of soybeans with an average of 1,5 tons/ha. His yields increased from 3,5 tons/ha to 6 tons/ha in the past year.
Solomon is hard working with a passion for new ideas and gaining knowledge.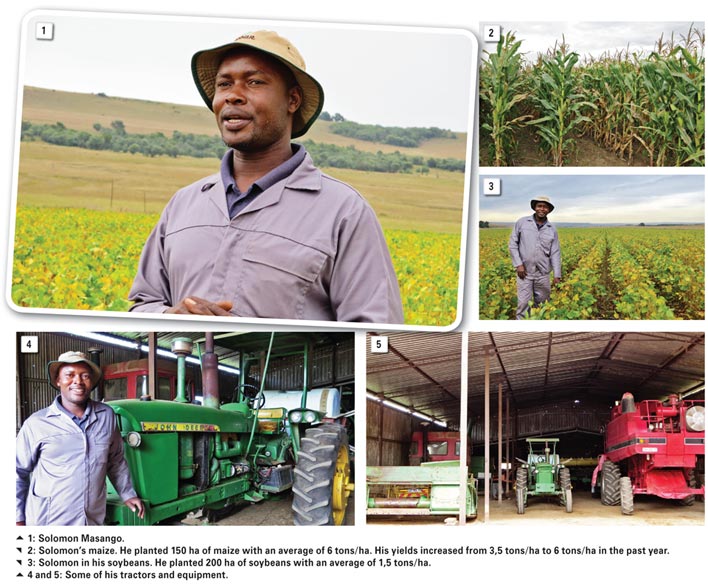 Publication: September 2015
Section: Grain SA