When Grain SA first introduced its mentorship programme, the goal was to change the lives of smallholder farmers by improving their agricultural practices. Through the years it has become clear that the programme does much more than that – it has become a process of reinventing community and showing that everyone has an important role to play.
British author Marc Freedman explains mentoring best: 'Mentoring brings us together – across generations, class and race – in a manner that forces us to acknowledge our interdependence and to appreciate that we are caught in an inescapable network of support.'
Part of everyday life
Mr Jacques Roux offered his services as mentor in 2016 while he was a crop farmer in the Bethlehem area. He has since moved to the Bloemfontein area and although he is focusing more on livestock now, he still plants maize under irrigation.
He became increasingly aware of the great need that existed amongst fellow farmers who had land available, but were lacking in knowledge concerning correct agricultural practices. 'I started enquiring about where I could offer my assistance and then got involved in the mentorship programme through Mr Johan Kriel, development co-ordinator at Grain SA.'
Although he knew that his knowledge about crop production would help the farmers become more skilled, he never anticipated the impact the mentees would have on him.
'It was a real eye-opener to see the challenges they face. These are passionate farmers impeded by financing, mechanisation and several other factors – yet they keep going, determined to succeed.'
Since getting involved in the programme, he has become aware of the importance of teamwork. 'Mentorship is about setting an example and providing guidance, but in the process, you realise that you can learn a thing or two from
the mentees.'
The programme has influenced his dream for the South African agricultural sector. He would love to see producers supporting the vision of a united sector. 'No matter what the size of their farm, producers should stand together, support each other and share advice.'
It is after all towards the same goal of ensuring food security.
'We cannot do much about the land issue, but there are things that we can change. As commercial producers we should support the smaller farmers by sharing advice and giving guidance. We all started as unsure beginner farmers at one stage.'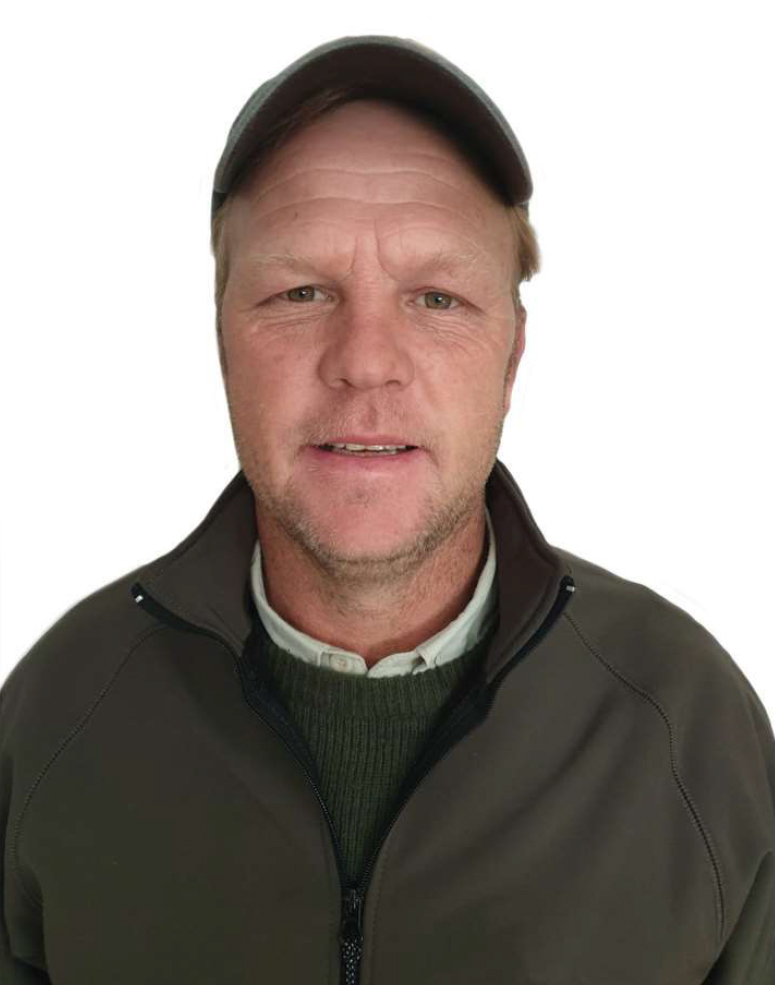 Knowledge enables change
Jacques is currently mentoring five farmers in the Kestell/Harrismith region individually, using the programme material as guideline. At the onset of the programme, it is vital to rectify the soil status as the fields have mostly been unused for many years which has left the soil depleted of nutrients.
'In planting season I am on their farms constantly to ensure that soil preparation and the planting itself are done according to correct agricultural practices. When it is time for crop spraying, I employ a system for visitation to ensure that I can supervise.'
Jacques says with the aftercare of sugar beans being so important, he makes sure that he visits the farmers regularly to check for damage and to ensure a healthy crop.
This mentor is very happy with the yield being achieved in his area. 'Last season the farmers harvested 4,5 t/ha to 6 t/ha which is in line with the area average – this really shows me that the mentees are on a learning curve and that the programme is working.'
If he was able to make a few changes, he would definitely look at two key areas: Financing and mechanisation. He would love to see leniency from the financiers so that the smallholder farmers can act when problems (such as an outbreak of armyworm) arise. With limited funds unforeseen problems cannot be properly addressed. Very little equipment is available which also makes the process more challenging.
Creating partnerships
Although Mr Stoffel Tawa Dhladhla and his son, Hudson, work as a team, only Stoffel was nominated and qualified to be a Farmer of the Year competition candidate (only one person in a business can be nominated). This achievement causes Jacques to smile broadly.
'I have never even had one farmer who has qualified for the competition, so to have a finalist and another mentee, Mr Elias Nthethe, who is joining the 250 Ton Club, is wonderful,' he shares excitedly. This is also the highlight of his time as mentor and motivates him to continue.
Jacques would love to see that the mentorship process takes place over a period of five years. 'One cannot really learn enough in a year or two, as the next year may be the one with a new challenge or drought where you have to know about planting an alternative crop. A five-year period would also show them how to diversify.'
It is said that no man is capable of self-improvement if he sees no other model but himself, so every mentor should also have a mentor. To Jacques it is his dad and late brother, but he also adds his mentee, Elias, to the list. This 60-year-old man has shown him exactly what ubuntu means.
'He treats everyone – from his workers to authority figures – with such respect that it puts me to shame. He also often phones me just to check in and to make sure that I am well.'