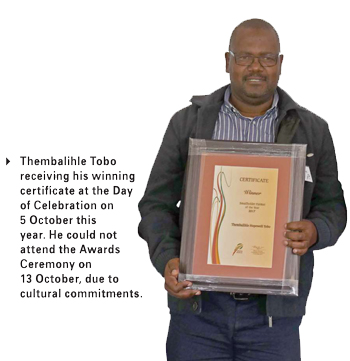 November 2017
Smallholder Farmer of the Year category (10 ha, but producing less than 250 tons)
LOUISE KUNZ, SA Graan/Grain contributor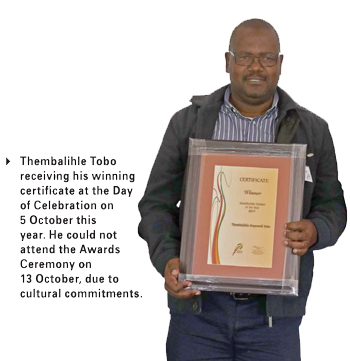 The winner of the Grain SA/Syngenta Smallholder Farmer of the Year award, Mr Thembalihle Tobo, has gained a number of skills through his varied career which includes being a soldier in the military and a business man. He is also currently busy with his BA Degree in Criminology. Although variety makes his life more interesting, his passion for farming will keep him where his roots are – on the 25 ha of communal land, Ndunge, near Mbizana in the Eastern Cape.
After losing his wife in 2016, he focussed on his farming operation and training his young son, Aphiwe, about the ins and outs of maize production. Thanks to a healthy rainy season, his 15 ha of maize brought in a harvest of more than 5 t/ha. The white maize is sold directly to a miller in Mbizana, while the yellow maize is sold in Kokstad – apart from the 20% which is kept for his cattle and sheep. With the assistance of his sister, Nomhle, his soymilk value-adding operation is steadily growing. Tobo is a firm believer in the health benefits of soybeans.
This chairperson of the Ndunge Study Group became an active member of Grain SA in 2006. He organises meetings and conducts farmers days in his area as he is keen to share his knowledge with developing farmers. He is focussed on soil health for long-term growth and believes that with agricultural activities in the area, the prevailing poverty could be improved considerably. 'If Ndunge and Bizana farmers work together, they could become the feeders of the nation,' he mentioned in an interview.
As he is passionate about the future of farming, he works side-by-side with the Grain SA team, overseeing and maintaining trials for a range of maize and soybean seed varieties being done in the area.
Publication: November 2017
Section: Grain SA