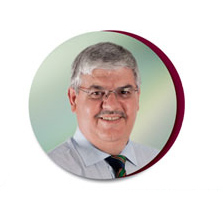 May 2016

JANNIE DE VILLIERS, uitvoerende hoofbestuurder/CEO
Oral in die samelewing word die vraag oor waarheen Suid-Afrika op pad is, indringend bespreek: Wat gaan volgende gebeur en wat staan ons te doen indien hierdie of daardie scenario gaan realiseer? Die mense is terself dertyd onseker en ontsteld. Niemand twyfel meer daaraan dat ons by 'n kruispad gekom het nie.
Prof Mohammad Karaan het nou die dag daarop gewys dat 'n groot droogte nog altyd tot 'n nuwe bedeling gelei het. Vat die 1930's, 1946 en nou weer 2015/2016. Hoe sal só 'n nuwe bedeling lyk?
Ek wil ons huidige omstandighede verduidelik aan die hand van twee metodes van roei. Daar is die ou bedeling van roeiers wat in kalm waters met hulle rug na die wenpaal sit en net die leier dophou ten opsigte van rigting, ritme en aanmoediging. Roeiers roei net, hulle stuur nie, hulle weet nie lekker hoe ver nog nie – dit is die leier se werk.
Die nuwe bedeling waarin ek meen ons nou inbeweeg, sit 'n roeier in sy eie bootjie en kyk vorentoe. Hy besluit self hoe vinnig, in watter rigting en hoe om die stroomversnellings aan te vat. Die water is selde kalm. Elke roeier bepaal sy eie uitkoms. Ons sukkel vandag om leiers te volg en vertrou nie hul leiding nie.
'n Deel van die wantroue in ons leiers wat rigting vir die toekoms betref, behels ons elkeen se maatstaf waarmee ons bepaal of dit goed of sleg gaan. Party van ons is met niks minder as die Wêreldbeker tevrede nie. Alles minder as dit, laat 'n gevoel van mislukking by ons agter. Ander is weer heel tevrede met die Sangbeker en die feit dat ons darem deelgeneem het en elkeen 'n kans gehad het om tyd op die veld deur te bring.
Die vrae wat die graderingsagentskappe onlangs vir ons Minister van Finansies gevra het, was egter die regte vrae:
Wat gaan Suid-Afrika doen om weer ekonomies te groei?
Wat is die regering se plan met al die staatsbeheerde entiteite wat net geld verloor?
Belê Suid-Afrikaners self ook nog in Suid-Afrika?
Wat is die regering se planne met die studente-oproer?
Dit is wat die besluitnemers in die wêreld wil weet. Dit is wat ons ekonomiese status bepaal – nie wie besit watter aandele en watter grond nie.
Mnr Jim Collins sê: "Face the brutal facts." Dít is wat van goeie lande uitstekende lande maak. Suid-Afrika het met sy huidige kultuur die gewoonte aangeleer om nie meer die feite in die oë te kyk nie. Ons meet die verkeerde goed om te bepaal of ons nog in die regte rigting beweeg en beskerm swak integriteit van mense in hoë posisies. 'n Vis vrot mos van sy kop af, of hoe?
Dit is tyd om om te draai in jou bootjie en jou eie koers in te slaan – die huidige boot stuur op die rotse af! Daar is 'n ander weg. Graan SA sal, ten spyte van kritiek, steeds hierdie weg soek en aanwys. Die rotse is nie 'n opsie nie.
Ek het die afgelope seisoen gesien hoe graanprodusente van die Swartland tot doer agter in Mareetsane die brutale feite van 'n droogte vierkantig in die oë gekyk het, 'n besluit geneem het en aanbeweeg het. Dít is leierskap! Dit is net dooie visse wat stroomaf gaan.
Publication: May 2016
Section: Features