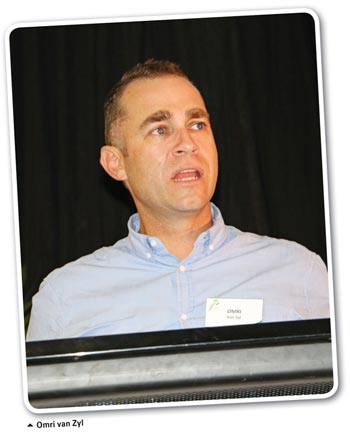 April 2016
— Omri van Zyl
JENNY MATHEWS, SA Graan/Grain contributor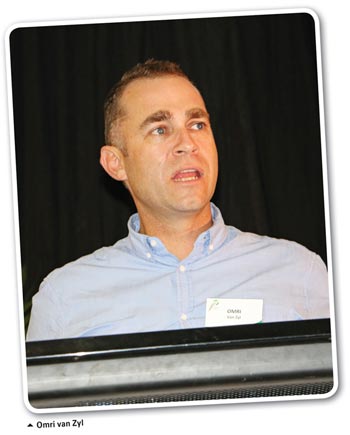 Although we can learn lessons from the way people coped with the drought in the past, the playing field has changed. New challenges require new thinking and careful planning to come up with constructive recommendations.  Mr Omri van Zyl (executive director: Agri SA) puts the agricultural sector under the spotlight as it reels under the shock of the current drought.
Facts
Some facts about South African agriculture:
12% of South Africa is arable land but a mere 3% is truly fertile. The 1,5% under irrigation produces 30% of the crops in the country.
Agriculture's contribution to the national gross domestic product  (GDP) dropped from 21% in 1910 to 2,5% in recent years.
Sector performance is influenced by uncertain climatic conditions.
About 20% of the producers produce 80% of the output.
Deregulation in 1990 – 1992 triggered an industry which has grown into a success story.
Sectoral turnover during 2014/2015 amounted to R77 063 million.
In 1952 there were 120 000 farming units in the country compared to the 35 000 of today.
There are still more exports than imports. Is South Africa food secure? Yes. How many countries in Sub-Saharan Africa are food secure? Only one: South Africa.
Meeting the challenges for today
A Drought Task Team has been constituted by primary stakeholders in the sector including government departments – most provinces have been declared disaster zones. Assessments have been made to identify regions/commodities in trouble, in order to anticipate the need for assistance on a national basis.
The next two months will reveal the full picture, depending on rainfall. It is very likely that we will have to import grain to meet domes tic needs. Many producers have no feed for their animals and are being forced to off-load while future feed prospects and accessibility are of concern.
Agricultural production will have to recover quickly. If this cannot be done, there will be food insecurity, hyper-inflation and large scale job losses in the sector. People will migrate to urban environments where they might have greater opportunity to find food and opportunities for a livelihood. Small producers have been severely affected by the drought and many will retrench farm workers adding to unemployment – a serious social challenge for South Africa.
Risks
What are the greatest risks in managing this situation? Little effective support to producers; carry-over debt problems are not addressed; food security risk; rise of unemployment and job losses;  the erosion of a tax base (loss of producers); the socio-economic decline of rural areas; an absence of infrastructure and the capacity within government to 'deploy funding' effectively.
A proposal to put on the table
Agri SA has worked on establishing the cost of drought interventions by calculating the financial needs for commercial and small holder producers to survive. The total fiscal outlay required for producer assistance in the 2016/2017 year is: Best case scenario = R7 119 100 000, medium case scenario = R11 590 120 000 and worst case scenario = R16 572 900 000.
This includes subsiding feed purchases, grants/provision of inputs to small-scale producers, soft loans to producers who can't access production credit, interest rate subsidies and assisting producers in financial distress with a wage cash grant to help them retain farm workers.
The total fiscal outlay required over a period of three years amounts to R12 569 793 100. The process will be led by an operational team/data management unit and be subjected to an audited process.  The motive behind this work is to be able to put something concrete on the table when talking to government. It is imperative that aid is given to all producers in South Africa, particularly since this country produces 61% of all the food supplied into the southern African region.
Agri SA drought disaster relief fund
Agri SA and Senwes established a Drought Relief Fund in November last year. Funds raised by February 2016 amount to R8,6 million.  The purpose is to fund the purchase and transport of feed for livestock, distribute food hampers for destitute farm workers, funding the distribution of water and sinking of boreholes among other assistance.
Van Zyl described an overwhelming spirit of goodwill amongst South Africans for all producers struggling against this debilitating drought. To date 4 000 producers have been helped, 10 000 bales and 80 tons of maize meal have been delivered. South Africans are rallying together in support of the sector. There is a huge appreciation by the public for what the producers of this country do.
'The helping hand is at the end of your arm'
Van Zyl said that we need to help ourselves and realise we are not separate entities but integrally linked as we address the current challenge. Leaders like Agri SA will keep on talking to government and seeking solutions for relief.
He believes the door is opened by a greater awareness of the value of food production than ever before. He believes we are facing a turning point in our history; producers must keep the faith and encourage one another. We are the only people on this continent who can do what we do!
Publication: April 2016
Section: Grain SA