Aangesien ons nader aan die somertydperk beweeg, word die El Niño Suidelike Ossilasie (ENSO) op die oomblik fyn dopgehou as gevolg van die drastiese effek wat dié verskynsel op somerreënvalgebiede kan hê.
Tans is daar groot variasie in die ENSO-voorspellings van verskeie internasionale modelle, soos gesien in die International Research Council for Climate and Society (IRI) se ENSO-voorspellingsopsomming (Figuur 1).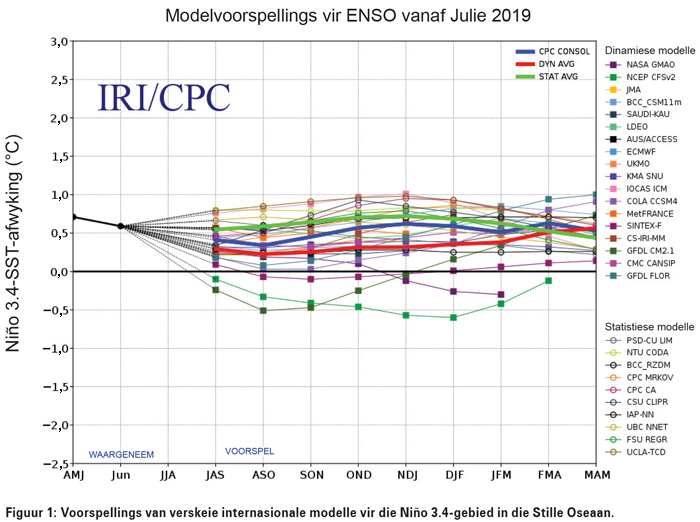 Die gemiddeld van die modelle wys dat dit waarskynlik ENSO-neutraal sal wees gedurende lente en somer, alhoewel daar groot onsekerheid is – aangedui deur die wye moontlikhede in Figuur 1. Van belang rakende reënvalvoorspellings deur die Suid-Afrikaanse Weerdiens (SAWD), is die voorspelling deur NCEP CFSv2. Hierdie model wys moontlikhede vir onder normale seetemperature in die Niño 3.4-gebied (La Niña-fase) en is een van drie modelle wat in die SAWD se voorspellings gebruik word.
Lentevoorspellings (Figuur 2) wys geen beduidende seine nie, alhoewel daar 'n indikasie is vir gedeeltes van westelike Mpumalanga and noordelike KwaZulu-Natal om bo normale reënval te kry. Die noordelike gedeeltes van Limpopo wys ook kanse vir bo normale reënval, maar hierdie area se reënval is baie min gedurende die lente en dus is die voorspelling nie noemenswaardig nie.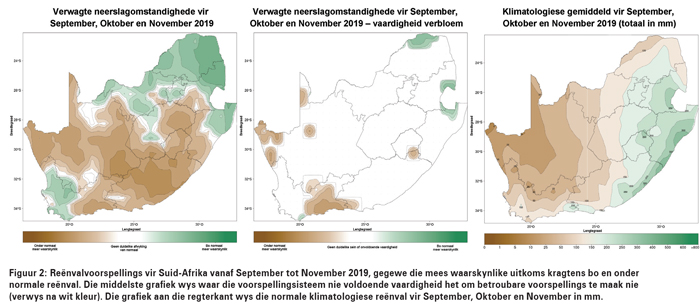 Die begin van somer (Figuur 3) dui bo normale reënval vir gedeeltes van Limpopo, KwaZulu-Natal en die noord-ooste van die Oos-Kaap aan, maar onder normale reënval vir gedeeltes van die noordoostelike binneland – wat Gauteng, die Vrystaat en die Noordwes Provinsie kan insluit.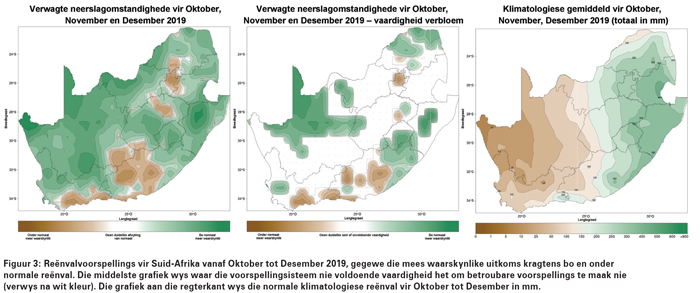 Lente- en somertemperatuurvoorspellings
Maksimumtemperatuurvoorspellings vir die lente en somer (Figuur 4 en Figuur 5) wys dat daar bo normale maksimum temperature vir die hele noordoostelike helfte van die land verwag word. Bo normale maksimum temperature kan 'n aanduiding wees dat die kanse vir hittegolwe merkbaar verhoog en dit moet in ag geneem word saam met die reënvalvoorspellings.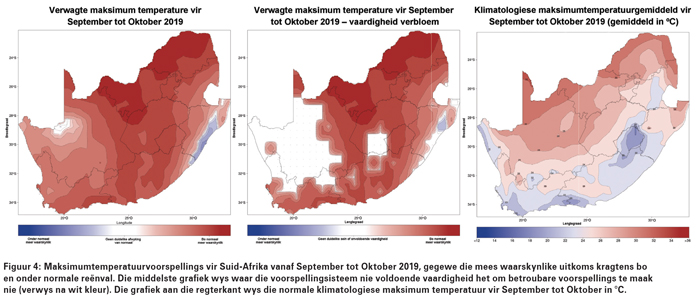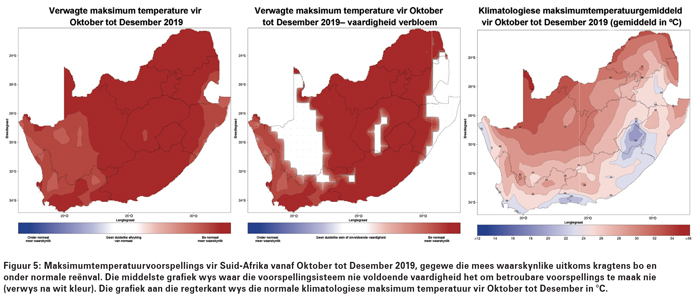 Dit het al in die verlede gebeur dat normale en bo normale reënval ontvang is, maar dat die ekstreme hitte steeds die landbou negatief beïnvloed het.