Die somerreënvalvoorspelling vir Desember, Januarie en Februarie van die 2018/2019-seisoen het aangedui dat daar goeie kanse vir bo normale reënval was. Ongelukkig was dit net sekere gedeeltes wat bo normale reën gekry het (Figuur 1).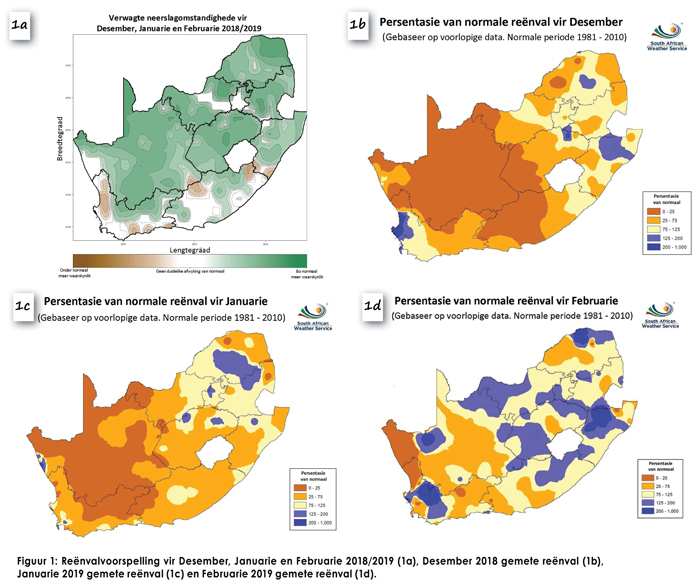 Dit blyk of dit weer 'n laat somer was soos die afgelope paar jaar, waar reën meestal gedurende Februarie en Maart voorgekom het. Die meeste van die somerreënvalgebiede was wel in die normale reënvalkategorieë, alhoewel die reënval nie egalig deur die maande voorgekom het nie.
Groot reënneerslae en lang droë periodes tussenin het die 2018/2019-somerseisoen gekenmerk. Die oorsaak is net gewone natuurlike variasie – die El Niño wat in werking was, het nie 'n beduidende invloed op Suid-Afrika gehad nie as gevolg van 'n gebrek aan tipiese oseaanatmosfeerinteraksie in die Stille Oseaan.
Vroeëwinterverwagtinge
Winter is amper hier en die fokus skuif nou na die suidelike en suid-westelike gedeeltes van die land in terme van klimaatsverwagtings, spesifiek reënval.
Die mees opvallende seisoen op hierdie oomblik vanaf die voorspellingsisteem is April, Mei en Junie – die vroeëwinterperiode. Daar is tans betroubare voorspellings vir winterreënvalgebiede (Figuur 2) om bo normale reënval te kry, insluitend die suidelike kusgebiede. Ongelukkig is daar nie enige aanduiding of hierdie bo normale reënval die hele winter sal duur nie, aangesien die voorspelling vir Mei, Junie en Julie (Figuur 3) onduidelik is en daar nog nie voorspellings vir middel en laat winter is nie. (Dit sal in die volgende maand en die daaropvolgende maand uitgereik word.)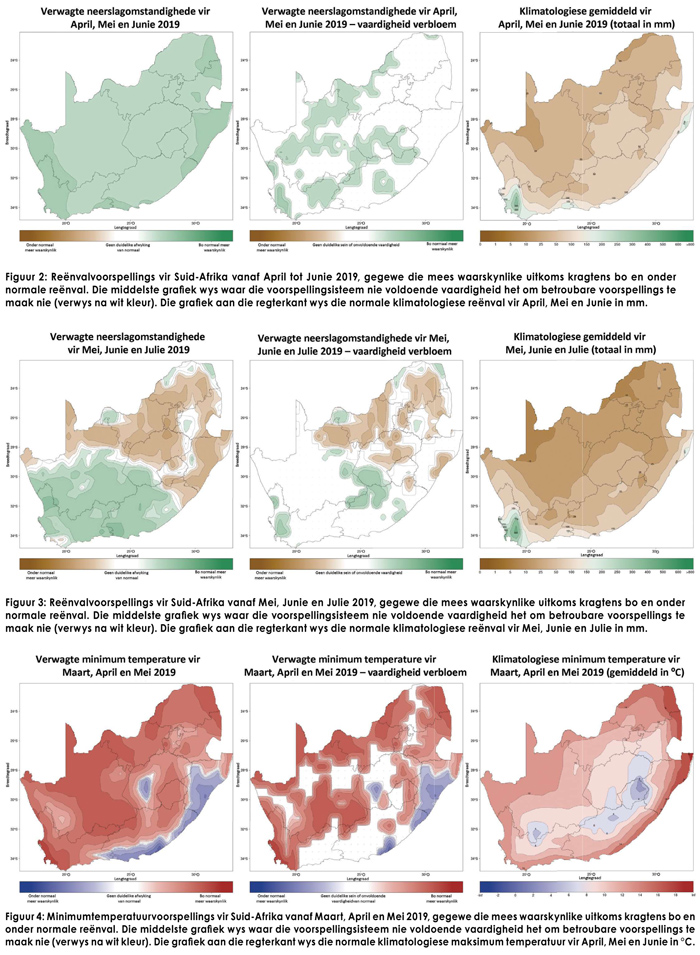 April, Mei en Junie spesifiek lyk goed wat reënval betref, aangesien die minimum temperatuur (Figuur 5) wys dat daar betroubare voorspellings is vir onder normale temperature vir die suidelike en suid-westelike gedeeltes van die land. Hierdie voorspelling kan dui op meer intense en meer gereelde kouefrontverskynsels gedurende April, Mei en Junie. Natuurlik kan onder normale temperature ook 'n risiko vir boerderye wees, afhangende van die intensiteit – so dit sal ook in ag geneem moet word. Weer eens is dit nie 'n aanduiding dat die hele winterseisoen kouer as normaal sal wees nie, aangesien die temperatuurvoorspellings vir Mei, Junie en Julie weer bo normale temperature wys.
Minimum temperature vir die somerreënvalstreke gedurende Maart, April en Mei (Figuur 4) en April, Mei en Junie (Figuur 5) wys dat bo normale temperature verwag kan word en dus is die kanse skraal dat daar vroeë ryp sal wees.