The youth are the future. The youth of today could be our ambassadors and future influencers of tomorrow. We should not overlook the opportunity to engage and collaborate with them.
The Grain SA Schools Programme
'We have to bring children into a new relationship with food that connects them to culture and agriculture.' – Chef and author Alice Waters.
The global population is expected to increase to 9 billion by 2050 with the youth, aged between 15 – 24 years, making up at least 14% of this total. According to the Food and Agriculture Organisation of the United Nations, rural youth are the key to future food security. The dilemma faced is that around the world few young people see a future for themselves either in agriculture or in living in rural areas.
It is a fact that most of the world's food is produced by smallholder farmers who are ageing – and older farmers are less likely to adopt new technologies, which are necessary for sustainable farming in a changing world exacerbated by issues like growing populations and climate change.
Mr Howard Blight, founder of Agricolleges International says one of the major misconceptions that needs to be addressed, is that the youth still perceive agriculture to be an 'old-fashioned' industry. In reality access to technology, information and better communication together with improved equipment are changing the way we think and the way things are done. There is, therefore, an urgent need to creatively engage youth in agriculture.
Youth engagement can only happen if there are visionary policymakers who create opportunities for young people to be informed in such a way that they see value and hope in the sector. Young people need to be able to see themselves as part of an agricultural evolution which will guide and sustain themselves and their communities into the future.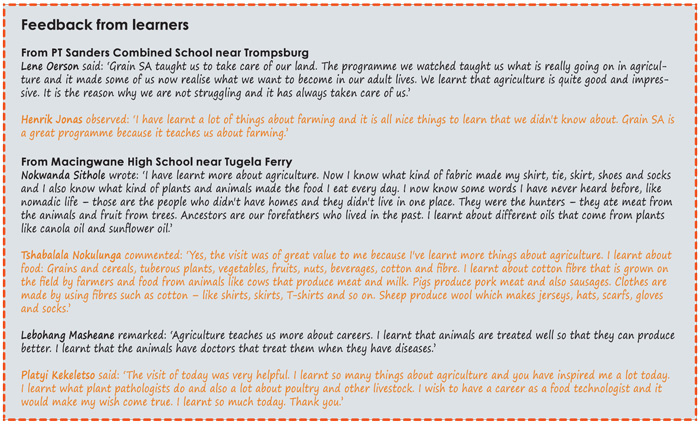 Grain SA's schools project motivation
As early as 2002, Grain SA's public relations team identified the need to interact with learners in a way that would entice them into being more interested in agriculture. The driving motivation behind the schools programme initiative was two-fold: We identified a need to educate future consumers about the complexities of the agricultural sector so that they will become informed consumers, but we also became aware of the need to alert learners to potential careers in the sector.
This vision has been refined over the years to the interactive programme we run today. The Grain SA Schools Programme is a result of a partnership between the Maize Trust and AgriSeta. The current focus is on Grade 9 learners where it is hoped the intervention may influence subject choices for their Grade 10 year and even career choices later on.
A total of 361 visits, sponsored by the Maize Trust and AgriSeta, were made by trained Grain SA Farmer Development facilitators during the first, second and third terms of last year and they interacted with 58 685 learners.
These school visits include a presentation by the facilitator with a supporting DVD. Question and answer sessions follow. Feedback is collected from both the teaching personnel and learners. We are consistently encouraged by the overwhelmingly positive responses from the teaching staff who almost without fail report they would like more contact sessions and more material for their learners.
These professionals believe the school visits are making a positive impact on the learners' understanding of agriculture as well as the importance of a healthy agricultural sector.
Programme content
A number of exciting DVDs have been made and presented to the learners thus far. There is no denying the power of our digital presentations to captivate and inspire young people. There are so many good stories that still need to be told about agriculture.
The following DVDs have links on our YouTube channel and can be accessed by anyone with access to the internet:
Food. Fibre. Life: Creating awareness of the wide range of products that are derived from agriculture. This is also available on YouTube: https://youtu.be/TPT4GXsNIVM.
Economics – what's in it for me?: Various economical concepts applicable to agriculture are explained. Available on: https://youtu.be/GR4iOyc5Mvk.
Meet your lifeline: More about wheat: We all love our daily bread. There is nothing like a fresh loaf, warm from the oven. It all starts with a little grassy plant called wheat: Slowly, with a lot of loving help, growing, ripening and making its way to the silos, millers, bakeries and eventually as bread to the shops. This is also available on YouTube: https://youtu.be/NiKdIu571EM.
Let's dig in – an introduction to farming: Producers are business people. Information about the various agricultural production areas in South Africa and the wide range of products produced there. It also gives a broad overview of what farming entails. See: https://youtu.be/yYRy3mSn1vA.
Plant yourself into the future: Information about the various career opportunities in the agricultural value chain. You can match your skills to a job where you produce, manage, market or sell. You can also do research and development, engineering or administration or get involved in the agricultural media or machinery. The choice is yours. Available on: https://youtu.be/hlfH3SY2K1s.
Careers in agriculture: More in-depth information on various types of careers that originate in or are associated with agriculture. Available on: https://youtu.be/2WVVP1St3hM.
We must continue to empower young voices in South Africa's agricultural sector and raise up effective champions for the farming community.
The lesson that we need to learn as decision makers, investors, educators, producers, policy makers, risk assessment planners – in fact, all stakeholders who serve development agriculture – is this: Farming is no longer a career option only for unskilled, uneducated and poorly equipped farmers.
It is time
It is time for leaders to recognise that producers are skilled operators and business executives who wear many hats: CEO, chief financial officer, HR manager and agricultural expert. Not enough young people in South Africa are seeing the agricultural sector as one of opportunity. This has to change.
This programme offers an invaluable opportunity to showcase agriculture. If we intentionally develop the knowledge, skills and talent of our youth, we not only further the cause of household food security, improved household income and better nutrition for every member of the farming family – more importantly, we equip future community leaders and potential policy makers with confidence, knowledge and accurate insights into agriculture for the future.