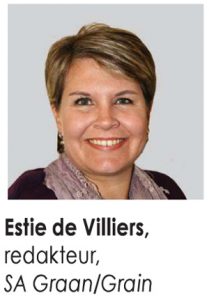 In die omgang van Graan SA-personeel met produsente is daar heelwat vrae oor die opbrengs van die beskikbare geelmieliekultivars in die westelike droëlandproduserende gebiede. "Die opbrengste van die beskikbare geelmieliekultivars kom net nie by dié van witmielies uit nie," sal produsente sê.
Volgens die Buro vir Voedsel- en Landboubeleid (BFAP) se Baseline Agricultural Outlook 2018 – 2027 is die tendens dat daar in die toekoms 'n groter aanvraag na geelmielies gaan wees as wat tans die geval is.
"Over the course of the next decade, demand growth prospects for white maize differs significantly from yellow maize, due to differences in the underlying consumption trends. White maize is predominantly consumed as food, representing a basic staple for South African consumers. By contrast, the bulk of yellow maize consumption accrues to the animal feed industry, where it provides the primary energy source in most feed rations.
Dietary diversification associated with improved income levels and living standards over the past decade has resulted in a trend of declining white maize consumption in per capita terms, with modest gains in total food use attributed to population growth instead.
In the coming decade, in the midst of slower income growth, the trend of declining per capita maize consumption slows down from the past decade, but is offset by population growth to result in a total increase of 7% in total food use by 2027 relative to a base period of 2015 – 2017.
In the short term, growth in animal feed demand remains slow following drought induced liquidation of the beef herd in 2016 and avian influenza induced culling in the layer industry in 2017. From 2020 onwards, growth in livestock production accelerates, resulting in an increase of 21% in maize consumed as animal feed by 2027 relative to the 2015 – 2017 base period. Consequently, the demand for yellow maize grows much faster over the next decade than that of white maize."
Volgens mnr Corné Louw (landbou-ekonoom, Graan SA) sal produsente by hierdie tendens wil aanpas, maar hoe gemaak as die regte geelmieliekultivars nie beskikbaar is nie?"In die westelike produserende gebiede sê hulle dat dit, buiten vir die droogte, nie vir hulle fi nansieel sin maak om met die huidige laer opbrengste van geelmieliekultivars teenoor witmieliekultivars in dié gebiede oor te skakel na geelmielieverbouing of om ten minste die aanplantings van geelmieliekultivars te verhoog nie."
SA Graan/Grain het die saadmaatskappye hieroor gepols om vir produsente 'n aanduiding te gee van wat saadmaatskappye se beplanning vir die toekoms is:
Wat is die rede dat julle witmieliekultivars beter in die weste vaar as die geelmieliekultivars?
Is julle besig om te kyk na die ontwikkeling van geelmieliekultivars wat hoër opbrengste in dié droëlandgebiede kan lewer en kan kers vashou by die witmielie-opbrengste in die area?
Uit die saadmaatskappye se antwoorde blyk dit dat die groot rede vir die beter pres tasie van witmieliekultivars in die weste waarskynlik is omdat die mark en vraag na witgenetika in dié gebiede vir baie jare oorheersend was. Die meeste maatskappye is egter besig om te kyk na die verbetering van hul geelmieliegenetika vir die weste en vordering word gemaak met belowende geelmieliekultivars in die pyplyn.