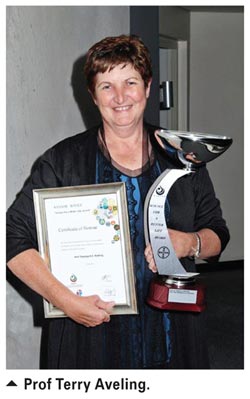 August 2015
SA GRAAN/GRAIN EDITORIAL STAFF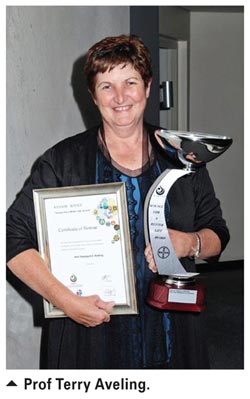 Prof Theresa (Terry) Aveling from the University of Pretoria's Department of Plant Science received the 2015 SANSOR/Bayer Science for a Better Life Award. The prize is awarded by the South African National Seed Organisation (SANSOR) and Bayer CropScience in recognition of leadership, innovation and positive contributions to the South African seed industry and agriculture.
Prof Aveling established the Seed Science Research Unit that is now internationally recognised and locally relevant through the University of Pretoria Seed Science industry course, post graduate training and research.
Her team plays a pivotal role in a globally co-ordinated, multi disciplinary effort to manage seed-borne diseases. The students are trained according to the methods of the International Seed Testing Association (ISTA), who is responsible for standard procedures for testing seeds adopted internationally for the movement of seeds in international trade.
She served ISTA as vice-chairperson of the Storage Committee (2001 – 2007), member of the Seed Health Committee (2001 – 2007), member of the Rules Committee (2007 – 2013) and chairperson of the Seed Health Committee for the two periods.
In 2013, she took up the vice-chair position in order to focus on her role of chairman of the Seed Pathology Committee of the International Society for Plant Pathology (2013 – 2018).
The Seed Science group does a great deal of research for the seed industry with support from many seed companies, such as Pannar, Senwes, Sakata, Hygrotech and Starke Ayres and collaborates on projects with the ARC Research Institutes at Potchefstroom and Roodeplaat, and the Department of Agriculture and Rural Development of the Gauteng provincial government.
Most of the MSc and PhD research comes from problems that the seed industry brings to the research group's attention. Research focuses on finding solutions to production problems faced by both emerging and commercial producers.
Publication: August 2015
Section: Relevant