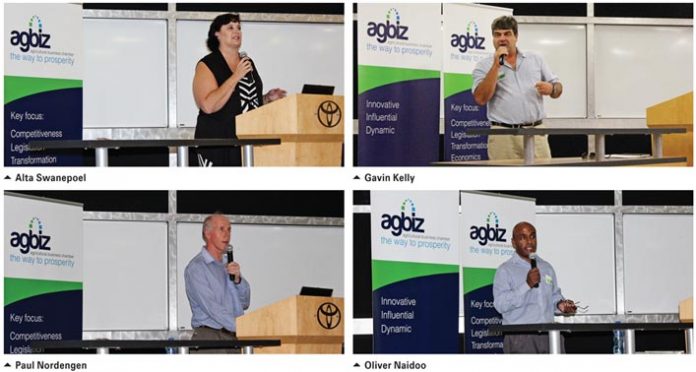 May 2015
AGBIZ MEDIA RELEASE, MARIANA PURNELL, Agbiz Grain and RUTH SCHULTZ, SA Graan/Grain contributor
A successful Agbiz Grain Logistics workshop was held on 11 February this year to address aspects of the National Road Traffic Act 22nd Amendment affecting the transporters of grain. Although 135 delegates from the grain handling and storage industry attended the workshop, the information is also relevant to grain producers who transport grain to the silos or to the site of a buyer such as a mill or a processor.
The new regulations pertaining to the National Road Traffic Act, which came into effect on 31 October 2014 and on 31 January 2015 (Regulations 330A to 330D) apply to consignors (senders) and consignees (receivers) that transport 500 000 kg and more per month.
Mrs Alta Swanepoel, a legal expert, was one of the speakers at this workshop.
Section 74A of the Act requires a consignor, as well as a consignee, to take all reasonable steps to avoid overloading a vehicle. Furthermore, in the event of prosecution, the consignor or consignee must be able to indicate what steps were taken to avoid the overloading of vehicles. Section 74B requires accurate documentation, as it may be used as evidence in court cases. Regulations 330A and 330B explain in detail the responsibilities of a consignor or consignee.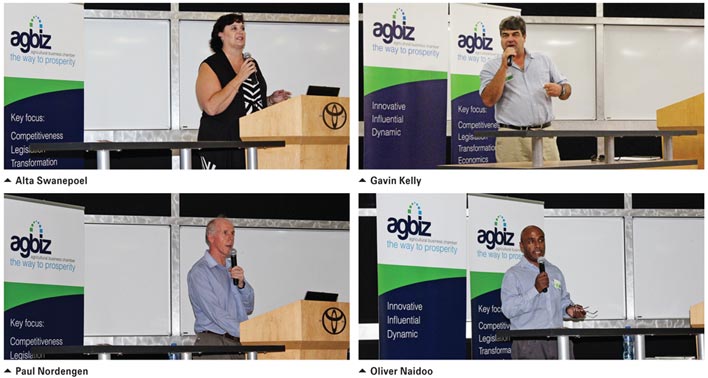 Offering and acceptance of goods on overloaded vehicles are prohibited
This regulation states that a consignor or consignee of goods shall not offer goods or accept goods if the vehicle in which it is transported is not loaded in terms of the provisions for the loading and transportation of goods as prescribed in this Act.
"Traffic officers will quickly detect if a vehicle carries more weight than it should. The documentation that has to accompany a vehicle will be a give-away if the truck is overloaded. If the officers have their doubts, the vehicle will be directed to the nearest weighing bridge and this is compulsory," Swanepoel said.
Method of determining mass
She said that the distribution of the weight on a truck is the important factor that determines the load's potential to damage roads.
"In the past, most consignors only checked the total mass of the vehicle and not the axle masses as well. The new regulations stipulate that the weight that each axle carries must be calculated, as well as other factors, such as the weight of the diesel or petrol it carries. A "one-tonner", for instance, does not mean that the truck can carry one ton of weight. Other factors also add to the one ton and these have to be calculated as well," Swanepoel explained.
RTMS benefits:
Crash reductions
Transport operators who invested in becoming RTMS accredited, reported good results:
Barloworld Logistics: 66% reduction in the number of crashes in 2012.
Vehicle Delivery Services: 42% reduction in serious crashes from 2011 to 2012.
Timber Logistics Services: 50% reduction in crashes and incidents from 2009 to 2012.
The City of Cape Town, Electricity Support Services: 44% reduction in the number of crashes.
Unitrans Amatikulu: Cost of crashes reduced from 5% of revenue to 1,3% of revenue (reduction in the frequency and severity of crashes).
Agbiz Grain gives a four step process for consignors to follow in order to end up with the right compliancy solution:
| | |
| --- | --- |
| Step 1: | Obtain a sound understanding of the requirements of the new law. |
| Step 2: | Decide on the right equipment solution, given the consignors's existing weighing equipment (if any), the need for any trade weighing together with axle weighing and the level of daily cargo volumes. |
| Step 3: | Decide on the most practical way of obtaining permissible axle weights and total permissible weights for the truck trailer combinations that will carry this cargo. If external transporters are used, hold discussions with them on how this data is to be provided. |
| Step 4: | Finally decide on the best system for: (1) Producing load-by- load dispatch documentation which complies with these new laws; and (2) Maintaining records of all this information. |
Goods declaration to be carried on a motor vehicle
The Road Traffic Act 22nd Amendment requires a person operating a motor vehicle which carries goods on a public road, to be in possession of a declaration containing the following information:
The licence number of each vehicle in the combination of vehicles.
The nature and quantity of goods transported.
The contact particulars of the operator, or in the case of a combination of vehicles, of every operator in the combination of vehicles.
The particulars of the consignor and consignee of the load or in the case of loads collected at and delivered to more than one consignor and consignee, the particulars of every consignor or consignee.
The name, residential and postal address of every natural person or in the case of a juristic person, the responsible director or member, an agent, consignor, consignee or operator listed in the declaration.
The consignor and operator shall conclude a written agreement for the transportation of goods stating:

The nature of the agreement,
the loading instructions, and
the responsibilities of the parties.

A schedule of insurance as contemplated in regulation 330D.
Compulsory liability insurance
A consignor or consignee of goods shall not transport goods on a public road or accept goods unless such transportation is fully insured for damages that can occur as a result of an incident.
Swanepoel said that some of the other amendments to the National Road Traffic Act also include that 80 km/h signs on the back of trucks are compulsory as from October 2014, speed limitation devices will be required on all new vehicles from December 2016 and all new trucks will be fitted with this device.
If you do not comply…
For overloading you can be fined up to R240 000 or six years imprisonment (one year imprisonment = R40 000) or both. Swanepoel says that this offence is on the same level as drunken driving – "two of the most serious offences of the National Road Traffic Act".
Regulations and compliance
Mr Gavin Kelly from the Road Freight Association (RFA) says that inconsistent policing is the first challenge they are faced with. "There are huge levels of corruption among officers, stretching from fines to dockets. Traffic officers have poor technical skills and can often not perform basic, but also fundamental tasks," Kelly said.
A second challenge is administration. Some of these difficulties include: Lengthy delays in getting permits and licences out and no co-ordination between transport and traffic departments.
When it comes to freight policy, government believes that removing trucks off the roads will "solve" many problems like congestion, pollution, accidents and road damage. "Such a short-sighted approach  will damage many business undertakings."
The biggest challenge in this country in terms of road freight is operator licensing. "These problems include poor control over the granting of operating permits; no centralised system to record operator details and their history; and non-compliant operators who operate under the radar and who seem to be immune." Some other challenges include: Aberrant operators getting back on the roads without having had to correct their operations or the condition of their trucks. Problem vehicles are not taken out of circulation, problematic test centres are not dealt with and there is widespread corruption in certification."
The question is who you hold accountable for poorly managed, unroadworthy vehicles. He suggests that the industry should become a role-player in assessing roadworthiness and driver fitness.
Overview of RTMS
The Council for Scientific and Industrial Research (CSIR) developed the Road Transport Management System (RTMS), an industry-led, government-supported, voluntary, self-regulation scheme that encourages consignees, consignors and road transport operators to implement a management system (a set of standards) with outcomes that contribute to preserving road infrastructure, improving road safety and increasing productivity.
The RTMS standards are aligned with the new ISO 39001: Road Traffic Safety Management Systems. "The key focus areas in this system are load optimisation, driver wellness, vehicle maintenance and productivity," Mr Paul Nordengen from the CSIR said.
To comply with this system, participants should apply to the following rules: Maintain a haulage fleet inventory, assessing vehicles before each trip, verifying the mass determination method, vehicle and load safety, vehicle maintenance, driver wellness (fatigue and health), providing training and education, keeping records and documentation.
"Being RTMS accredited also report qualitative benefits such as a reduced turnover of drivers due to HIV-related issues, an improved standard of living among drivers, an improvement in driver wellness, resulting in a consequent decrease in absenteeism, reduction in breakdowns, improved fleet utilisation, improved driver behaviour and more control and confidence in the company," Nordengen said.
Getting accredited
Mr Oliver Naidoo from JC Auditors, the company responsible for the accreditation of the RTMS, says that RTMS certification requires an operator to demonstrate compliance with the SABS standard, SANS 1395-1:2012, formerly ARP 067-1:2006.
"Its main purpose is to encourage operators to implement a structured management system that enables operators to safely and effectively manage operations, by embracing the philosophy of continuous improvement," said Naidoo.
For more information on getting RTMS accredited, visit RTMS's website at www.rtms-sa.org.
Publication: May 2015
Section: Relevant