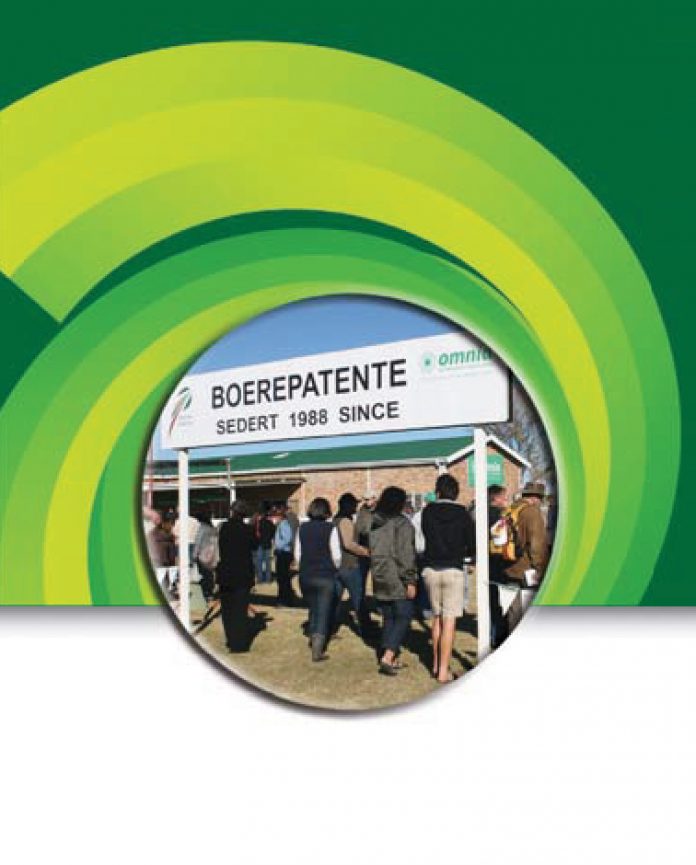 April 2016
GRAAN SA SE NAMPO OESDAG 2016: 17 – 20 Mei
Aangebied deur Graan SA en Omnia. Vindingryke produsente kry weer geleentheid om gemodifiseerde landboutoerusting te demonstreer.
Die doel van die Boerepatentekompetisie is om produsente met oorspronklike idees aan te moedig om toerusting wat deur hulle gebou is vir spesifieke aanwending of vir die doel om hul eie probleme op die plaas te oorkom, met hul medeprodusente te deel wat sal lei tot algemene en groter doeltreffendheid en gerief op die plaas.
Wat is 'n boerepatent?
Dit is 'n oorspronklike toestel of toerusting wat deur 'n individu ontwerp en gebou is om in 'n spesifieke behoefte te voorsien wat nie deur bestaande toerusting bevredig word nie. Die toestel of toerusting mag nie gepatenteer wees nie en mag deur enige persoon vir eie gebruik nageboots word. Sien ook Reël 9.
Inskrywings
Rig alle inskrywings aan mnr Wim Venter, Graan SA, Posbus 88, Bothaville, 9660. Daar sal dan 'n eerste keuring gedoen en 'n sertifikaat van deelname aan alle gekeurde inskrywings uitgereik word. Inskrywingsvorms is ook beskikbaar by die Graan SAkantoor – skakel hulle by 086 004 7246. Let wel: Sou jou patent van so 'n aard wees dat dit nie voor die tyd vervoer kan word nie, is ons meer as bereid om 'n DVD/video te ontvang (ten minste 'n maand voor die kompetisie) of as jy graag van die nuutste inligtingstegnologie wil gebruik maak, kan jy dit op YouTube plaas – stel egter dan net vir Wim Venter daarvan in kennis.
Klik op hierdie skakel vir die amptelike inskrywingsvorm:
Graan SA/Omnia Boerepatentekompetisie
Publication: April 2016
Section: NAMPO