January 2016

CORNÉ LOUW, senior ekonoom: Bedryfsdienste, Graan SA
Suid-Afrika voer deesdae om en by 80% van sy behoefte aan kunsmis in. Voor 1996 was die situasie presies die teenoorgestelde – toe kon ons plaaslik aan ongeveer 80% van ons eie behoeftes voldoen. Na 1999 het Suid-Afrika plaaslik opgehou ureum produseer. Nou word alle ureum en kaliumbehoeftes ingevoer asook deesdae van die fosfaatbehoeftes.
Dit bring mee dat kunsmis, graan- en oliesadeprodusente se grootste insetkostekomponent op invoerpariteit geprys word. Dit, terwyl plaaslike produsente meestal uitvoerpariteitspryse vir hul graan (veral mielies) verdien.
Hoe vergelyk plaaslike en internasionale tendense?
Met die groot hoeveelheid kunsmis wat ingevoer moet word, word verwag dat plaaslike kunsmispryse internasionale pryse sal navolg.

Tabel 1 toon internasionale kunsmispryse in dollarterme oor 'n jaartydperk aan. Uit Tabel 1 is dit duidelik dat meeste van die kunsmisgrondstowwe oor 'n jaartydperk in dollarwaarde gedaal het. Slegs DAP het met 6,8% toegeneem. Die rand het egter oor dieselfde tydperk met 22% verswak, wat invoere vir Suid-Afrika duurder maak.

Tabel 2 toon internasionale kunsmispryse in randterme aan om die impak van die wisselkoers te illustreer. In randterme het internasionale pryse van ammoniak en ureum met 7,7% en 7,9% gedaal, terwyl pryse van DAP en kaliumchloried met 30,5% en 15,5% gestyg het.

Tabel 3 toon gemiddelde plaaslike kunsmispryse oor 'n jaartydperk aan. Terwyl stikstofpryse internasionaal in randterme met ongeveer 8% afgeneem het, het dit plaaslik redelik sywaarts beweeg. Plaaslike MAP en kaliumchloriedpryse het nie tot dieselfde mate as internasionale pryse in randterme toegeneem nie.
Kunsmispryse is tradisioneel goedkoper vroeër in die jaar
Omdat kunsmispryse gedurende die jaar uitermatig kan wissel en kunsmis as produksie-inset só 'n groot bydrae maak tot 'n graan- en oliesadeprodusent se lopende produksiekoste, kan die tyd van aankope 'n reuse verskil maak.
Graan SA het uit internasionale en plaaslike kunsmispryse sedert 2004 die gemiddelde maandelikse prys bereken en dit teen die totale jaarlikse gemiddeld geweeg om 'n indeks te vorm en dit op 'n grafiek aange – dui. 'n Voorbeeld van hierdie resultate word in Grafiek 1 weergegee. Dit gee vir ons 'n idee van wanneer kunsmispryse tradisioneel en/of op 'n gemiddelde basis op sy hoogste of laagste is.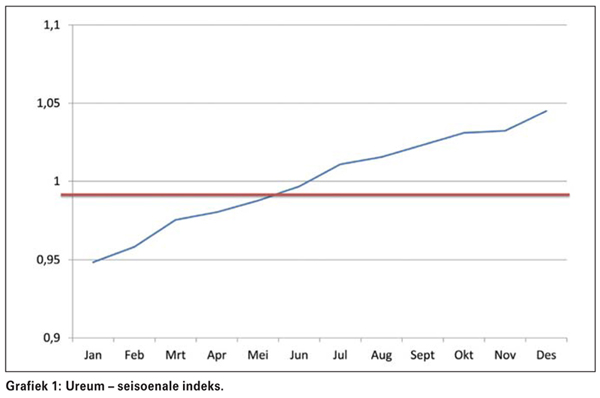 Uit dié inligting blyk dit dat beide internasionale en plaaslike kunsmispryse in Januarie, Februarie of Maart op hul laagste is. Die neiging is ook dat pryse nader aan die einde van 'n kalenderjaar op hul hoogste is.
Hierdie tendens kan nie altyd deur somergraanprodusente tot voordeel gebruik word nie, omdat die tyd van aankope en die tyd wan neer dit gebruik word met tien maande kan verskil – dit wil sê, rente betaalbaar kan hierdie voordeel neutraliseer. Dit is wel ideaal vir wintergraanprodusente wat al in Maart/April hul kunsmis gebruik.
Kunsmisprysverwagtinge
Kunsmispryse volg meestal internasionale graanprystendense. Omdat daar groot internasionale graanvoorrade is, is pryse relatief laag en hou dit internasionale kunsmispryse onder druk. Die produksiekapasiteit van kunsmis in die wêreld is ook tans besig om vinniger toe te neem as wat die vraag toeneem, wat groter kunsmisvoorrade tot gevolg kan hê. Al die bogenoemde faktore kan kunsmispryse onder druk hou.
Publication: January 2016
Section: On farm level