The main objective of the Farmer of the Year competition is to celebrate the learning, growth, development and hard work of the thousands of farmers in the Grain SA Farmer Development Programme. Although the goal is not about winning, winning still feels good – for the farmer and his mentor.
Mdumiseni Welcome Hadebe from Winterton in KwaZulu-Natal, who was announced as the 2019 Grain SA/Syngenta Smallholder Farmer of the Year, is mentored by Rob Irons, a producer from the Winterton area. Rob admits that he expected him to win as he is hardworking and a meticulous planner who understands the importance of timing in agriculture.
An experienced mentor who still learns
It is said that experience is the teacher of all things and with 46 years of farming experience behind him, Rob is an ideal mentor. Although he has a vast amount of knowledge about farming, he says he still learns something new every day from farmers who cross his path.
This is Rob's third season as a mentor and 212 mentees have formed part of his seven study groups in 2019. Of these, 80% are women who are growing in confidence as their knowledge of agriculture increases.
In the Emmaus area, ranging from Winterton to Cathedral Peak, he has three different groups that all form part of one main group – totalling 120 mentees. In the Loskop area he mentors four more groups. He has monthly meetings with each group as well as individual visits between group sessions.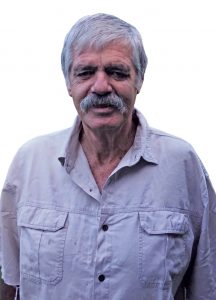 Previously, these families went to bed hungry if their crop failed. The mentorship programme has had an enormous impact on their lives and most of the participants have managed to at least double their yield since starting the programme, which means more money and improved lives. They get so excited once they sell their first maize and have more than enough left to feed the whole family for a year.
Especially the women enjoy the status of being providers in the community. They now have their own income and no longer have to beg for money from male figures. 'It is incredible to see their sense of pride when they realise what they have achieved. You can actually see their confidence grow.'
Guiding to survive and to thrive
In this area farmers face huge challenges – with livestock damage to the crops being one of the major problems. According to Rob, farming on communal land is extremely challenging. As the land belongs to the chief, the farmers are subject to his decisions. Cattle are kept in the mountains during the summer months. 'When it gets colder, the livestock is moved to land where there is no fencing. If the farmers haven't harvested yet, there will be nothing left of their crops. So they have to reap quite early – often before the crops are dry enough.'
The area makes transport and mechanisation problematic. In the Emmaus area, 90% of crops are planted by hand. Poor infrastructure and treacherous roads make transport challenging, which in turn makes selling maize difficult.
Many of the farmers would like to expand their enterprises, but as they only lease the land it is impossible. Often farmers cultivate the land for a season, but when the owner sees what is being achieved, the land is taken back. They then have to start from scratch again on a different piece of land.
Although the mentorship programme cannot change these complex circumstances, a lot is being done to tackle the situations that can be improved. Rob has been working hard to amend incorrect agricultural practices to improve their yield. Effective weed control is key.
He is also trying to create a no-till culture by not ploughing and hoeing and wants to establish the idea of commercial farming. 'The farmers must start farming to thrive and not just to survive,' he says.
Bird watching leads to change
Rob became involved in Grain SA's mentorship programme when Graeme Engelbrecht, development co-ordinator at the Dundee office, shared details about it with him. 'He called on me a couple of times and told me what they wanted to achieve with the programme. This stimulated my interest as I had previously done some development work with our farmers' association.'
His decision was, however, influenced by visits to the area through his keen interest in bird watching. Travelling in the mountainous areas, he saw how underutilised the land was – high potential soil with above average rainfall was not being used. 'I saw people living in absolute poverty and doing nothing to use the exceptional soil.'
When Rob's son took over their farming operation, it gave him time to commit to the mentorship programme. Through the programme he has experienced personal growth. 'When you see a previously poverty-stricken household no longer going to bed hungry, you have to change.'
He shares that he has gained a lot of satisfaction from seeing the growth of the mentees and has become more understanding, humble and patient. 'I have also realised that we all face the same problems as farmers – whether we are big commercial producers or subsistence farmers. We all have to deal with price fluctuations, the changing weather patterns, workers and theft.'