CropLife South Africa, the voice of and leading advocate for the South African plant science industry, plays a central and vital role in the country's plant protection. According to the newly appointed CEO, Mr Rodney Bell, the main responsibilities of the organisation are to inform, educate, regulate and promote the organisation and its members as well as the plant science industry as a whole.
'The organisation represents the majority of responsible manufacturers, suppliers and distributors of crop protection products in the agricultural, public health, non-crop and consumer sectors – with the ultimate aim of ensuring sustainable, affordable and safe food production and security in South Africa.
'We hold a wealth of information pertaining to the crop protection industry, including some of the most comprehensive and up-to-date databases, guidelines and industry statements supporting both our members and the greater agricultural and public health industries,' says Rod.
'An excellent example in this regard is CropLife SA's Agri-Intel database. This powerful tool is available for users within the agrochemical industry to access registered crop protection product information. The MRL (maximum residue level) section of the database is consulted extensively by producers, exporters and international traders handling fresh produce.
'In addition to the provision of an AgriSETA accredited training course in basic crop protection, we are also the driver of continuous professional development in the crop protection industry. We also act as liaison between the Department of Agriculture, Fisheries and Forestry (DAFF) and the plant science industry in order to ensure compliance within the CropLife SA membership with applicable legislation,' he said.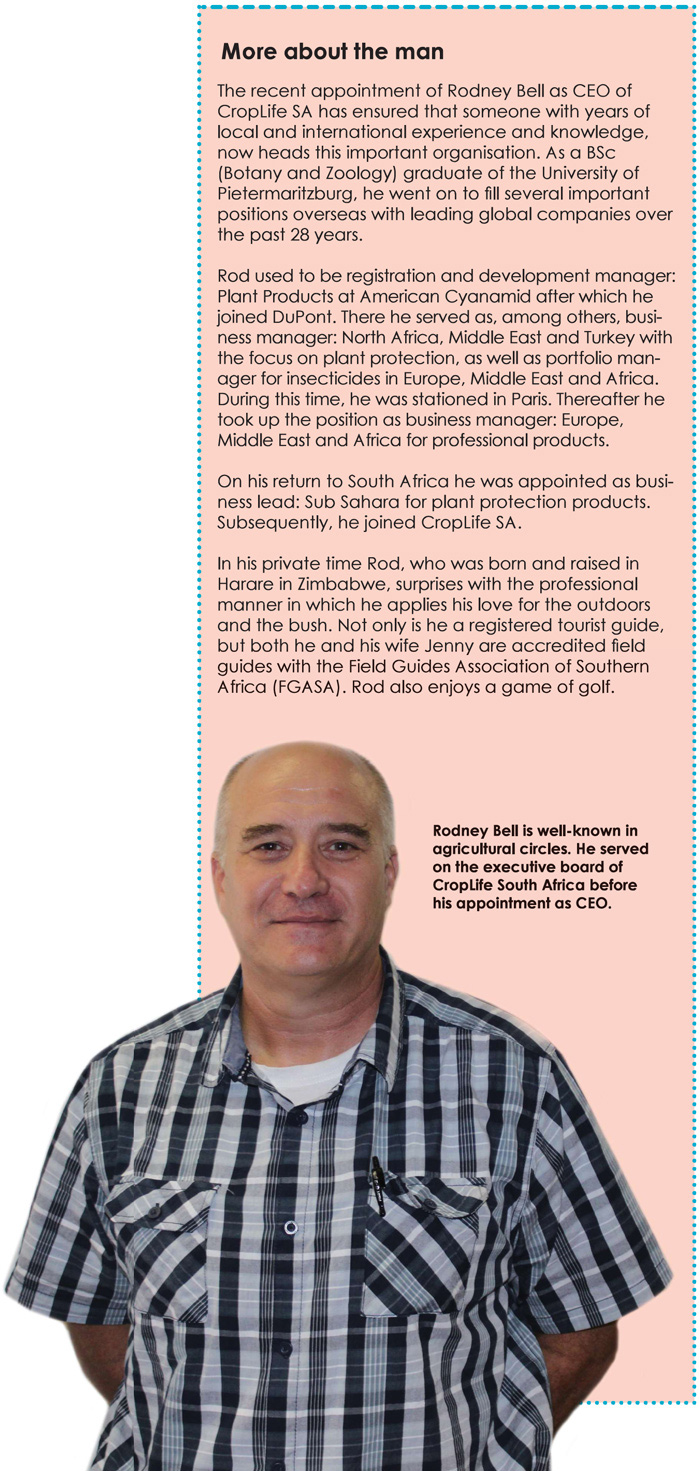 Code of conduct
'CropLife SA conducts its business by adhering to a strict code of conduct. This code sets out the industry and trade standards for research, development, manufacturing, production, marketing, handling, warehousing and distribution, including importation and exportation of crop protection products and domestic garden and home products.
'Members of CropLife are bound by the code of conduct and consist of companies that are either suppliers, distributors or associate members. These companies are committed to a future of sustainable agriculture through innovative research and the introduction of new technology in the areas of crop protection, non-agricultural pest control, seeds and plant biotechnology,' he added.
According to him one of the current challenges in the plant protection industry that is being addressed, is the recent delays members have been experiencing in obtaining registration for new products.
'However, we are working closely with DAFF in order to find a mutually beneficial solution, and regular meetings are conducted in this regard.
Climate change
'Another challenge that affects our industry is climate change. The effects of the current drought in South Africa has a definite negative impact on the industry with regard to turnover. If less hectares are planted, it follows that less crop protection products are required. In addition, drought conditions are not conducive to pest outbreaks.'
'Despite these challenges, our members continue to innovate and provide sustainable solutions to pest control, and we will strive to support their endeavours to the best of our ability,' says Rod.