March 2016
THABO TJIKANA, NKAT MALULEKE and MPOLOKENG MOKOENA, all from the Directorate: Genetic Resources, Department of Agriculture, Forestry and Fisheries and RONNIE VERNOOY and BHUWON STHAPIT, both from Bioversity International
Agricultural biodiversity, also called agrobiodiversity, used directly or indirectly for food and agriculture comprises the diversity of plant genetic resources and species used for food, fuel, fodder, fibre and pharmaceuticals.

Components of agrobiodiversity include agricultural ecosystems, crop varieties, genes in plants, and animal species. From an ecological perspective, agrobiodiversity supports and protects human lives as it provides continued inputs for evolution and increases the productive capacity of ecosystems. The resilience and capacity of the ecosystems to deal with change is weakened when agrobiodiversity becomes less diverse.
The principal stewards of agrobiodiversity are people who use and depend upon it, living in communities where this diversity continues to exist. They have the skills and knowledge that have contributed to the development of distinct types and varieties of plants and animals vital to food and health security. The community systems that have maintained agrobiodiversity are increasingly coming under pressure from factors such as drought, crop failure, difficult storage conditions and contamination from external seed sources. As a result, the quantity of seed and number of plant varieties locally accessible (i.e. available and affordable) to farmers for planting becomes negatively affected.
With agricultural modernisation, farmers are increasingly purchasing more of their seed requirements rendering local seed conservation less important. As commercial varieties replace older local varieties, the older varieties become increasingly unavailable in many communities. There is an urgent need for communities to safely conserve their seed, not just to ensure access to the next season's planting material, but also to safeguard planting material that may possess valuable genes for future crop improvement programmes, for example to adapt to climate change.
Background
Globally, saving and improving seed as a locally organised community effort has been around for about 30 years. In 1996, the Department of Agriculture, Forestry and Fisheries (DAFF) established the National Plant Genetic Resources Centre to develop and implement policies, legislation, strategies and norms and standards on the management of plant genetic resources for food and agriculture, to regulate and promote the propagating material of genetic resources for food and agriculture and to provide for risk mitigating systems in support of agrobiodiversity.
South Africa, just like other countries, has a long history of traditional smallholder agriculture in which farmers save a portion from their harvest for the following planting season. They have done so for decades, mostly on an individual basis and not collectively within communities.
Although many farmers still save their own seeds in this way, agrobiodiversity conservation and sustainable use can be more effective if properly managed at community level and spread over the entire agricultural landscape. The first recorded community seed banks in South Africa (which are currently not functional) were constructed for the purpose of seed storage in the Sekhukhune District, Limpopo, with the Phadima Agricultural Association as well as in KwaNgwanase, KwaZulu-Natal, with the KwaNgwanase Farmers' Organisation, in collaboration with the NGO Biowatch South Africa.
Taking into account the need for expansion to promote on-farm management and conservation of field and landrace crops as a key component of the country's in situ conservation strategy, the DAFF embarked on the establishment of a new strategy to set up community seed banks in Limpopo and Eastern Cape. Bioversity International joined forces with DAFF to implement this new strategy.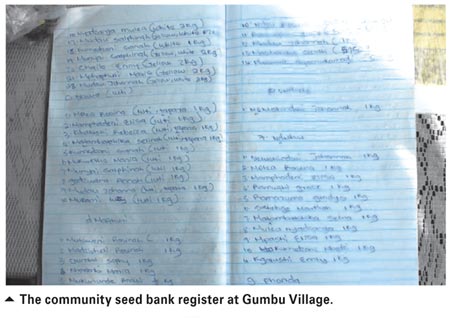 Case studies in South Africa
The Directorate Genetic Resources of DAFF, Bioversity International and the Departments of Agriculture in Limpopo and Eastern Cape worked together to set up pilot community seed banks in Mutale Local Municipality (Limpopo) and Joe Gqabi District Municipality (Eastern Cape) respectively to guide the national roll-out.
The efforts were based on research about the extent to which farmers are still engaged in growing landraces, the main factors influencing their choices of crops and crop varieties, the rate and scope of loss of diversity, the impact of climate change on agriculture and seed systems, the strengths and weaknesses of traditional seed saving and exchange practises, and the prospects of setting up a locally managed and governed community seed bank.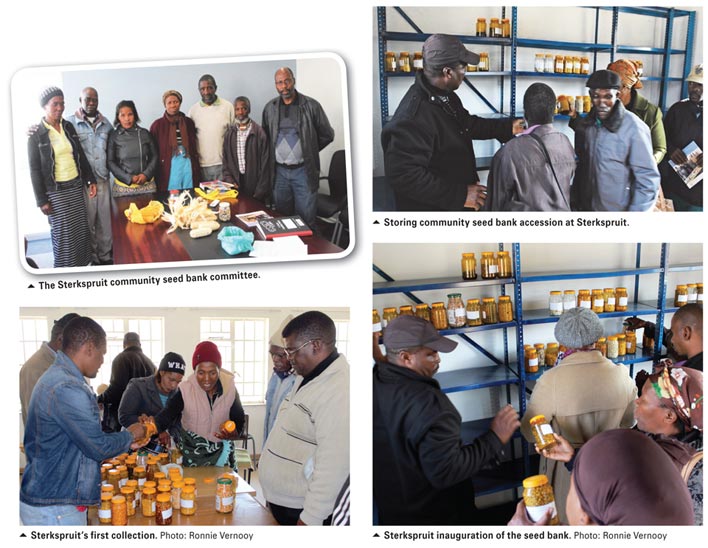 Research was complemented by the organisation of food fairs where farmers prepared dishes using traditional crops, as a way to assess the crop diversity levels in both community sites and to celebrate traditional crop diversity and culinary practices of farmer communities. Traditional food recipes were collected during the food fairs and published in a trilingual booklet in 2015.
This action research process has laid the groundwork for linking formal research organisations/institutions, the government as policymaking agency and farmers as end users to review current crop improvement research practices.
The active participation of the formal seed sector research community is essential to contribute to designing and testing novel crop improvement practises and measures that add value to farmers' own efforts to conserve and sustainably use agrobiodiversity. Through such collaboration community seed banks the genetic base of key crops can be broadened to withstand environmental disasters that affect local production and conservation efforts.
Conclusion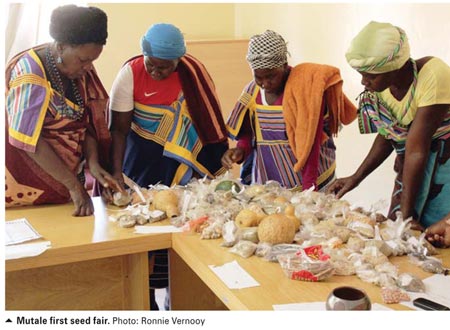 Functional community seed banks could serve as co-ordinating or nodal agencies bringing together farmers, plant breeders, gene bank curators and other stakeholders (e.g. extension services) to realise true benefits of utilising agrobiodiversity effectively and efficiently.
Through community seed banks farmers can be more closely involved and empowered in the research processes and have a measure of control over their natural recourses including over the documentation of their skills and knowledge.
Community seed banks can be effective platforms to make sure that landraces are preserved for future usage, especially for seed improvement processes, such as participatory plant breeding. Scientists should encourage participation of farmers in community seed banks, particularly where 'improved' crop varieties have not benefited farmers, to increase the conservation, improvement and sustainable use of plant genetic resources, essential for achieving food security and addressing nutritional requirements of present and future gene rations locally and nationally.
For more information contact Thabo Tjikana at ThaboTj@daff.gov.za or pgrc@daff.gov.za.
References
Vernooy, R, Shrestha, B and Sthapit, B (Editors). 2015. Community seed banks: Origins, evolution and prospects, Routledge: London and New York.
Vernooy, R, Sthapit, B, Tjikana, T, Dibiloane, A, Maluleke, N and Mukoma, T. 2013. Mutale first seed fair. Photo: Ronnie Vernooy
Embracing diversity: Inputs for a strategy to support community seedbanks in South Africa's smallholder farming areas. Report of field visits to Limpopo and Eastern Cape. Bioversity International: Rome, Italy and Department of Agriculture, Forestry and Fisheries: Pretoria, Republic of South Africa.
Publication: March 2016
Section: Focus on