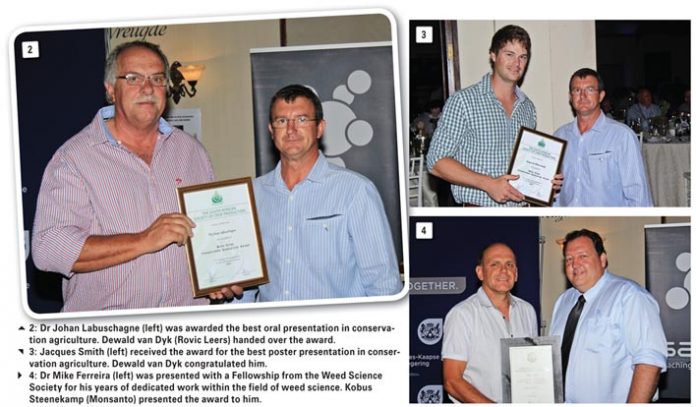 April 2015
JOHANN STRAUSS, JOHAN LABUSCHAGNE and ANNELENE SWANEPOEL, Department of Agriculture, Western Cape Government
The annual Combined Congress of the South African Societies for Soil, Horticultural, Weed and Crop Sciences were held in George, from 19 to 22 January this year.
A total of 17 delegates representing the Western Cape Department of Agriculture (WCDA) with 13 posters and eight papers, attended the congress (Photo 1). This included students from the University of Stellenbosch working on their post-graduate studies on the different long-term trials run by the WCDA and being mentored by senior and specialist scientists of the Department.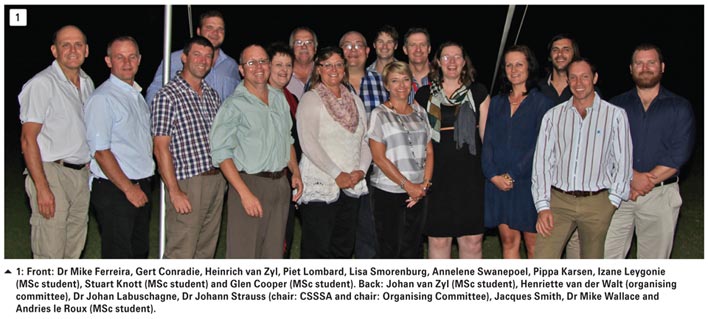 The theme of the congress was "Taking research to the farm to ensure long-term sustainability".
Dr Johann Strauss (chairman of the local organising committee) explained the theme of the congress in his introduction in the abstract booklet as follows: "The challenge to research is relevancy. In a world where the need for sustainable food production is of utmost importance, we as researchers need to take our research to the farm. It is on-farm where our research effort is needed to ensure that production is sustainable and that it will be providing for the increasing demand year-on-year. The struggle to find sponsors for research is increasingly difficult and the demands for practical research are evident. We as researchers and role-players in the field of agriculture need to place ourselves at the cutting edge of this practical research.
"On 5 December 2014 it was World Soils Day, and it is our sincere hope that from this congress onwards we, as agriculturists, realise the importance of this resource, the base of everything we do. Without a living soil, most of our research will mean nothing in the long run. In order to realise the higher production needs on less and less available soil, we must all work together to save and improve our soil."
At the gala dinner, Dr Johan Labuschagne (Photo 2) and Mr Jacques Smith (Photo 3) were awarded the best oral and poster presentations, respectively, in conservation agriculture (CA) as sponsored by Rovic Leers. It is the third year that these two prizes have been presented at the Combined Congress as part of the Crop Science Society's award portfolio. Dr Mike Ferreira (Photo 4) was presented with a Fellowship from the Weed Science Society for his years of dedicated work within the field of weed science. The research programme Sustainable Cropping Systems, which includes the long-term crop rotation trials and cultivar evaluation programme of the Department, delivered seven of the 18 contributions of the Department.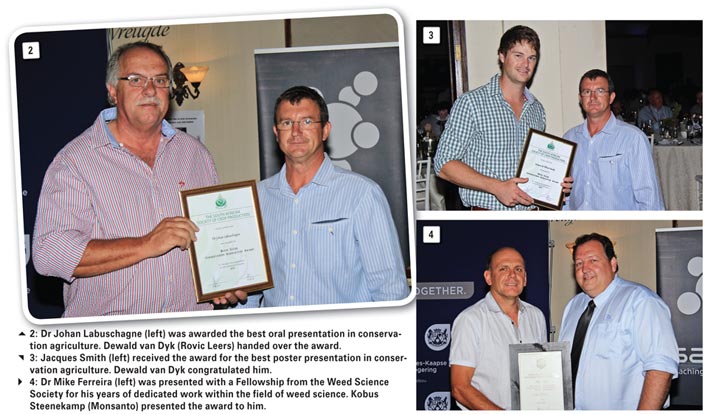 This included two oral presentations by two MSc Agric students, Mr Stuart Knott and Mr Andries le Roux. Both these students have done their theses on the long-term crop rotation and tillage trials. Knott did an analysis on the financial impact of different tillage systems within different crop rotations on data from the Langgewens long-term trials of Dr Strauss and Dr Labuschagne, while Le Roux worked on the effect of increasing residue retention, which is the case in CA, on the establishment, re-establishment and production of annual medic pastures of the long-term crop rotation trial at Tygerhoek research farm near Riviersonderend.
According to Knott, CA offers the most holistic, sustainable agricultural practice to date, by reducing environmental degradation while concurrently enhancing farm level profitability.
Using trial data from Langgewens research farm near Moorreesburg, his study evaluated a comparative analysis of the various CA farming systems over an extended period of time under varying sets of financial impacts, and came to the following conclusions:
The monoculture system is not financially viable.
The impact of weed infestations due to herbicide resistant ryegrass is unsustainable.
The buffering effect of increased yields derived from diversified crop rotations reduced the farming system's sensitivity to fluctuation in external factors.
No-till systems generate a higher expected internal rate of return (IRR) over an extended period of time.
Le Roux's MSc research was initiated due to concerns from farmers in the Southern Cape. The producers noticed a decrease in annual medic pasture re-establishment under CA practises and as a result shifted away from medics as a pasture crop.
Le Roux studied the effect of increasing residue left on the field as is set as one of the cornerstones of CA. The study evaluated medic re-establishment, establishment and the production of the annual pasture following different proceeding crops.
Included was five degrees of cover ranging from 0% to 100% and included residues from wheat, barley, oats and medics. From the research it became clear that the best re-establishment happens in wheat stubble. Other crop residues might be allelopathic, in the case of the other cereals, or auto-toxic, as is the case with medic residues which hampers the re-establishment.
The same scenario was found in the establishment of medic pastures. It also became clear that there were no significant differences in ultimate production between the 0% and 75% residue cover, which is very positive for retaining as much residue on top of the soil as possible. It was evident from his findings that in the Southern Cape it might be advisable to replant medic pastures at least every five to seven years, and to manage it correctly, otherwise it might be necessary to replant it much earlier to ensure sustainable pasture production.
The five poster contributions included work done on the carbon content, as one of the major indicators of soil health, of different cropping rotations and tillage practices that form part of the long-term research trials at Langgewens in the Swartland. In his poster, Mr Glen Cooper (soil science student) showed systems that, including medic pastures, tended to have higher levels of soil organic carbon (SOC) than other systems and that any form of tillage disturbance of the soil caused lower levels of SOC. These results are from the first year of his MSc Agric.
Dr Strauss showed that short rotation systems can be viable when used in the Southern Cape. Short rotations that include medic pastures rather than long-term lucerne and/or systems consisting of cash crops only, can be sustainably farmed in this area. The results were obtained from the long-term crop rotation trial at Tygerhoek.
Two posters by Mr Piet Lombard focused on determining the optimal seeding density for canola and hay crops, oats and triticale. His preliminary investigation indicated that a more in-depth study in canola is necessary. It will include as many cultivars as possible, since the data suggests that we are seeding at a rate of about 50% more than is necessary.
Results from the hay study were inconclusive. Also from the cultivar evaluation programme, a poster by Miss Lisa Smorenburg gave insight into potential cover crops and combinations of cover crops that might be suitable within the CA systems practiced in the Western Cape. Combinations of one or two legumes planted together with rye proved to be very promising.
The research programme Plant-Soil-Water Management, concentrating on soil quality and soil tillage research, contributed three presentations and eight posters.
Dr Labuschagne showed that after eight years of applying tillage treatments (zero-, no-, minimum- and conventional-till) and different cropping systems (wheat monoculture, wheat/medic and wheat/canola/wheat/lupin) at Langgewens Research Farm, organic C, active C, aggregate stability and glomalin content in conventional-till (maximum soil disturbance) were lower than in the other tillage treatments tested.
Except for wheat monoculture, this reduction in soil quality, however, did not influence wheat grain yield. This proves that the potential negative effect of continuous soil disturbance may take years to cause reductions in wheat yields. During the 2014 season, canola reacted positively on soil disturbance resulting in increased yields as the degree of soil disturbance increased.
Mr Abie Vorster (MSc Agric student), working on the long-term tillage/cropping system trial at the Tygerhoek Research Farm, reported that after seven years of applying abovementioned treatment combinations, no-till tended to result in better soil physical properties except for aggregate stability that showed no response. These differences were however not significant.
Four posters related to the long-term tillage/cropping system trial at Langgewens were presented. Two posters by Dr Labuschagne and Mr Johan Habig (ARC: PPRI) showed no definite trend in the effect of crop rotation on enzyme activity. Less soil disturbance tended to increase enzyme activity. Soil microbial diversity showed higher sensitivity to cropping sequences, than to tillage treatments.
Preliminary results showed that the composition of soil microbial diversity was the lowest in wheat monoculture and the highest in a wheat/medic system. Low microbial diversity in the wheat monoculture plots could be the result of specialised microbial populations present, with the ability to utilise wheat root exudates more effectively.
Mr Heinrich van Zyl found that in the absence of tillage (zero- and no-till) at Langgewens, less mobile elements (organic C and P) tended to accumulate in the top 0 cm – 5 cm, a result not found for more mobile elements like S.
Vorster could not find any significant differences in soil water content, cumulative evapotranspiration (water usage by system), and grain yield and water use efficiency between tillage and crop rotation treatments at Tygerhoek, however no-till tended to perform better than the other treatments included in the study.
Investigating the effect of a strategic once-off tillage on soil quality was covered by three posters. Preliminary results from Tygerhoek by Mr Jacques Smith showed that once-off tillage in a permanent pasture/cash crop system (after lucerne) had no major impact on soil quality in the short term.
Stratification of SOC after a long-term lucerne crop could therefore be reduced effectively by means of once-off deep tine or mouldboard plough without increased losses of the active C content, an important soil quality parameter.
Ms Izane Leygonie and Mr Johan van Zyl (MSc Agric students) showed that after applying a once-off tillage treatment (deep tine or plough) at Langgewens, soil water content was influenced by tillage, current crop as well as the time when the soil water content was recorded. Biomass production of wheat and canola and chlorophyll content of leaves were not influenced by the tillage treatments tested. This is only preliminary results; final recommendations will be made upon completion of these studies.
The posters and papers delivered at the Combined Congress were made possible by the partial financial support of the long-term research trials from the Winter Cereal Trust.
Publication: April 2015
Section: Relevant