Industrial revolutions occur when new technologies and world views introduce significant shifts in economic systems and social structures. Technology advancement increasingly transforms the way we work, live, communicate, travel and socialise, which could fundamentally alter life as we know it.
Background
The concept of the fourth industrial revolution (4IR) was largely popularised by the World Economic Forum. Just as technologies related to steam, the combustion engine and computing transformed life, we are now entering an even deeper technology-driven transformation structured around massive data and computation. Some researchers also present a much more cynical view of this era, warning of several problems it may pose with respect to legislation.
A specific risk related to 4IR technologies are how it challenges existing regulatory arrangements. This could include new materials of nanotechnology that may display toxicity, depending on shape, size and surface effects, with government legislation on chemicals not yet updated to account for this. Gene editing and synthetic biology may set in motion unexpected changes, while existing biosafety laws are not ready to regulate them. Internet of things (IoT) networks, UAVs (unmanned aerial vehicles) and the internet pose new challenges to privacy and human rights laws not yet updated.
During 2017/2018 a study was commissioned by the Western Cape Department of Agriculture (WCDoA) in collaboration with the Stellenbosch University Business School to investigate the future of the Western Cape agricultural sector in the context of 4IR. The report synthesised from this study zoomed in from a global agricultural context into the Western Cape, indicating the major trends that may affect agriculture.
From the WCDoA study, base technologies were identified from previous research, and then classified into technologies that may apply to the agriculture and food production industries. Apart from including related industries (indicated in grey shading on the circle in Figure 1) to agriculture (indicated by green shading), the contextual framework of technology was also emphasised. For instance, labour policy may affect how robotics will develop, while UAV applications may be executed differently, or be more difficult to use, depending on legislative policies. Climate and weather are also seen as contextual, as it is an overarching natural system in which technologies function, and it may play a role in assessing, acting on and predicting future scenarios.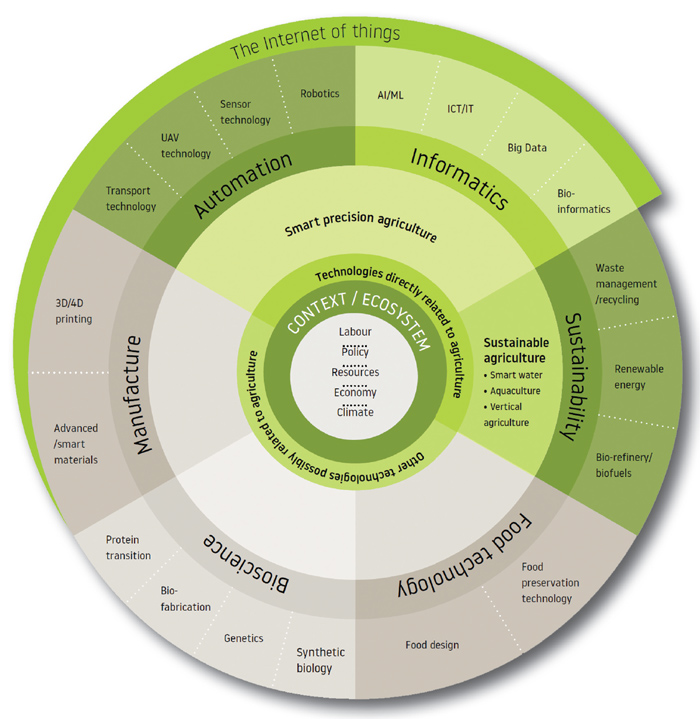 Advantages and risks
Even though this era brings a lot of opportunities, it also presents a set of realities for developing countries such as South Africa. Opportunities include wider access to renewable energy and digital connectivity, offering financial inclusion for many people still stuck in the second industrial revolution. Anticipated risks for developing countries include rising unemployment and inequality with its related social effects, including possible amplification of biases by artificial intelligence algorithms.
Although there are numerous technologies that may offer significant advantages to industries, including agriculture, there is also a 'hype cycle' linked to these technologies (also known as the Gartner hype cycle). However (as quoted from Brian Burke, research vice president of Gartner): 'Technology innovation is the key to competitive differentiation and is transforming many industries.'
Impact on the grain industry
The grain industry and related value chain are not unique compared to any other agricultural industries, from the perspective that they are all at a relatively low level of digital maturity. There is an apparent slow uptake of new technologies related to the 4IR, compared to for instance the financial services sector. In the grain industry there is no doubt that the 4IR will bring changes to the way crops are produced, marketed and processed – from new wheat-breeding programmes and using UAVs, to storage solutions as well as processing, packaging and product innovations.
South Africa's grain industry is nested in the agricultural sector, and like its peer industries, it is affected by government policies and actions in response to the challenges of the 4IR. The risks related to this revolution (also affecting agriculture) will require that academics, businesses and civil society actors attend to the role of new technologies in the context of a developing country.
Governments ought to carefully assess the above risks in their national context and then establish corresponding policies and programmes. This includes national skills development and work placement platforms, intellectual property and competition policies as well as local technology adaptation and development.
Although local manufacture of technologies cannot be feasible in all contexts related to the 4IR, the adaptation of agricultural technologies to fit its ecosystem is crucial. In some cases, there are local agricultural engineering solutions that are much cheaper than the imported alternatives. Apart from local manufacture and support, some key aspects needing improvement that were synthesised in the report by WCDoA, include the following:
Data accessibility in rural areas needs to be improved.
Farm machinery and processing equipment have to be digitally and spatially enabled.
Producers need to be properly trained in the use of technology.
Data protection policies should be in place for the consumer and business.
Solutions should preferably be open-source and compatible across software and hardware platforms.
Proper data visualisation, storage and processing should enable user-friendly interpretation.
What the future might look like
The 4IR will send a ripple effect throughout the labour-intensive field of agriculture. Combining artificial intelligence (AI) and big data may evolve it into a high-tech industry that operates itself. The technologies allow precision agriculture, such as yield monitoring, diagnosing insect pests, measuring soil moisture, diagnosing harvest time and monitoring crop health status to move to 'smart agriculture' – which integrates precision agriculture and AI. The IoT will measure the temperature, humidity and amount of sunlight in production farms, but also integrate other sensors and tracking throughout the value chain, enabling process optimisation on all levels. This may boost the production on farms as well as the efficiency of processing plants. It may also enable an integrated marketplace with disrupting financial systems as part of the overall value chain. A series of upcoming articles will focus more on specific technology groupings that may disrupt the agriculture sector.
The author wishes to acknowledge the WCDoA as well as the Stellenbosch University Business School for supporting the mentioned study.
References
'Breeding the future through the digital eye', published in SA Graan/Grain in January 2020.
Hamann, R. 2018. Developing countries need to wake up to the risks of new technologies. The Conversation Africa (theconversation.com), 4 January 2018.
Harvey, R. 2017. The 'fourth industrial revolution': potential and risks for Africa. The Conversation Africa (theconversation.com), 30 March 2017.
Kriel, G. 2018. A new era in wheat breeding. SA Graan/Grain, January 2018.
Panetta, K. 2019. The Gartner Hype Cycle highlights the 29 emerging technologies CIOs should experiment with over the next year. Smarter with Gartner, 29 August 2019, www.gartner.com/smarterwithgartner.
Schwab, K. M. 2016. Welcome to The Fourth Industrial Revolution. Rotman Management Magazine, The Disruptive Issue (Fall 2016),18-24.
The Western Cape Department of Agriculture (WCDoA), 2018. The future of the Western Cape agricultural sector in the context of the Fourth Industrial Revolution. Synthesis report by the University of Stellenbosch Business School (report at https://www.usb.ac.za/usb_reports/the-future-of-the-western-capes-agriculture-in-the-context-of-the-fourth-industrial-revolution/).
Thomas, J. 2019. Roadkill of the Fourth Industrial Revolution. Grain.org (reposted from earthisland.org), 21 Nov 2019.
World Economic Forum (WEF) (in collaboration with McKinsey and Company), 2018. Innovation with a Purpose: The role of technology innovation in accelerating food systems transformation (https://www.weforum.org).