Gardner Khulekani Khumalo became the first winner in the small-scale maize farmer category of Grain SA's Grow for Gold National Yield Competition. He was featured in the March 2021 issue of SA Graan/Grain. There are, however, two other Khumalos who are part of this success story – father Lucky and Sphephelo (38), Gardner's twin brother. This father and sons team was also a finalist in the 2020 Grain SA/Absa/John Deere Financial New Era Commercial Farmer of the Year competition.
From one generation to the next
The twins are proud to be fourth generation farmers. With agriculture running through their veins, they began farming at a very young age and learned to drive a tractor as teenagers. While still at school they were already growing vegetables on a 7-ha piece of land belonging to their grandparents.
Although their father, Lucky, obtained a BA degree in agriculture before he joined his parents on the farm, not one of the twins completed any tertiary studies as there was never any doubt that farming was their career choice. Their passion determined their destiny. 'My grandfather lived out his passion as a farmer, and always says he never worked a day in his life.' However, Sphephelo is worried that there won't be a fifth generation to take over from him as his four children are not yet showing any interest in farming.
The Khumalos farm on their own 672-ha farm, Liesbethdale Farm, in the Dundee region in KwaZulu-Natal, which they purchased in 2011 after successfully applying for a loan at Ithala Bank. They also lease three other pieces of land in the area, of which 190 ha is on a neighbouring farm. This gives them a total of 550 ha of arable land where they produce maize and soybeans, trading as Mgodeni Farming Primary Cooperative. They dream of expanding in the near future and hope to buy the neighbouring land they are currently leasing.
Sphephelo believes that farmers need to be resilient and able to adapt as 'farming is a risky business'. This season they planted 280 ha of maize and 190 ha of soybeans. Due to the torrential rain, they suffered crop damage. 'There are, however, areas where the yield is looking very good as we have learned to spread the risk by not planting all our hectares at the same time,' he said. 'Early crops are more likely to be hit by the hail,' he explained and added that the first area was planted at the end of October last year. 'Our last seed went into the soil on 4 January.'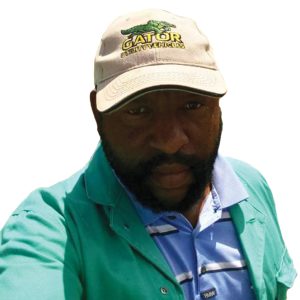 On average they realise 5,5 t/ha to 6 t/ha on their maize and 2 t/ha on their soybeans. Their best achievement on soybeans has been 2,8 t/ha and on maize it was the winning result of 8,01 t/ha for which they received the Grow for Gold award.
Apart from crop farming, they also farm with cattle for beef production. 'The sheep and goats are only for our own table,' Sphephelo added.
Always more to learn
Lucky joined Grain SA in 2015 and the twins have also become members of this organisation which has helped develop them into better farmers. This is mainly as a result of the support and mentorship of regional development coordinator, Graeme Engelbrecht, and mentor Chris de Jager. The input of helpful commercial farmers in the area has also played a big role in their development.
According to Sphephelo, Chris has helped shape them into the farmers they are today. 'We were farming in the old-fashioned way that we had learned from our forefathers,' he said about their farming ways which would not be considered as good agricultural practices. Through Grain SA's Farmer Development Programme they now employ better agricultural practices. 'We have learned to take care of our soil which has helped us reach the potential yield for our lands.'
In the past soil sampling was never done and they just used any fertiliser which was available. Now they take soil samples after the harvest and as Chris taught them how to analyse the results, they can make the necessary applications to rectify any imbalances. 'Soil sampling shows us what is missing in the soil.' Learning about the importance of water conservation and following a strict and effective spraying programme have made a huge difference in their farming enterprise.
Chris also ensured that their knowledge of technology improved. They practice precision farming and although it is expensive at the onset, they know that it will save costs in the long run. Better agricultural practices mean a higher yield and more money in the bank.
On Liesbethdale Farm the responsibilities are shared. 'I know most people in our shoes split the responsibility, but it works for us to share it. I do the record-keeping when I knock off,' said Sphephelo. He believes that farming is a hands-on job and says you cannot call yourself a farmer if you are not in the field. 'Farming is not as easy as it looks – it is hard work, with 16-hour days during the planting season.' Nevertheless, the hard work is worth it – not just for Sphephelo, but for the whole Khumalo team.