Francis Davidson, a mentor from the Eastern Cape, believes that optimism is the one quality more associated with success and happiness than any other. His life is a testimony to this. At 72 he is still very active and says he definitely needs a second lifetime as he is not going to get everything done in this one!
Apart from being involved in Grain SA's farmer development programme as a mentor and trainer, he is still farming on a smallholding in the Maclear area. He also restores vintage tractors as a hobby as he loves giving new life to 'anything old and rusty'.
A heart for mentorship
Francis is a native of the Eastern Cape and grew up in Barkly East where his dad was a producer. He is often asked by the mentees where he learned to speak isiXhosa fluently. 'I never learned the language; it just became part of me while I was growing up.'
After completing his school career at Queen's College in Queenstown, he began farming with his father for a few years. Francis then started his own mixed farming operation which comprised of sheep, cattle as well as a dairy. He also planted crops such as wheat, maize and lucerne.
In 1969 he attended a farm mechanics course at the Bloemfontein Technical College. He still does all his own mechanical work and repairs thanks to the knowledge he gained through this course. Together with his hands-on approach, this makes him a valuable part of the farmer development programme.
He joined the mentorship team in April 2019 after the funds dried up for the Eastern Cape livestock health programme in which he was involved. Craig, his son, contacted Willie Kotzé, the former operations manager of the farmer development programme. After an interview with Willie and Jane McPherson, former manager of the programme, Francis had a new goal on his horizon.
Unfortunately, the lockdown has prevented the programme and training sessions from commencing. To Francis the worst thing about the lockdown – apart from not being able to work as a mentor and trainer – is negativity. 'We have to remain positive. People's negativity is really depressing.' The other drawback is that his wife, Heather, who is working as a carer in England, has not been able to return to South Africa as a result of the COVID-19 travel regulations.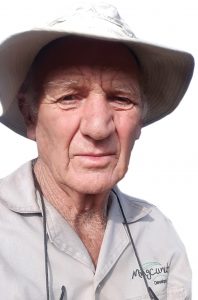 Mentorship makes an impact
Francis loves being a mentor and trainer, but he believes that not everyone is cut out for the job. 'Certain qualities are important, of which patience is probably at the top of the list! Mentors also need a good grip of the language.' Apart from English, Afrikaans and isiXhosa, he is also fluent in Sesotho. 'One also has to be a good listener – even for the stories you are not being told.'
Mentorship has had a massive impact on his life, especially as far as communication and people skills are concerned. He believes that as you come into contact with a variety of people, your understanding of different personalities and character traits develops. You learn to 'read' people.
Last season Francis mentored about 80 farmers in three study groups in small villages in the area stretching from Mount Fletcher to Lusikisiki. 'Working with these farmers has been wonderful – they are incredible people who are eager to absorb the knowledge you share.'
Most of the farmers plant maize, with sorghum and oats (used for their livestock in the winter) being cultivated on a much smaller scale. 'They really need more knowledge about growing fodder crops for the animals to get their livestock more productive.'
For the training sessions he spends Monday to Friday at a village, presenting a complete training course like tractor maintenance or maize production. 'The tractor maintenance course seems to be a highlight for the attendees.'
Currently mainly women and older men attend the courses. He finds it disheartening that the younger generation is just not interested in attending these free training sessions. He would love to see the youth seize this opportunity to develop their skills.
According to Francis there are two problem areas in which the farmers urgently need more guidance. The first is assistance with parasite and disease control in livestock, and the second is crop production. 'The farmers' ideas are vague and with their limited knowledge about aspects like fertilisation, soil health, seed selection and seed varieties, their yield will remain small.'
Optimism breeds positivity
Francis believes in South Africa and is positive about the future of agriculture in the country. With thousands of hectares of arable land lying fallow in the former Transkei area, he really hopes that the government will one day unlock the huge potential in the region, as it offers South Africa an opportunity to further ensure food security. 'The area has a wonderful climate and good rainfall with fertile soil – ideal for crop production.'
For this optimistic father of three and grandfather of four, the only challenge he encountered in his first season as mentor was the roads, which are in such bad condition that it makes travelling to and from the villages a nightmare. 'However, the highlights, like the grateful farmers' appreciation, far outweigh this challenge,' he says.