It has been proven that people learn much faster from doing something, rather than just learning about it through books and lectures or by simply watching someone else. Jerry Mthombothi, Grain SA development co-ordinator in Nelspruit, believes this hands-on approach is the reason why the mentorship programme of Grain SA has been one of the most successful programmes in developing and equipping emerging farmers.
A job turned into passion
As provincial co-ordinator his responsibilities currently include transferring skills to emerging farmers who are planting maize in Mpumalanga – from the Fernie/Dundonald region up to the Stoffberg/Lydenburg area and down to the Nkomazi district.
He has 23 study groups under his supervision and visits each of these twice monthly. Where possible, he tries to fit in two groups per day, although the distance between them does not always make this possible. Mentorship forms part of his job description, but during planting season two external mentors are employed temporarily to assist with the necessary advice and training.
One of the reasons he enjoys being a mentor, is seeing the mentees attain goals they thought were not possible. 'It brings me immense joy to see my farmers succeed. Their accomplishments have become my success story,' he says.
Some of the farmers were only producing 15 to 20 bags/ha when he started guiding them towards better farming skills and agricultural practices. During the previous season these mentees were realising 4,8 t/ha on average, with the highest yield obtained being 8 t/ha. Two seasons ago there were even farmers reaching 10 t/ha.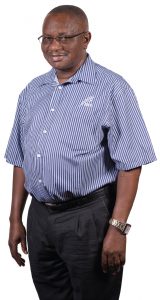 This committed mentor is well-represented at the annual Grain SA Day of Celebration. His most successful farmers to date have been two ladies – Mavis Nomvula Hlatshwayo (55) from Mpuluzi in Mpumalanga, who was the winner of the 2017 Grain SA/Absa Subsistence Farmer of the Year and Jenette Thembi Shoba (60) who took home the title in 2018. In 2019 Jerry had two nominees in the Subsistence Farmer of the Year category – Ndinda Hezekia Mkhonza and Amos Mfaniseni Kubeka, who was a finalist in 2018 and 2019.
With Jerry's input and the support of Grain SA, Mavis and her team introduced new farming methods and harvested more than 8 t/ha during that season. She remains an inspiration and recently featured in VKB's Food for Mzansi. Jenette began farming with maize and cattle in 1994 and joined her local Grain SA study group in 2014. Through Grain SA she gained the skills and knowledge to farm in a more professional and productive manner. During her winning season, she managed to produce 7,5 tons of maize on 1 ha.
This just proves the value of the mentorship programme. 'It works,' says Jerry. 'Hundreds of farmers are benefiting from it. With further guidance about correct agricultural practices, the country can be sure that enough food will be produced.'
Effort and commitment make the difference
American TV personality and personal trainer, Jillian Michaels, once said about exercise, 'It's not about perfect. It's about effort. And when you bring that effort every single day, that's where transformation happens.' As many sports stars (and students) know, you get out what you put in. If you want more, you have to do more. That's the only way change and growth occur. Jerry is a firm believer in this principle and feels it also applies to farming.
Therefore, he focuses on these key areas to help farmers realise higher yields:
Learn to spend money to make money
In the beginning the farmers battled with this concept. They were not prepared to spend money, but still they wanted to achieve a higher yield. Through the input from the study groups they have realised that if they do not buy the correct seed and invest in the necessary fertiliser and chemicals, they will get what they have put in – which will not be a superior quality product. 'I am training them to invest in their harvest to produce good quality products so that they will get a market for their maize. No one wants to sell inferior goods.'
Farming cannot be done with a remote control
You must be hands-on and do the work yourself. If you aren't involved, you can't be disappointed if you do not achieve your dream. 'You can't expect to succeed, if you only work when you feel like it. In farming you have to be totally committed,' he motivates this important lesson.
It excites him to see his farmers generating more money, as he knows that their lives will improve. There will be money for a better education for their children and they will be able to invest in better supplies to further improve their farming enterprises.
'I am passionate about the job I am doing now,' says Jerry, who worked for the Department of Agriculture as an extension officer for 19 years before joining Grain SA in February 2004. 'The biggest difference between the two jobs is that in government I sat and worked with papers and now I move around and work with people.'