By now many people are familiar with the CropLife SA continuous professional development (CPD) programme, especially those producers who have committed themselves to buying from an accredited crop adviser.
CropLife SA drives this programme to ensure that participants of member companies continue to engage in industry learning activities that maintain and enhance their professional competency and knowledge. The programme aims to advance the status of being merely a transactional sales agent, to becoming a crop adviser, acting in the interest of the environment, the community and the producer.
The CPD cycle runs every year from May to the following April, and during this twelve-month cycle, participants need to acquire a certain number of points in three respective categories to be compliant. The type of training that qualifies for points, range from very technical topics and product-related information to safety and legal aspects of the industry as well as good agricultural practices and stewardship, to name but a few. In addition to the training offered by member companies, industry experts, educational institutions and approved training partners, CropLife SA provides a number of online learning modules that can be completed directly on the system and in the participant's own time. These points are allocated immediately, meaning progress can be monitored throughout the year.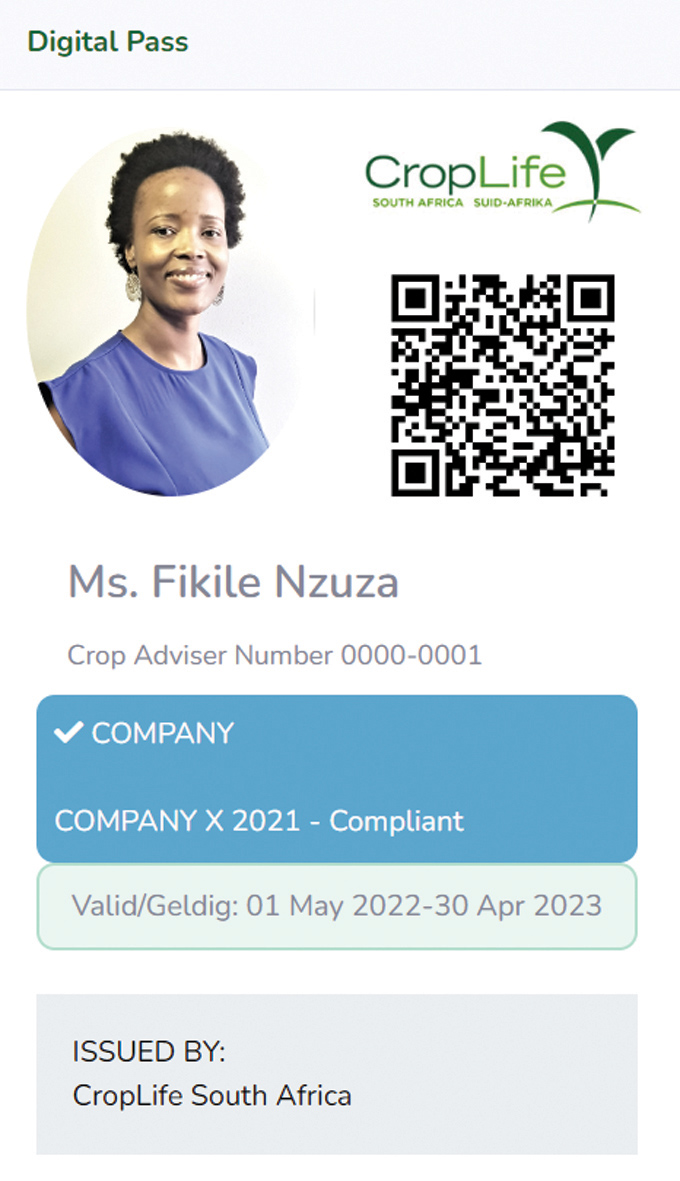 Once an agent has obtained the required number of CPD points, he/she is issued with a digital CropLife SA accreditation card and earns the title of crop adviser. Producers should note that the usual printed cards are now completely replaced with these digital cards, which include a QR code that can be scanned for the relevant information or emailed to a recipient for verification. Producers should also be sure that the crop adviser is identified correctly, that the word 'compliant' is stated next to the correct distribution company name, and that the validity is for the current cycle.
Before cards are issued, crop advisers must acknowledge that they will adhere to the CropLife SA code of conduct and that they will only recommend and sell crop protection products that are registered in accordance with Act No. 36 of 1947. This means a producer can have peace of mind when buying from a CropLife SA-accredited crop adviser because the person is qualified, up to date with industry knowledge and has agreed to conduct business according to a certain standard. For an export producer, this is particularly important for auditing purposes such as GLOBALG.A.P.
CropLife SA encourages all producers to insist on this accreditation before purchasing agrochemical products. That being said, a producer must always ensure to only use products that are registered in South Africa for the intended purpose, which refers to a specific pest, crop and application method as well. An easy way to verify this is to subscribe to www.agri-intel.com and view the label information of the product in question.
Any CPD-related queries can be emailed to cpd@croplife.co.za.