With the DEKALB hybrid DKC 73-74BR and a yield of 14,7 t/ha, Bheki Mabuza who farms near Amersfoort in Mpumalanga recently walked away with third place in the category for maize production in the eastern Highveld region in the Grain SA Grow for Gold National Yield Competition.
He planted his maize between 10 October and 28 October 2020 at a planting density of 55 000 plants/ha. This prize-winning yield placed Bheki, a former taxi driver who left the industry to farm full-time, amongst the elite of South Africa's maize producers.
To put the yield of 14,7 t/ha into perspective, one must look at the average yields obtained for maize during the 2020/2021 production season. The average yield for yellow maize in South Africa for the mentioned season was 7,15 t/ha, with an average of 6,65 t/ha in Mpumalanga. The average total maize yield for this production period was 5,88 t/ha.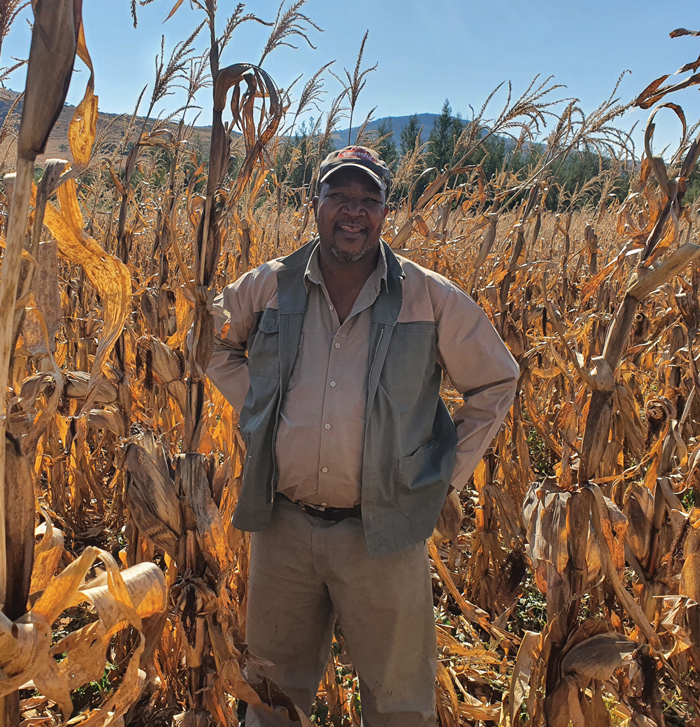 Bheki is primarily a cattle farmer and owns 500 cows and 22 Brangus bulls. He sells his weaners in April at the local livestock auction.
The Mabuzas have participated in the Grain SA Farmer Development Programme for ten years – one of the few programmes offering individual support to farmers.
Jurie Mentz, development coordinator at Grain SA's Louwsburg regional office, is proudly joining in the celebrations, saying that the key ingredient to Bheki's success is his thirst for knowledge.
According to Jurie, Bheki has focussed on getting his soils balanced and is following excellent liming and fertilisation practices. Regular soil sampling is done and problems are identified and rectified timeously.
Bheki came to realise how important it was to determine the soil status every year while working with Grain SA. 'Soil sampling, analysis and corrections done early in the season make an enormous difference in the yields at the end of the season. Weed control is also important,' he added.
He received 1 150 mm of rain during the production season and when calculating the yield according to the available moisture, he obtained 12,80 kg grain/mm of rain. His variable cost came to R12 600/ha or R856,17/ton.
The Mabuzas' farming operation has significantly grown thanks to hard work and wise investments. They have expanded from 2 ha to 30 ha to 110 ha – and have more plans for the future.
Bheki has taken the initiative to learn as much as possible about the land and the crops they grow on the farm. He knows that his hard work has paid off when he harvests his maize. 'To be a successful farmer, I have to keep on learning and work hard,' he said.
He added that it was also important to annually conduct a post-season business analysis. 'We have to know what we did right and where things went a bit off track. We also have to analyse our costs and profit margins and use that to budget for the next season.'
Bheki is a member of the Donkerhoek study group in his area and was one of the runners-up in the Grain SA Smallholder Farmer of the Year awards in 2019.