South Africa's crop statistics are considered by the United States Department of Agriculture (USDA) to be of excellent quality. This is according to Dr Justin Choe, a coarse-grain analyst at the USDA's World Agricultural Outlook Board.
Dr Choe joined the 2021 Grain SA Congress virtually from Washington, DC to expound on the 2021/2022 marketing year's global feed outlook.
As research economist at the international trade of global commodities, Dr Choe's expertise lies in policy analysis, market forecasting and policy evaluation. He is tasked with the compilation of the world agricultural supply and demand estimates (WASDE), which are updated monthly.
The report provides the latest outlook on commodity markets in the US and globally and Dr Choe works with multiple analysts and agencies to ensure timely and accurate information, which is made available free of charge.
In his keynote address, Dr Choe shared some of the projections and micro- and macro-economic assumptions with Congress.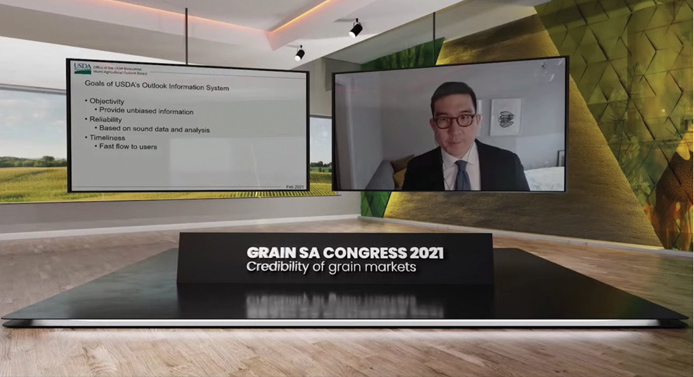 Long-term trends
Production
According to Dr Choe, the global production of maize is projected to grow to 1,13 billion tons in 2020/2021. The expansion relates not only to hectares, but also to yield, as more modern techniques are adopted in an increasing number of countries.
South Africa's production forecast is placed at 16,5 million metric tons (mmt) for the 2020/2021 marketing year which starts in May 2021. The US is projected to produce 360,2 mmt – the largest production number globally.
Demand
Feed use of maize is expected to be up 2% from 2019/2020 at 727 mmt. This expansion is said to be driven by economic growth and consumer demand for meat. 'Growth in disposable income leads to meat consumption, which leads to feed demand. While the current sharp spike in demand and prices is a result of many different factors happening at once, I do believe that growth in maize and feed demand is likely to continue long term,' Dr Choe explained.
China is forecast to use 206 mmt of maize (a record) as animal feed this year. Other major meat-producing countries that are feeders of maize are the US, Brazil and the European Union. With this strong demand, more and more countries are importing maize. It is estimated that 179 mmt of maize will be imported and 186 mmt exported world-wide, which are record numbers.
South Africa is projected to export 3 mmt of maize in the 2020/2021 marketing year. Apart from favourable trade opportunities between South Africa and South Korea, it is expected that strong global demand may present further new opportunities.
China is forecast to be the largest importer of maize at 24 mmt this year. Even with high prices, maize remains affordable and available compared to other feed grains and import demand is likely to continue.
Capturing agricultural data in South Africa
The USDA's Foreign Agricultural Service (FAS) office for Southern Africa is based at the US embassy in Pretoria, and partners with governments and relevant entities to promote the adoption of trade-facilitating policies, science-based regulations and improved methods for capturing statistical information for agriculture.
Apart from local attachés who conduct regular field reports, data are sourced from the South African Grain Information Service (SAGIS), the South African Revenue Service (SARS), the Crop Estimates Committee (CEC) at the Department of Agriculture, Land Reform and Rural Development (DALRRD) and the Producer Independent Crop Estimate System (PICES).
According to Dr Choe, South Africa's crop statistics are considered to have 'excellent quality, with monthly crop statistics delivered on a timely annual schedule'. He added that crop area statistics are estimated from aerial surveys, which most countries do not perform. 'The final production estimate is cross-validated by grain deliveries to silos from SAGIS, making the final production estimate very reliable,' he added.
Click on the QR code to watch Dr Justin Choe's presentation.