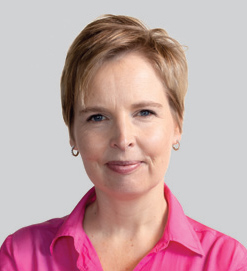 As farms continue to grow in size and complexity, so too do the infrastructural demands. Larger and more sophisticated farms often have greater needs for on-site construction and maintenance work.
Are producers acquiring more construction equipment for their farms and what is currently available on the market? As part of a media enquiry, SA Graan/Grain put these questions to manufacturers. New Holland, Bell Equipment and CASE Construction Equipment responded with the following insights:
New Holland Construction Equipment
Wim Farmer, business manager at New Holland Construction Equipment, says that the farming community is focusing more and more on larger, more task-specific machines to assist them with their day-to-day tasks in and around the fields and on the farm.
'Due to the labour-intensive, harsh nature of bush and field clearing in preparation for new fields and lands, we have seen that the producer is moving away from the traditional tractor-based add-on equipment and are acquiring purpose-built, right-tool-for-the-job machines.
He says machines such as the tractor loader backhoe (TLB) is especially favoured by producers due to its versatility. 'From loading sand, bales, trenching and road maintenance, the TLB is the absolute go-to solution for the producer.'
Farmer explains that producers are faced with maintaining their own access gravel roads connecting livelihoods to the main tar roads. 'This has been a challenging task with traditional "boer maak 'n plan" equipment, forcing the producer to acquire basic road maintenance equipment and opened possibilities for the introduction of a road grader and TLB fitted with a 4-in-1-purpose bucket. Most recently, we have noticed an increase in the 22-ton class hydraulic tracked excavator. This is due to the ever-increasing demand for large-tree bush clearing and excavation for pipelines and dam building.'
He believes that the producer wants to be more self-efficient and that local plant hire rates are too costly. He says producers will get their earth-moving, material-handling, trenching and bush-clearing work done at a lower cost and less time by using the right machine for the job.
Apart from the TLB, which is the general go-to machine for loading and material handling as well as for digging trenches, doing excavation and making contours, the following equipment are useful on a farm:
Skid steer loader: The Skiddy, as it is commonly referred to, is used as a tool carrier. A large collection of attachments (tools) is available that can be easily attached to the Skiddy to virtually make any task facing the producer a breeze: from a trencher, auger, brooms, concrete mixer and rock breaker to a lawn mower, to mention a few. This is rapidly becoming a tool that the producer cannot do without. It is also used for cleaning of chicken coops and handling manure.
Hydraulic tracked excavator: Bush clearing, dam building, trenching, general excavation, and contours.
Telehandler: The new TH7.32 telehandler is designed for applications like handling materials, yard work and stacking large bales. It is the ideal choice for arable, mixed-farm and contract applications.
Farmer adds that they are looking to enhance their product portfolio in the near future by adding the motor grader front-end loader and soil compactor.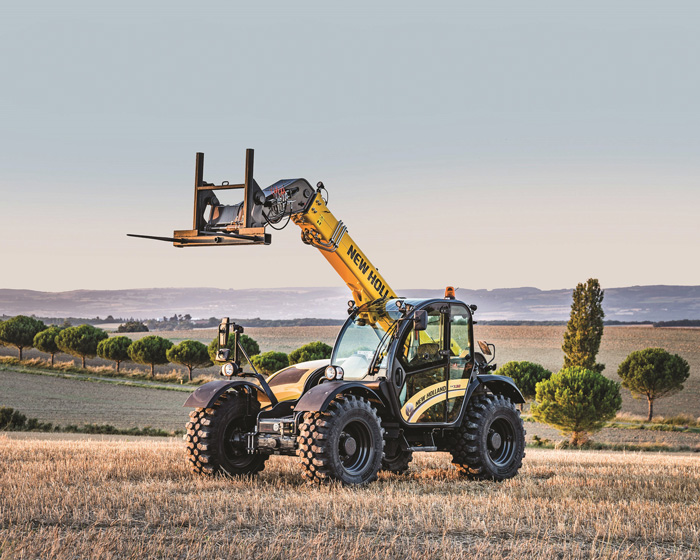 Bell Equipment
Charles Inggs, dealer development manager: Forestry and Agriculture at Bell Equipment SA, says there has been a definite increase in construction products going into the agricultural space. According to him, it seems the requirement or trend is towards a multi-tool or a piece of equipment that can be used for more than just one function.
He adds that it is becoming more and more popular to have products like the backhoe equipped with a quick-hitch system where the front bucket can be interchanged with a set of pallet forks or a bale spike.
In addition to the multi-function requirement, there is an increase in demand for equipment that enhances efficiencies. These efficiencies can be enabling another piece of equipment to work faster or produce more, or being able to maximise storage space by packing higher. In this space they have seen the increase in demand on the loadall (telehandler) side.
'For many of our producers the loadall was traditionally a costly piece of equipment that didn't add too much value in the average operation, but this perception has most definitely changed. The versatility of a loadall with a quick-hitch system is changing farming operations: Whatever is being done on the farm, the loadall allows the ability to do more, faster. The quick-hitch system allows for a multiple of attachments from grain shovels, multi-shovels, bale spikes, bale grabs, shear grabs, power grabs, pallet forks, grain pushers and many more,' he adds.
CASE Construction Equipment
CASE Construction Equipment has also seen a noticeable increase in the acquisition of construction equipment by producers, including road graders, backhoe loaders, and notably 22-ton excavators. According to Warren Alexander, branch manager at Isando, this trend is being driven by a number of factors, including the growing need for on-farm infrastructure maintenance and the expanding in size and complexity of farms, requiring more efficient and versatile equipment to handle various tasks.
'Many producers are tasked with maintaining their own access gravel roads. Keeping these routes well-graded and accessible is crucial not only for the smooth day-to-day operation of the farm, but also to ensure that agricultural produce can be transported efficiently and safely to markets. Road graders and other construction equipment make it possible for producers to manage this responsibility themselves, without relying on third-party contractors, thereby providing more control over the timing and quality of the work,' he adds.
He explains that a 22-ton excavator is robust enough to handle larger-scale tasks, which could range from constructing new buildings and roads to undertaking substantial land reclamation projects. Furthermore, the rise in sustainable and precision farming practices also influences this trend. 'In the context of water management, for instance, excavators can be used to create efficient irrigation systems, reservoirs, or drainage facilities that optimise water usage and help meet sustainability goals.'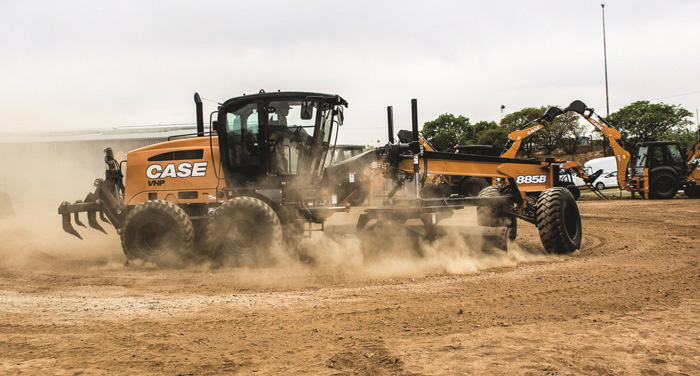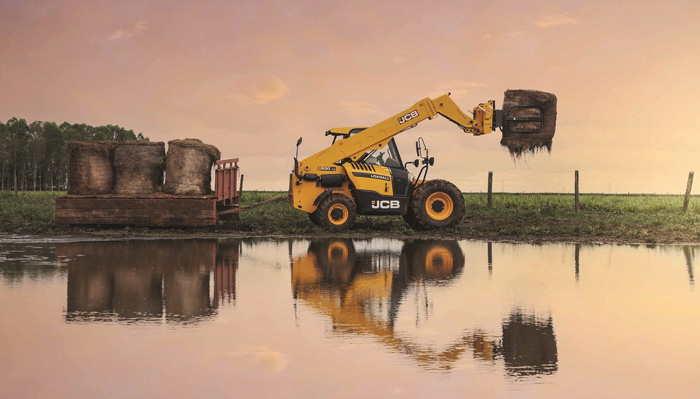 CASE Construction Equipment offers a range of products that are suited for farm applications. According to Alexander, the following equipment is particularly popular and widely used on farms:
Graders: Graders, such as the CASE 885B motor grader, are commonly used for land levelling, creating irrigation channels, maintaining roads and driveways, and preparing construction sites on farms. They provide precise grading control and can efficiently shape and level the terrain, making them essential for land preparation and maintenance.
Skid steer loaders: Skid steer loaders, like the CASE SR- and SV-series, are versatile workhorses that find multiple applications on farms. They can be equipped with various attachments, including buckets, forks, augers, and more. Skid steer loaders are used for tasks like material handling, loading and unloading, site clean-up, digging trenches, and landscaping. Their compact size, manoeuvrability, and quick attachment changes make them highly adaptable for different farm requirements.
Backhoe loaders: Backhoe loaders, such as the CASE T-series and all new V-series, are widely used on farms for their ability to perform multiple functions. They feature a front loader bucket and a rear-mounted backhoe attachment, making them ideal for tasks like digging, trenching, material handling, loading/unloading, and site preparation. Backhoe loaders offer versatility and efficiency, saving producers time and labour in various farm operations.
Excavators: Excavators, such as the CASE CX220C LC heavy duty crawler excavator, are valuable equipment for a wide range of farm applications. They excel in tasks that require heavy digging, trenching, and material handling. Excavators are used for activities like land clearing, drainage construction, digging irrigation ditches, and handling large quantities of soil, gravel, and other materials. They offer powerful performance, exceptional digging capabilities, and excellent reach, making them indispensable for many farming operations.
Advantages for producers
Warren Alexander of CASE Construction Equipment notes the following advantages of using construction equipment to enhance farming operations:
Increased efficiency: Construction equipment enables producers to complete tasks faster and more efficiently than traditional manual methods. The use of graders, for example, allows for precise land levelling, ensuring optimal water drainage and reducing the risk of soil erosion. Skid steer loaders and backhoe loaders help with material handling, reducing manual labour and improving overall productivity.
Versatility: The ability to switch between various attachments expands the functionality of construction equipment. Producers can quickly adapt skid steer loaders, backhoe loaders, and excavators to perform different tasks on the farm. This versatility helps save time and resources while increasing operational flexibility.
Time and labour savings: By utilising construction equipment, producers can significantly reduce the time and labour required for various tasks. With faster cycle times, increased lifting capacities, and efficient digging capabilities, construction equipment enables producers to complete projects more quickly and with fewer personnel. This can result in cost savings and increased operational productivity.
Long-term investment: Construction equipment, when properly maintained, is a long-term investment for producers. High-quality equipment is built to withstand the demanding conditions of farm work and provide reliable performance over extended periods. Choosing durable and reliable equipment can contribute to the overall efficiency and profitability of the farm.