The BH4 tractors enhance the legacy of the Brazilian-manufactured Valtra 1880 and the BH generation one and two tractors which were popular in South Africa in the early 2000s. These BH180s boasted a straightforward design that resulted in a strong tractor with cost-effective servicing, reliability and great performance.
Due to legislation on exhaust gases the BH series was discontinued in the South African market, but this has now been resolved with a Tier 3 AGCO power engine (formerly Sisu Valmet) built in-house in Brazil. The components are identical to and fully interchangeable with those of the other Valtra tractors built in Finland.
We are excited and proud to offer our clients five new models within the BH range. Each model can be distinguished by their engine capacity, the BH154 (114 kW), BH174 (129 kW), BH194 (139 kW), BH214 (147 kW) and the BH224 (155 kW).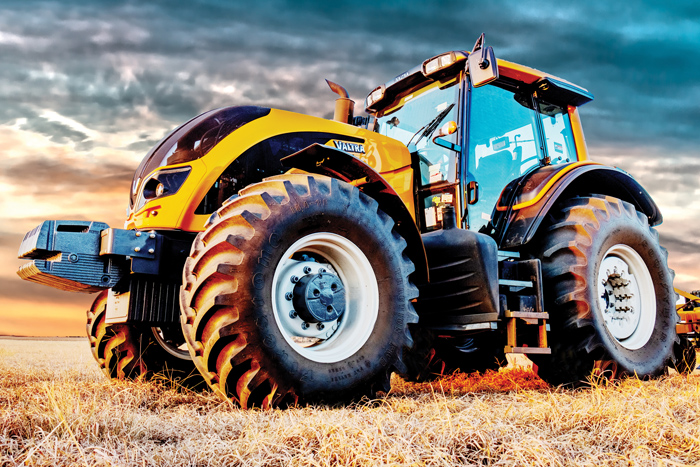 The BH4 has a sleek new look familiar to the Valtra family. A new shape on the weight frame reduces the tractor's turning circle. The intercooler is mounted above the radiator for improved airflow through the coolers and over the engine. The radiator compartment is sealed off, ensuring that small particles (such as dust and grass seeds) cannot block the radiators.
Its closed-centre HiFlow II hydraulic system is straightforward, practical and easy to link up. The load-sensing pump supplies oil at 170 ℓ/min. The hydraulic oil and gearbox oil are separate to prevent cross contamination. The tractor has three hydraulic valves with flow control on each valve. Hydraulic kick-out and float are also standard. The hydraulic system has been designed to coordinate with the high capacity required by precision planters and spreaders.
A six-speed gearbox with larger and stronger gears and better lubrication is coupled to a three-speed power shift. A power shuttle is located in the steering wheel. This combination allows 18 forward and 18 reverse gears. The automatic power shift results in seamless changes within the speed ranges required for tillage, planting or transport. A forward-speed and PTO cruise control make it easy to operate at the perfect speed.
Valtra owners will find the cab and controls feeling familiar, with controls placed within easy reach from the air-suspended seat. The BH194 and BH224 are guidance ready and plug-and-play compatible with Topcon's GPS systems.
The BH tractor weighs approximately ten tons and has the perfect weight balance between the front and rear axles for handling heavy-hauling loads with ease. The high capacity lift also has drive-balance control to reduce bumping when a lift-mounted implement is being transported.
Our team is very excited to once again offer an affordable and dependable tractor with the technology and features to suit the needs of South African producers. Local testing and evaluation are currently underway and the tractors will be available for sale from August. Spare parts and service are already available.