Adaptation of telematics technology led to the development of JDTeleLinkTM, a breakthrough technology offering by John Deere.
Telematics enables wireless data communication and opens a huge range of possibilities. It is essentially a range of different features, options and devices that are brought together by a single principle – data and communication.
The hardware collects/records all operating data of machines with the help of the wiring harness and stores it in the telematics unit. The system efficiently conveys information over vast networks to improve a tractor's functions and services. Then the data is bundled and sent over the cellular network to the John Deere JDTeleLink app, where a detailed log is stored for up to seven days as more information is received.
JDTeleLink is currently available on selected John Deere 5D and 5E 3-cylinder tractors with a 9×3 transmission option. It can be fitted as a factory or retro-fit option. It was developed for small hectarage farmers, speciality crop producers and contractors – adding value through the features and benefits and giving customers a competitive advantage.
This is possible because of features such as an area meter, machine monitoring, machine reports, machine tracking and tracing, machine alerts and fleet management. The area meter function calculates the area of the field using a GPS system. It can measure normal as well as peripheral areas of the land and have a 90% accuracy. The fleet management feature is useful for fleet owners, contractors and producers farming on various locations. Customers continue to look for methods and opportunities to reduce total cost of ownership. JDTeleLink, which captures a large number of data points generated by the tractor fleet daily, can be an effective tool for meeting this challenge.
Connecting multiple machines to a single smartphone is useful for tracking and tracing the tractors, which can lead to improved efficiency and productivity. Constant tractor checks help with preventative maintenance and enhanced productivity. Tractor reports such as engine utilisation, work reports and area reports help customers and dealers to collect information, organise it and present it in a concise form.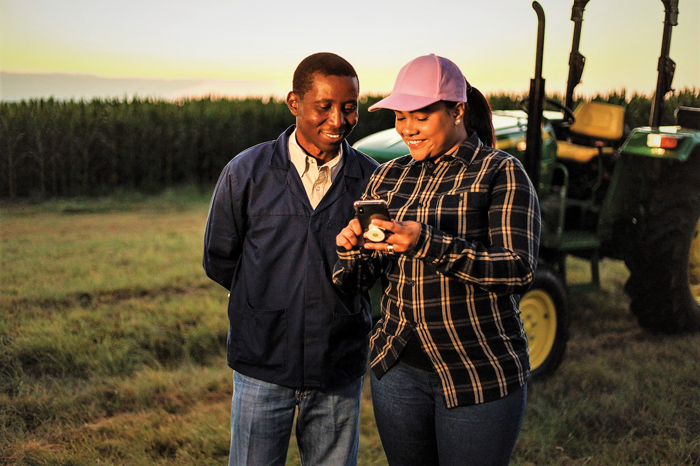 The tractor alert feature for dealers helps to provide tractor security to customers. Alerts help with preventative maintenance and enhance tractor performance and uptime. Dealers can offer prompt service upon receiving the 'service due' alert. Various alerts are sent to the customer, which allows them to plan accordingly and ensures tractors work continuously without interruption.
JDTeleLink consists of several hardware components, such as a telematics device that contains the main processor, modem, GPS chip and communication ports as well as an antenna for acquiring a GPS signal and converting electromagnetic waves into electrical signals applied to the receiver. A wiring harness provides power to all the components and allows the telematics device to gather information from the tractor. An instrument cluster shows all the tractor's parameters on the screen in digital format.
Instrument cluster functions such as engine hour, job timer, area trip, cumulative area, speed, service timer and battery voltage are displayed digitally and can be accessed by selecting and pressing the roll-mode switch. A symbol on the instrument cluster indicates the readiness of the device that assists in diagnosing a possible issue by blinking fast, slow or off.
A locally supported SIM is required and installed into the controller and with an SMS bundle of choice, communication is just an app away. The JDTeleLink dealer and customer app is available for download from the John Deere SSA website (dealer assistance is required for installation and pairing with tractors). The dealer app allows for assistance alerts such as 'oil pressure low', 'service due', 'coolant temperature high', 'SIM card removal' and 'antenna damaged'. The customer app allows for alerts, monitoring, tracking and reporting.
Alerts are generated whenever there is a breach in set parameters and received as per set beacon intervals while monitoring refers to keeping a continuous record of tractor parameters at any given instance during normal tractor operation.
Tracking means following a trail of real-time locations of the entire fleet as well as the path where the tractor has travelled.
Reports can be utilised as a tool identifying areas that will improve a tractor's efficiency and productivity.