John Deere has been a global leader in agricultural technology and innovation since its start in 1837. As much as we value personal interaction with our customers, it is not always possible to have in-person interactions to support equipment.
Today, through Connected Support, John Deere and its independent dealer network in South Africa are geared to take opportunities offered by technology to monitor and support machines remotely, using in-depth data analytics to optimise machine utilisation. We can even execute predictive maintenance to reduce machine downtime and in many cases, prevent catastrophic failures.
When the unexpected happens in the field, a quick resolution is needed. That's why most John Deere equipment is prepared with technology that senses potential issues and can alert the producer promptly – in the cab or elsewhere. Better yet, the dealer can receive alerts and connect to the producer's equipment. John Deere dealers are always ready to keep producers farming – saving them time and money.
JDLink Machine Alert Monitoring lets dealers and customers remotely monitor connected machines and view machine health information.
Service Advisor Remote allows dealers to view machine information to quickly make an assessment if a visit or additional diagnostics are needed, by reviewing diagnostic trouble code (DTC) alerts and other machine data. If a trip to the field is required, the additional information allows the technician to bring the correct parts with him to fix the problem the first time.
Remote Programming allows a dealer to push software updates to machines (certified remote controllers) to remotely resolve defects or enable enhancements and new features.
Remote Display Access: With the customer's consent, the dealer can remotely assist with in-cab display setup and adjustments for optimal machine performance.
Expert Alerts, an industry exclusive, is a proactive monitoring system that automatically notifies dealers, with a customer's permission, of potential machine issues. This allows technicians to diagnose issues remotely and fix them before they become a problem.
Machine Dashboard allows dealers to monitor the producer's connected fleet and overall machine health. This can help with planning for maintenance during scheduled downtime.
To start taking advantage of the benefits offered by these technologies, the producer will need to either order new equipment or fit existing compatible legacy equipment with a receiver, a compatible display, a mobile telematics gateway module and get a JDLink Connect activation. John Deere also offers hardware solutions for smaller equipment that offer basic guidance and management. After registering a profile on the 'MyJohnDeere' website to gain access to the John Deere Operations Centre, the customer will have the authorisation to allow the dealer access to the equipment and data to start utilising remote support.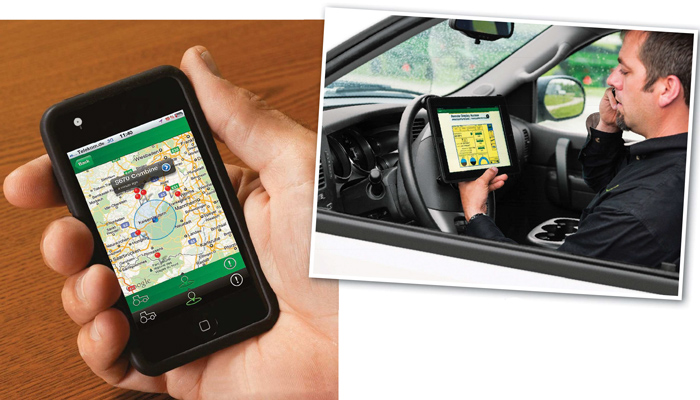 In short, technology is increasingly the key enabler, equipping producers to meet the challenge of feeding Africa – by producing more food off the land currently available. Connected Support technology allows John Deere to support producers 24/7 to farm more efficiently, increase yield, feed an ever-growing population, and drive export earnings.