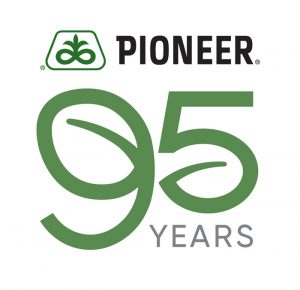 For 95 years, Pioneer has been changing and shaping the agricultural world. What started as an idea for hybrid corn in 1926 has blossomed into a leading brand of one of the most robust, technical and scientifically advanced agricultural companies on the planet.
Pioneer was incorporated in 1926 by Henry A. Wallace­ as The Hi Bred Corn Company, in Johnston, Iowa. He believed that the potential for increased corn yields lay in the direction of hybridisation – or the inbreeding and crossing of different varieties of corn plants to produce a healthier, durable stock. He was convinced that growing corn from hybrid seed was the wave of the future and that there was a vast marketplace for the product once producers could be convinced of its benefits. The company later changed its name to Pioneer Hi Bred Corn Company and then Pioneer Hi-Bred International, Inc. as it began to operate on a global scale.
For nearly a century, Pioneer's efforts have resulted in increased productivity, more sustainable practices and the introduction of agricultural improvements in areas previously thought to be out of reach. In that time, it has solidified itself as one of the most successful, recognisable brands, not just in agriculture, but globally.
Shortened timeline
1926 Henry A. Wallace incorporates the Hi-Bred Corn Company.
1952 'Long Look' business philosophy is written.
1981 Pioneer becomes the seed corn market share leader in North America.
1992 Pioneer Hi-Bred registered in South Africa.
2014 Opening of world-class research facility and insectary in Mpumalanga.
2017 Opening of Hoogekraal dry west research facility.
2019 Pioneer becomes the flagship seed brand for Corteva Agriscience.
Where we are today
Pioneer today is the global flagship seed brand of Corteva Agri­science – with a purpose to enrich the lives of those who produce and those who consume, ensuring progress for generations to come. 'We are proud of our company's strong history, and the leadership role that Pioneer has had in agriculture – advocating for producers, investing in communities and promoting sustainable farming solutions,' said Jim Collins, CEO, Corteva Agriscience. 'We are committed to providing producers with the most innovative products and services on the market so that they can grow the crops we need to feed a growing world.'
The 'Long Look' business philosophy that was written in 1952 is what grounds the brand's way of doing business. Four simple statements which have guided our attitude toward research, production and marketing will always remain true to the worldwide network of Pioneer employees:
We strive to produce the best products in the market.
We deal honestly and fairly with our employees, sales representatives, business associates, customers and stockholders.
We aggressively market our products without misrepresentation.
We provide helpful management information to assist customers in making optimum profits from our products.
Producers today still buy Pioneer brand products based on proven­ performance and high technical services. These products and seed-focussed expertise are delivered through trusted advisors who are not only employees and associates, but are the Pioneer family. Pioneer has unparalleled choices of seed products, currently consisting of maize, soybean, sunflower and canola hybrids in South Africa – with a history of proven performance.
The brand has over half a century's experience of agronomy know-how in the field. This local knowledge grows exponentially every year because of new technologies and research and the intense focus on seed. Field days are focussed on individual producer connection and demand creation. Pioneer is 'Made to Grow™' because it continues to evolve and lead positive change for producers – supporting producers' growth alongside the brand.
Pioneer was one of the first hybrid seed companies in the world and is still one of the most successful, recognisable brands around the globe.
It will continue to be the trusted seed brand that we remain proud of. You will keep on seeing our trusted Pioneer seed in our trusted Pioneer bags, supported by our 'Long Look' Pioneer promise. The Pioneer brand you know today, remains the Pioneer brand of the future.
For more information on our 95-year anniversary, contact us at info.rsa@pioneer.com or go to www.pioneer.com/za/blog.