Gedurende 2019 is daar berig oor Thys Odendaal, wat hoofsaaklik met koring, gars en kanola in die Protem-area in die Wes-Kaap boer. Sy langtermynstrategie is om meer biologies te boer en hy maak reeds die afgelope tien jaar gebruik van Atlantic Fertilisers se organiese en semi-organiese plantmengsels.
Spoorelemente word by die plantmengsel bygevoeg om tekorte reg te stel en sodoende kan daar reeds teen ontkieming spoorelemente in die wortelsone beskikbaar wees. Spoorelement-blaarspruite vind tipies eers plaas na dag 40 na opkoms, maar eersgenoemde praktyk is die goedkoopste en waardevolle tyd word gewen om voldoende hoeveelhede te verseker wat sterk, gesonde wortelstelsels tot gevolg het.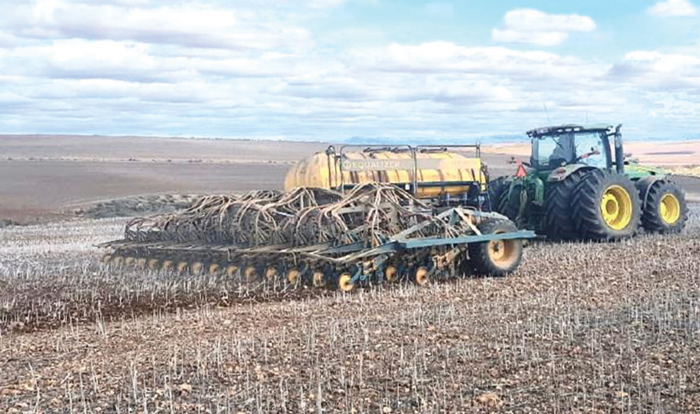 Gedurende hierdie seisoen voer Atlantic Fertilisers en Thys gesamentlik proefnemings uit oor die insluiting van diatome in die semi-organiese plantmengsel. Die 8.8.1(17)-plantmengsel met spoorelemente is gebruik waar die diatome ingesluit is. Die diatomiet bestaan uit 85% plantopneembare silika-oksied.
Die volgende is reeds gepubliseer betreffende die voordele van die gebruik van diatome. Die doel van die proef was om vas te stel of dit behaal kan word en of daar 'n beduidende opbrengsverskil sal wees.
Dit verbeter wortelontwikkeling.
Daar is 'n verminderde loging van nutriënte.
Die opneembaarheid van nutriënte verbeter.
Dit verbeter die waterhouvermoë van die grond.
Verhoogde opbrengs en kwaliteit.
Atlantic Fertilisers se dienste is ook intussen uitgebrei na Botswana, waar aandag gegee word aan die bemesting van mielies. Kontak ons gerus vir enige navrae in hierdie verband.